Assault Knights 2: Fallen Knight will be a Tactical Combined Arms, Mech simulation game, With space sim elements. Set in the Assault Knights Universe.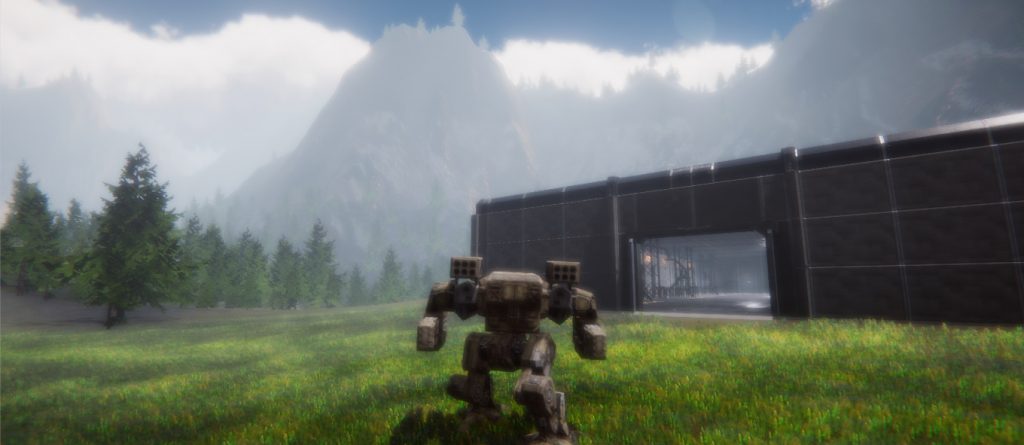 Assault Knights 2:Fallen Knight
Many years have passed since the Assault Knight and Omni war. Both factions have ravished the galaxy time and again. But now they have finally come to a truce. Over the infighting. But there is still a lot of tensions sturring behind the scenes.
You as the player take on the role of a lone mercenary who has been kicked out of the Assault Knights militia over something they did not do, but they needed a scapegoat for something Horrendous that happened. And that scapegoat is you.
After being formally discharged from the military, and being stripped of all badges, awards, and honors the player gets a message from one of the admirals in the militia.
Saying that your Best friend has suddenly died in battle and that he left you something in his will along with a letter to you.
After reading the will and devastating letter from your friend, you find that he left you a large ship in a space junkyard near a moon, but it is broken down and is in dire need of repair, but on the bright side the ship is Gigantic.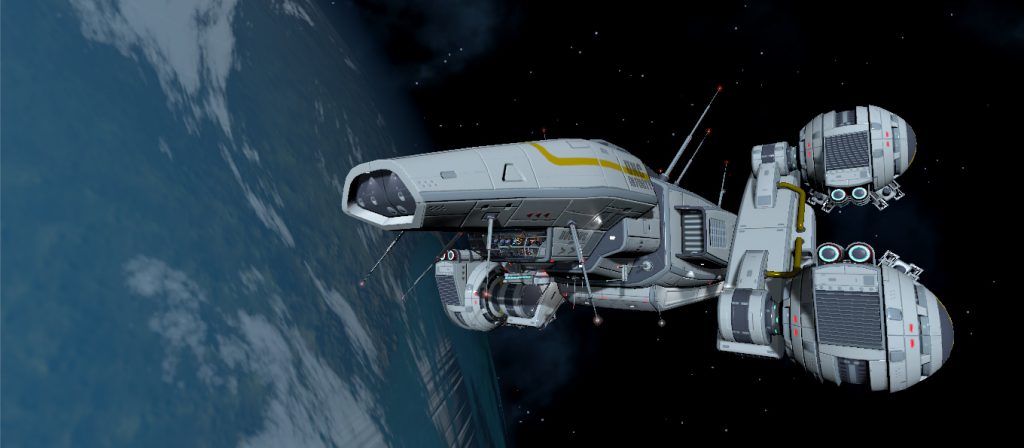 The player has to take some time to repair the ship using small gameplay puzzles to have to do minor repairs. You will find parts from the other ships in the junkyard to help you customize your ship, and get the ship working.
To get your ship out of the wreck-yard the player will go out in a small drop ship that he will find in the bay, that works.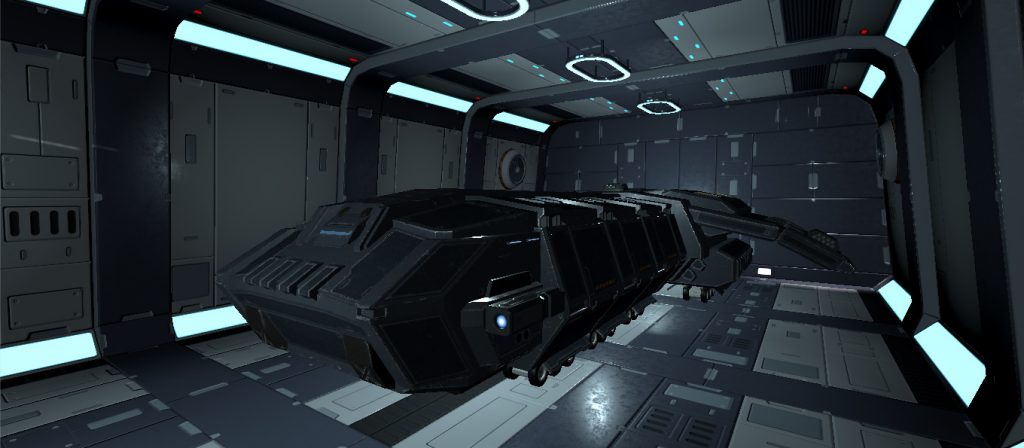 The ship has a few lasers and some mediocre mining tools. This will be where you start. Learning the basics of the game. There will be many cool elements at your disposal.
Game
Be the captain of your ships, and crew! Go from Solar system to solar system while taking missions as a Mercenary Company. You will be able to hire and fire many crew members on your ship, take part in missions from planet drops, take over territory, to protecting civilians and other things. Try to take on all of the missions from the five different factions in the game. All of the different guilds are as listed: Assault Knights, Omni, Robotic Republic, Mercenary Guild, and if you're lucky enough to befriend them, The Pirate faction.
Planet Drops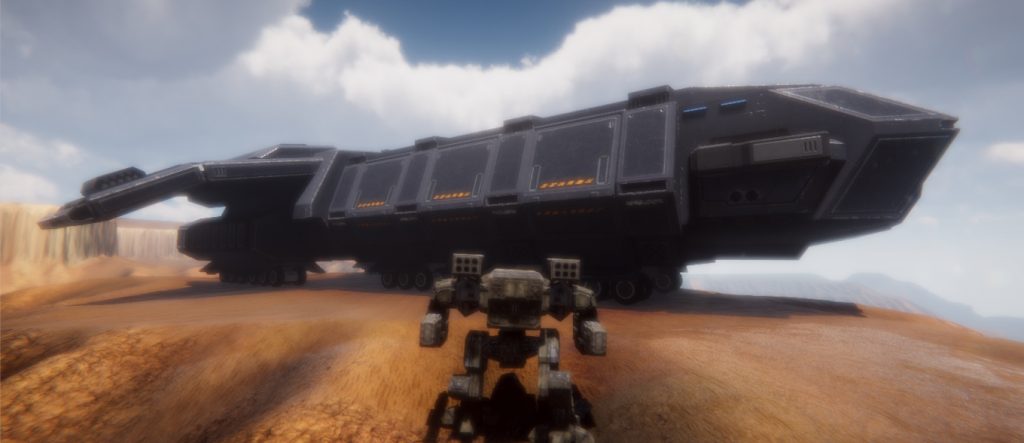 The player will be able to take on missions and drop onto planets that will allow him or her to take on many objectives from battling enemy factions to saving and rescuing civilians, and/or taking supplies to colonies. The game is going to be an open-ended sandbox game
You will be able to take on missions from many of the space stations scattered throughout the universe. You are also able to buy and sell cargo, units, weapons, and many other types of things to gain money.
The player will be able to assign different units to the slots that are available on your dropship. From Mechs, To wheeled vehicles, and tanks. Along with other units as well. And then assign lance mates to the units to ride with you, while you are doing a mission. You will be able to take along up to 5 AI-controlled units with you. They will be there to help you when you need them most.
Send out orders to your lance mates, to get them to do the things you need them to such as: attacking the same target or to pull back when the battle gets tough.
Taking missions will help you gain access to better equipment and items as the game progresses onward As well as gaining Assault Credits (in-game Currency.) So you can buy better stuff!
Customization
There will be many units in the game that the player will be able to customize such as mechs, wheeled vehicles, and tanks. You can add guns and weapons to every unit in the game by using the tech lab interface.
The tech lab will be your central hub for units in the game. When you buy new units you will be able to add weapons, Armor, change out their engines for better ones. The game has many things to customize, check them out while playing the game! Almost everything in the game will be customizable. You can customize your player character too, like choosing from different weapons, and armors along with the gender of the player.
Combat
Interchange different units at any time during combat and take to the ground as a pc. As the game goes on you will start collecting a multitude of weapons and armor. The player will be capable of using jump jets and Tribes style skiing to take on foes where Mechs and vehicles can't access easily. Attack to see enemies that the mechs and other units can't get to. Jump over humongous buildings and walls ski across huge slopes and hills while engaging in very fast combat.
You are able to carry a huge assortment of items with you on your trip to battle across the universe. The player will have their own inventory where he can store ammo and weapons along for the ride on missions.
Here is a work in progress video of the jump jet and skiing system in action.
Assault Knights 2 will be able to challenge even the most skilled players.
Roleplaying Elements
You will have stats that you can put points into, as you drive vehicles, and mechs, Pilot aircraft, and other units in the game. You and your AI-controlled characters will gain better experience to tackle the job at hand. They will have custom stats that they will be able to put points into. Become the best Captian in the entire galaxy. You will gain access to better equipment as you also level up.
End Notes
Assault Knights 2: Fallen Knight will hopefully have everything as stated in this article, although please note that the game is still in development, most of the features laid out above will hopefully be added as time progresses. First and foremost we are going to try to add every feature that is posted above. As development continues plans may change in ways that may make the game better but the above outline is currently what we envision the game to be.
But to be able to add all this we are going to need your help. We are currently developing this game out of pocket, and making it without much monetary backing. Each month if I or other friends have enough money we try to buy an asset The support we need is monetary backing as Donations.
Donations will help us get everything we need from the asset list. If we can get each and every asset from the list the game should be finished faster. We will be that much closer to having a demo. That we can post to everyone. Be it 1 dollar or 1000 dollars, every donation will help us with the development of this awesome game. From getting us the tools we need or anything else to be able to finish this game. Currently, we are about 3 years from even having the demo created. But if you donate it will get us that much closer to having the demo completed.
Each and every person who donates to the game will get their name added to a special donator page that will be in the end game credits, as well as special beta features to access to special builds of the game. When we get to that stage of development.
If you can't donate, there are other ways you can help us by posting about the game on your Twitter, Facebook, Instagram and come check us out on our Discord servers.
Dark Realm Game Studio Discord
Assault Knights 2: Fallen Knight Discord
We need more community members! So please come check us out. And tell people about our game. Also, we are always posting stuff on Twitter.
You can follow both accounts and retweet our posts about the game at any time. 🙂
Thank you so much for taking the time to read this page. If you have any more questions about the game. Feel free to ask on our discord servers.
Thank you,
Night Hawk and Victoria Hawk!