Intro
Hello! Here's an update on how artistic movements work in Avant-Garde. I just finished adding the possibility of painting in other styles than realism, namely impressionism which has already been added. Adding new movements is simple enough now that the system is done, but I'm focusing on the features rather than the content for now.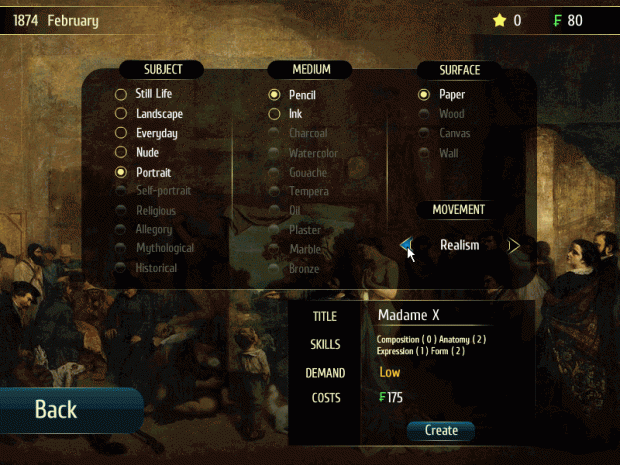 Artistic Movements
So how do movements work in Avant-Garde?
To answer that, I have to talk about two main elements of Avant-Garde: movements and skills.
Movements are the different styles of artistic representation that existed at the time. In 1873, Monet painted "Impression, Sunrise", which gave birth to the artistic movement called Impressionism. What made it different from the widespread Realism of the time was that reality was percieved as a flat image - a dance of projected colors in the artist's retina, rather than as three-dimensional forms. One of the fundamental skills of the realist painter was to convey form, but Impressionism abandoned that and made color more important than anything else.
Both color and form are skills in Avant-Garde. So how does the innovation of impressionism reflect in the game?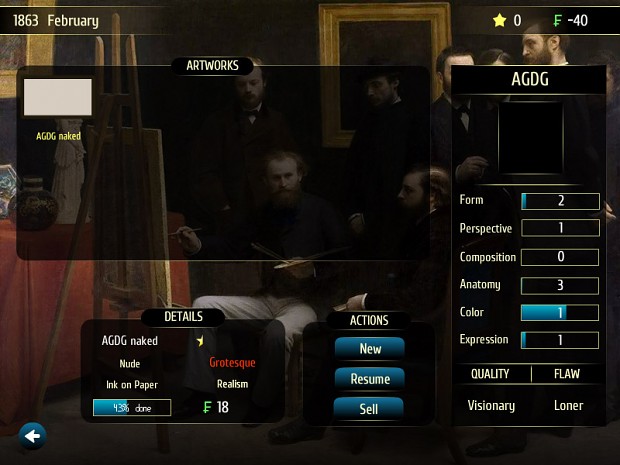 Each movement has different interpretations of the skills, which are the fundamentals of visual art: Form, Perspective, Composition, Anatomy, Color and Expression. They can either use these skills constructivelly, ignore them or treat them destructively. A destructive use of perspective, for example, is Cubism, made known in the figure of Picasso. Picasso was the one who said modern art is a sum of destructions.
Next in Avant-Garde
In a future news update, I will talk about how the player can create his own artistic movement. But that part has to be implemented in the game first! I hope I can do that in the following days, considering I'm aiming for a March 1st Alpha version release.
Thanks for the interest in Avant-Garde!