We finished the final two systems in the game, the Artifacts and Merchant.
The artifacts act as large modifiers to the gameplay and are randomly found by the player as they progress through the depths. They do things that are min-maxxer heavy, like increase crit chance by 15%, or purely ridiculous, like make you SHOOT LASERS OUT OF YOUR FACE. Our goal with these was to give the sense of a "lucky" run, during which you find a bundle of artifacts that all stack together to a powerful, dive-lengthening effect. The artifacts disappear once you die and restart your run, so they should give a pretty solid motivator to rerun.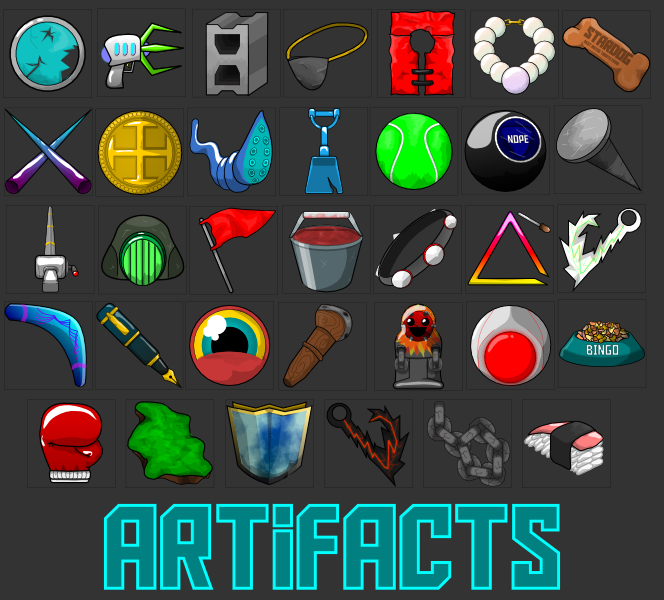 Further, we've implemented Grubby, the merchant from our previous game, Towelfight 2. In all his fatty glory, he comes storming in on occasion when you've cleared a depth with a single item for sale, be it a weapon or an artifact.
Lastly! I wanted to ask you guys for some thoughts. We've been doing alpha rounds with a handful of our Towelfight 2 supporters and, come next Friday, will begin the actual beta-testing of the game. We would love to have a few more people on board. The only requirement is that you can communicate well and will take a bit of time out of your day to lend us a hand. The first round will be for android users only, as it saves us a metric ton of time to not do all the provisioning BS that apple puts us through. iOS beta will begin in the next 2-3 weeks.
If you're interested, drop me a line directly at sam at butterscotch-shenanigans.com or through a pm here, or comment, telling me why you'd like to test the game and how you think you could contribute.As always, thanks immensely for helping us grow. Seth and I are stoked for this release and think it will eclipse Towelfight in a big way.