After months plagued with delays, Phd work, ever growing features and what not, the alpha demo is finally here!
Alpha demo? What the... is an alpha demo?
Right... lets make it clear. A demo usually means you get only a very short fraction of the game full experience, while alpha state means that some aspects of the game are yet to be developed.
Okay, I got the meaning now tell me what's actually in it.
This demo features a team of 3 characters with basic equipment and limited rations to navigate through the world. Your party can land on any tile to engage with the 7 types of monsters in unique terrains using 12 different skills. Your mission will be to find a low grade Shadow and eliminate it with the help of some piece of equipment monsters can drop.
Neat, does it have multiplayer?
Absolutely, this demo ships with your own copy of the game server. You can share your ip with some friends so all can jump in the same world and fight together... or against each other!
Sounds fun! So what is the stuff still missing?
As with any unfinished product, overall quality is not consistent and obviously lacking in some places. While combat and terrain systems are mostly done, we have planned at least 30 additional skills and a handful of extra biomes. On the other hand, the building, crafting and experience systems are yet to take form from the foundations already laid.

Join us on discord for further help. Any feedback will be greatly appreciated.
---
Now let me introduce you to all the new stuff we have been cooking.
UI Goodies:
Cost indicator overlay when an skill is selected.
Equipment and Inventory
Crossed action bar for skills and other actions.
General information and tool-tips for skills.
Skills, monsters and more...
This demo features 7 distinct monsters with... well... not-so-unique looks but certainly funny. Don't underestimate the innocent looking slimes as each variety has unique adaptations that can take you by surprise. Find a way to deal with the tricky shadow while definitely staying away from the man eater flowers. Cleverly combine the 12 available skills spread among 3 initial classes to succeed in your mission.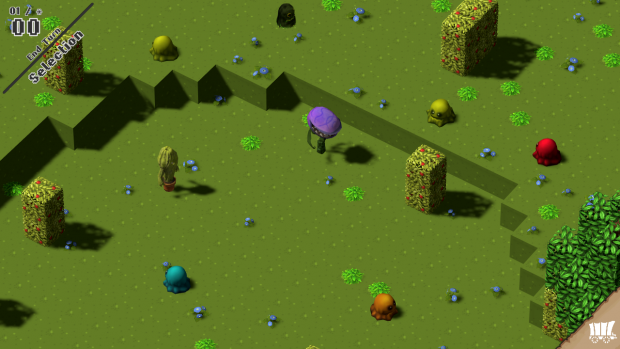 Under the hood
A lot has changed on the invisible parts of the game. The whole world map and combat terrain were refactored to improve quality and speed using custom shaders. Even laptops with integrated graphics should be able to enjoy this demo and the entire game when released. Inventory, items and equipment got implemented along with monster and block drops. Network compression and some basic security safeguards were included along with a lot more of that boring programmer stuff we don't care about ;) (yes, we do)
Join us: