Hey everyone!
In this development blog post, we wanted to share with you some details about seasons and seasonal in-game events in Ars Notoria.
As we already showed in some videos and images that we posted previously, there are four different seasons in the world of Ars Notoria. There is a day/night cycle, and in-game time passes as you explore the region's territories and complete various quests. The open-ended nature of the game means that you can choose your own pace, and you can play through as many seasons as you want.
The seasons in Ars Notoria are the following:
Ren, Season of Renewal (Spring)
Lux, Season of Light (Summer)
Aur, Season of Harvest (Autumn)
Dim, Season of Twilight (Winter)
During each of the seasons, there are various festivals celebrated by the people of the region. The one that we wanted to introduce to you today is the Festival of Souls, which happens during Aur, Season of Harvest. It lasts for one in-game week and is dedicated to the remembrance of souls. Spiritual activity is especially high during this time and certain magic types become more powerful than usual, such as Ars Necromia, a type of magic designed to wreak havoc in the world of the living and raise the dead through necromancy.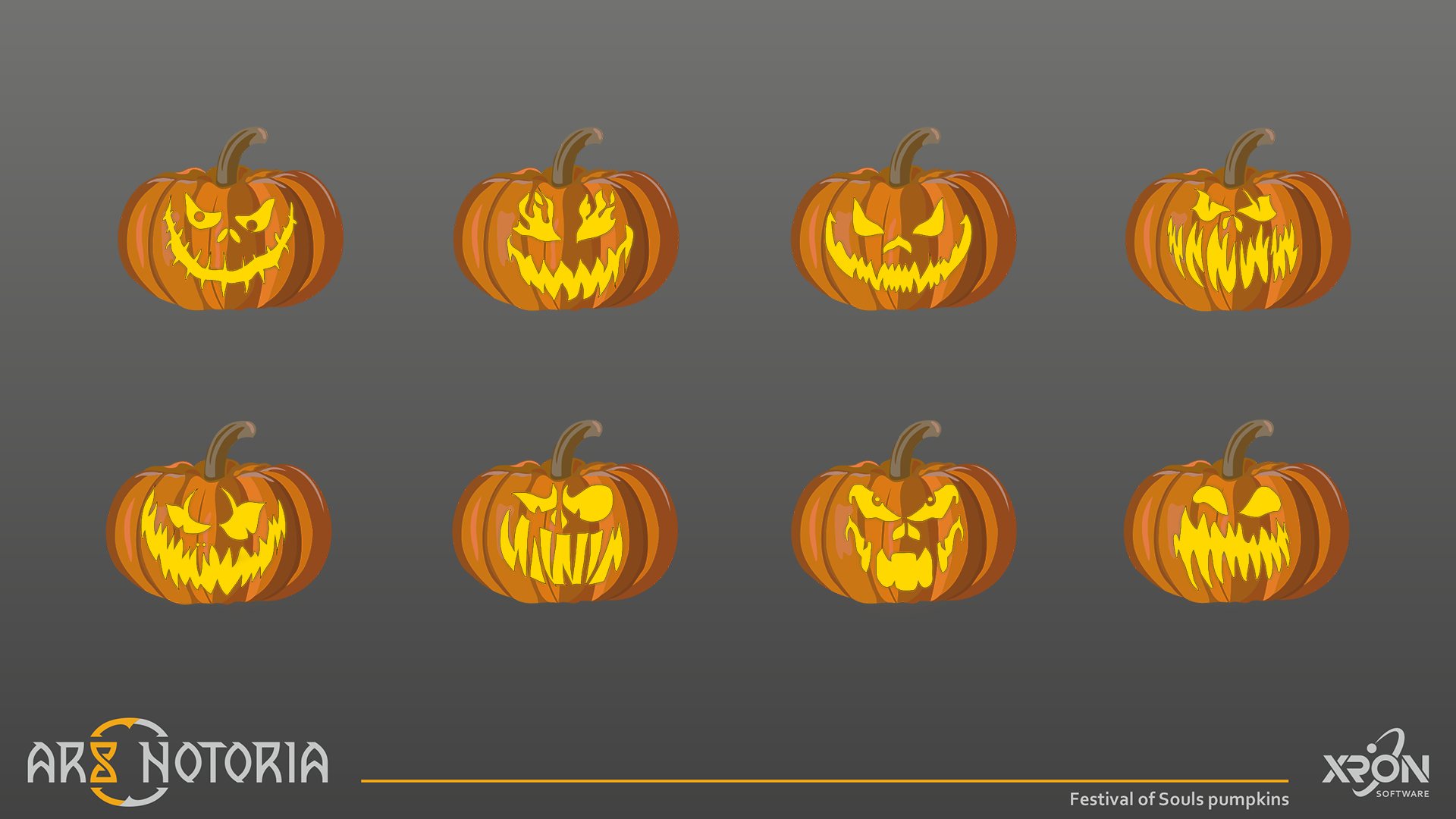 During the days of the Festival of Souls, everyone decorates their houses with candles, spooky skeletons, carved pumpkins, and other accessories. The streets of the capital city and its surroundings are bright from all the festival lights even at night.
Since players can use the Building mode in Ars Notoria to create their own buildings anywhere in the region, we also decided to add plenty of festival-themed decorations that can be used to further customize players' houses during this seasonal event. There are various designs of carved pumpkins, different types of lights and candles, and even cobwebs and skeletons that you can place around the house or in its interior.
We also prepared special quests that happen during the days of the Festival. In one of such quests, you can solve a mystery behind a bizarre mutated pumpkin, and depending on your choices obtain a rather unusual reward. There are also new enemy enemies that you can encounter while exploring various dungeons, ancient ruins, tombs, and graveyards.
---
Thank you a lot for checking out our development blog!
You can find more information about our game here: