Good evening, now we have the third stage from my 2.5D game 'ArrowHead project' featuring a Salt Cave theme level. In my head Salt Caves were pretty white but after some research I noticed that there are only dirty salt there, so I did it kinda red :P

ArrowHead Project - Version 0.062 ( Salt Tomb ) - Indie DB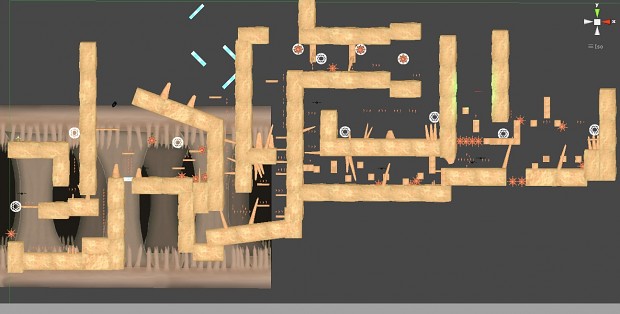 This level's story is based on a rock-idol (a giant saltshaker) that lure and capture travelers using flying salt blocks and steal their souls before it disappear, go to the heaven or something like.
So in this level the main gimmicks are the flying platforms and spirits that will haunt you while you try to find the tomb's exit.
In this version I fixed a severe bug in the object buffer that could make some bullet objects to be created with strange behaviors. Also now the song doesn't starts from the beginning after you dying, so it becomes less annoying to die a lot of times :)
All feedbacks are welcome. Click in the following link to play in your browser (all available levels and bosses are unlocked and the number of lifes are infinite).