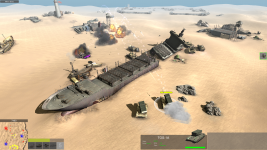 New Map
Lost Harbor, Black Gold.
New Unit
Lav-25: APC that can carry 8 infantries.
TOS: MLRS unit with heavy armor.
Features
Improved UI: Relay point of factory is now displayed. When infantry is selected, there will be special icon for garrison buildings and vehicles.
Ability target UI: When using abilities, there will be according UI.