Popular ARK: Survival Evolved Mod Launches as Free Standalone Steam Title

ARK: Survival of the Fittest is a free, standalone, multiplayer online survival arena (M.O.S.A.) game that pits as many as 72 combatants against one another in spontaneous Hunger Games-style competitions within a closed battlefield.
"Following the success of the tournaments we hosted last fall, we saw valuable community feedback about other competitive features they wanted to see implemented," said Jesse Rapczak, co-founder, co-creative director, Studio Wildcard. "Now with shorter matches, four new game modes, rapid dino taming and more, we felt it was time to let people come in to test it for themselves. Not only can you play for free, but we're offering cash prizes for the top players in each Survivor League, so ARK survivors can potentially start playing their favorite game professionally!"
Monthly Cash Prizes and More
As part of the ongoing Survival of the Fittest eSport competitive initiative, each month the Top-10 Ranked players in each game mode's "Survivor League" will be awarded cash prize winnings corresponding to their Ranked placement. The ongoing Rankings for these elite titles will be visible in real-time on SurviveTheArk.com at launch.
Free, action-packed core survival gameplay
30+ creatures to tame and ride at Early Access start, many more planned at full launch
Multiple game modes (1v1, 2v2, 4v4, and 6v6)
One-to-six player tribes
Variable game configurations ranging from 30-minute "instant action" to three-hour long "epic wars"
Top-ranked players are listed dynamically on SurviveTheArk.com, as well as provided monthly prize packages!
Game-changing tameable super creatures (Dragon, Giant Ape, Brood Mother)
Random "Evolution Events"
Arsenal of weapons, traps, armor, structures and other items from primitive to modern tech tiers
Robust ranking, tournament and spectator features
Exclusive SotF cosmetic items that can also be used in ARK: Survival Evolved
Custom-painted "War Banners" enable tribes to show off their team spirit on flags across their army of dinosaurs, and are also broadcast on the gigantic billboards during game events. Just don't draw anything offensive!
Acustom soundtrack written by award-winning composer Gareth Coker of Ori and the Blind Forest!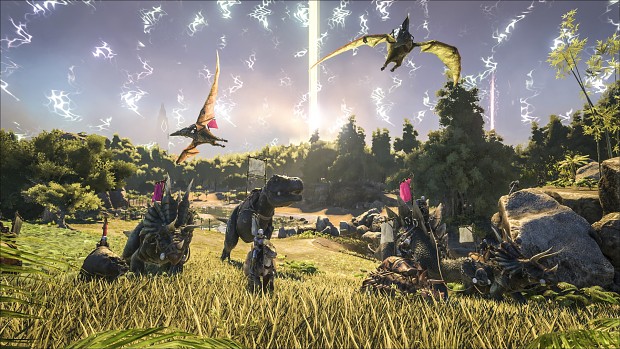 Balanced for intense competition, Survival of the Fittest contestants begin in a neutral staging area where they can communicate pre-game, strategize, or talk trash. After a count-down, they dramatically descend from the sky onto the ARK in a circular formation via beams of light. There is a cache of valuable items in the center – do survivors dash for the goods and fight it out, do they run into the forest and hide, search for dinosaurs to rapidly build their army, or do they freeze up from the sheer terror of death? The continually shrinking arena boundaries force contestants ever closer together over time.
The hunt is on!
Fancy yourself a cash prize for the next greatest ARK Mod?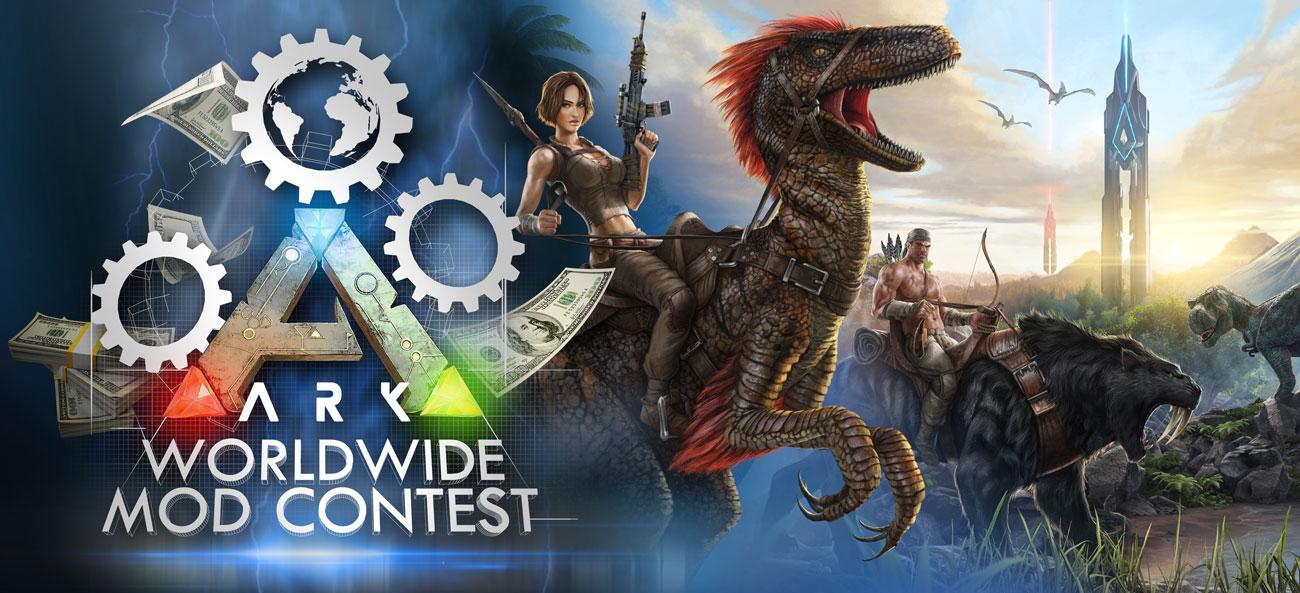 This means that now you'll have more time to work on your ARKs, nifty items, customized creatures or gameplay modes! We're very excited and cannot wait to see it all. For those of you who want to take part in the contest, there's still time!
To start developing your ARK mod, use the ARK Dev Kit, a streamlined version of the UE4 Editor, to simplify the creation and sharing process of ARK: Survival Evolved which is available to download now for free via the Epic Games Launcher at Unrealengine.com.
All entries must be submitted here by the final submission date and the winners will be announced on May the 15th 2016, after finalist voting, spotlight and judging rounds.
And here's what you've got a shot at winning…

Fifteen (15) prizes will be awarded. 1st through 5th places for each category (Best Mod, Best Map, and Best Total Conversion):
1st Place: $10,000 in each category
2nd Place: $5,000 in each category
3rd Place: $3,000 in each category
4th Place: $2,000 in each category
5th Place: $1,000 in each category
So good luck to all Survivors who enter, we simply cannot wait to see what you cook up! (Existing Mods/Maps/TC's and previous Contest winners are, of course, welcome to enter!)
Keep an eye out for our coverage of the winners!