It's finally here! A major content and quality update we have been working on for the past month :)
This update adds a bunch of new content, has major performance improvements; balance has been improved, ... and more!
If you have ever wanted to experience the raiding, you definitely need to read further!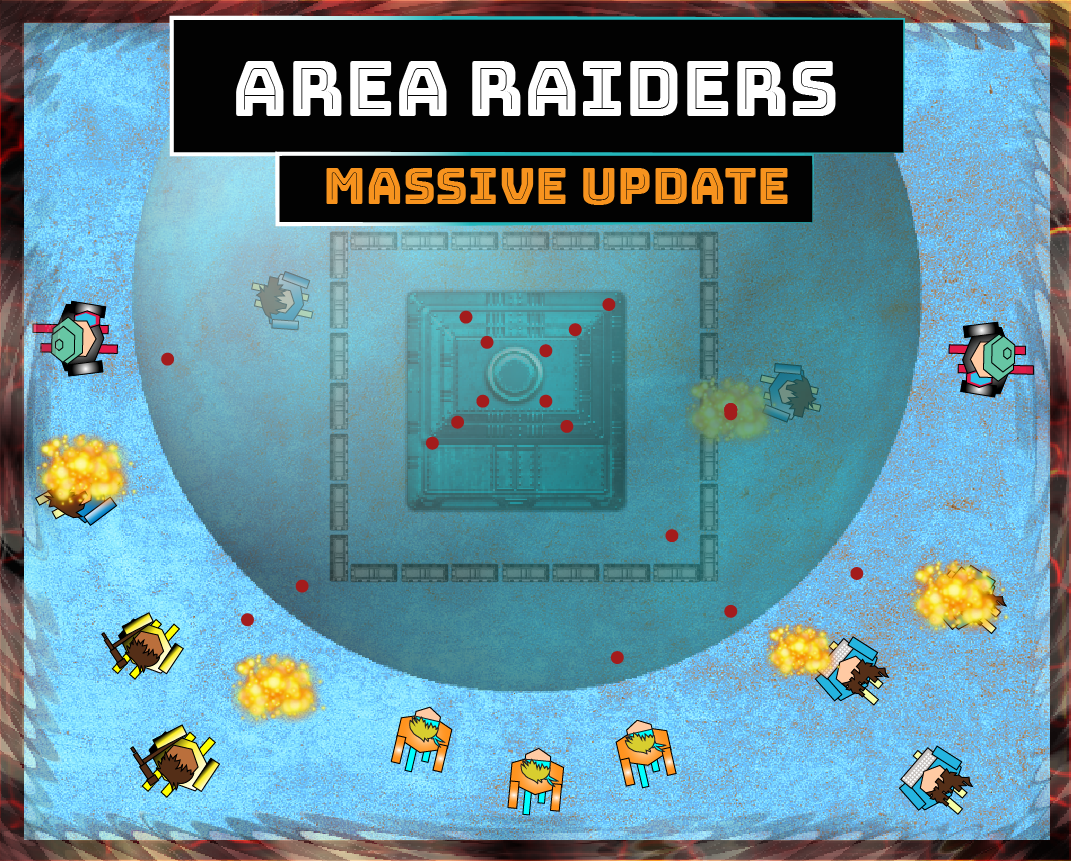 Here's a short story (to those that haven't heard of Area Raiders yet):
''It is time to reveal those government secrets and rescue the aliens being kept in various government outposts. We have millions of raiders coming in from all directions until we breach their defenses! It won't be easy, but we surely can get enough Media attention to get more people involved and overpower them!''
Instructions:
- Gain more media attention to get more raiders rushing and upgrade their stats
- Reach center base to save the aliens
- Complete missions and unlock new raider powers and reveal dark secrets
- Regroup and come back even stronger (Prestige)

The game is fully idleable in off focus and when coming back!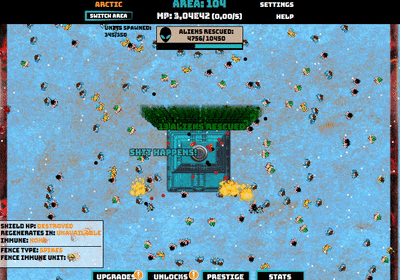 ______________________________

So, what was all added to the game?

Content additions:
Unlocks & Missions -
As you overwhelm more and more government secret bases, you will also uncover additional tools to help your efforts, reveal dirty government secrets and discover that Nevada is not the only place where they hide many secrets!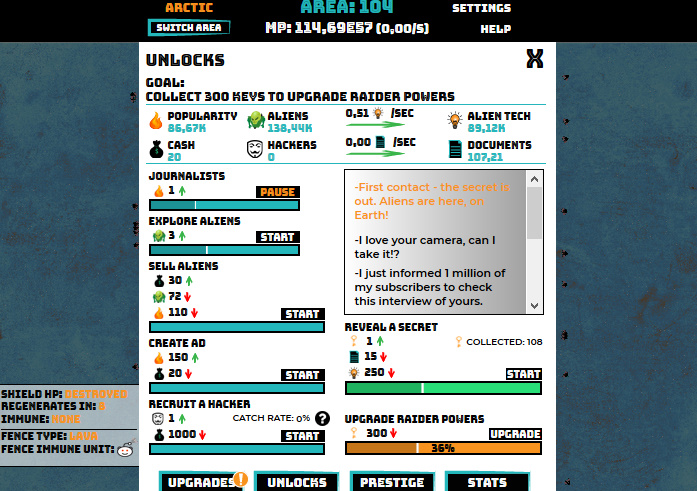 You will start this area from scratch, but maintain any Skills used, and upgrades from Unlocks feature will apply to both Areas as well.
Unlocks feature a new idle management system, where you will have to balance different resources to uncover secrets, reveal new areas, and even find new powerful upgrades for your raiders!
Arctic Area
Yes... they are hiding aliens in the arctic as well... Rumor has it that the government managed to utilize some of the alien technology, that might make it much harder for you to breach their defenses.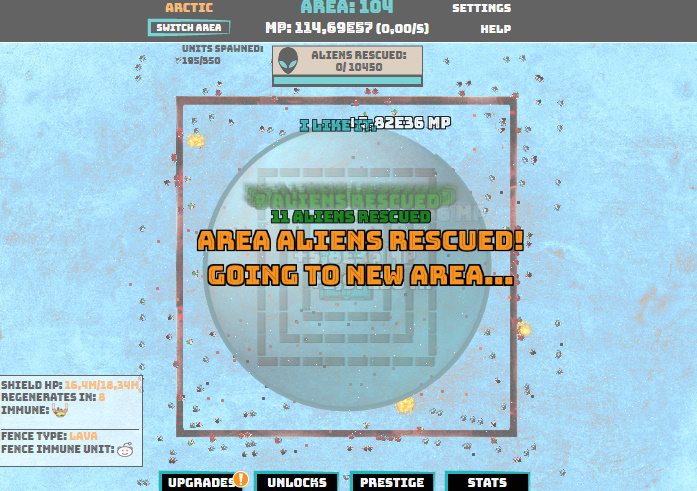 After all the internet warriors raiding their Area, they have also fortified Areas beyond "level 100" with deadly walls/fences that will obliterate any that cross them... BUT, they had no idea that many of our warriors are immune to such defenses!
On top of that, Aliens have decided to share some of their defensive technology with our raiders as well!


Other improvements:
MASSIVE game performance optimizations
Use of quad-trees and spatial maps for performant collision detection
Optimized object rendering that will help game run much more smoothly
Some rebalances of unit MP gains, as there was a bug that allowed for essentially infinite gains (any users that "reached it", will also get a game popup about this, and suggestion to rebalance their game state)
Regenerating energy shield in Arctic Area, where a unit is immune each area, that will have you focus more on attacking power of your units to destroy them in time
The addition of a second area has separate prestige point to skill conversion prices, AND a ton more aliens to save. This will help you gain many more skill points.
More stats added and prettified display of them
Option to reset your skills at any time added! Play around with different builds!
Details of unit gain multipliers added on Hover info in upgrades
Notifications on unlocks (when you complete missions)
Some mobile-friendly adjustments added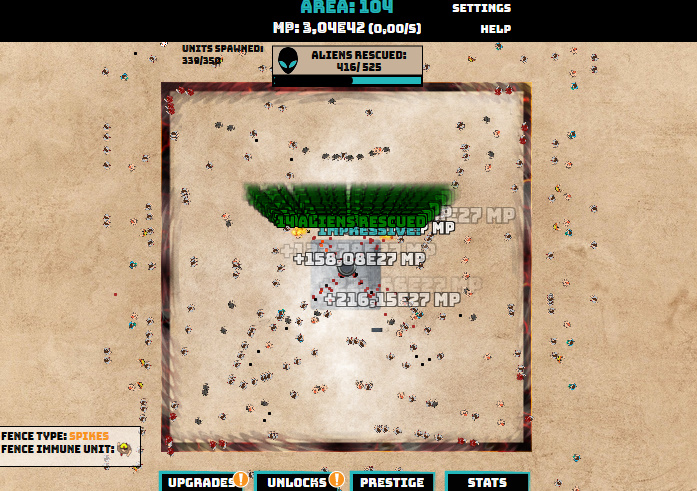 We are currently also working on a new set of updates to come soon:
Further balances improvements
Additional performance optimizations (especially with open upgrades section)
Quality of Life features – such as buttons to Buy All basic and advanced upgrades with one click
Adding more skills and specializations
Buy max OCD button (settable to 5/10 rounding)
… and more :)
We hope you enjoy the update! We plan to add more improvements and features to the game so happy to hear any additional thoughts you guys have about that :)
___________________________________________________________

You can PLAY the game here:
Area Raiders - Kongregate

Feel free to follow our social media channels (we just started with, so your going to be one of the first :)
Facebook- Area Raiders
Twitter-AreaRaidersGame

Join us on Chat:
Discord Invitation