This feature, started from the forums a few weeks ago, will now also be appearing here on ModDB. In each of these blogs, we give a review of what has been happening behind the scenes each week.
Here is this weeks development blog:
It's that time of week again! Ryan's busy at the moment, so PointlessAmbler is doing our little update.
First off, the Moblie Gap Generator is ready to be textured and Renardin is taking a stab at it. We don't have any Work In Progress(WIP) images from him yet, but we trust that he'll do a fine job. Our merger, so far, has been nothing but profit for both teams. We've come a long way from the flamewar days.
Drunkill has also made a new info screen to replace the one that was created for 0.991 that is still used today! What a deal!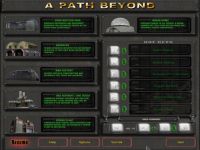 Second, Chronojam has recently talked to our texturers about streamlining the texturing process so that textures are more easily modifiable. What this means is that the Photoshop files used in texturing will have multiple layers, each one dealing with a different component of the overall texture.
For example, on each new vehicle there will be seperate layers for camouflage colors, wear and tear, and decals. So, let's say we want to have a snow camo color for the Mammoth (since black camo on white snow sticks out like a sore thumb!). All we would have to do is open up the camo layer in Photoshop and change the color, and presto! We have a snow-colored Mammoth Tank without having to do a lot of extra work making a brand new texture. But that's not all. Say we wanted to make it so that the Mammoth Tank had some snow buildup on it. We could then alter the 'wear and tear' layer separately to affect this. In a wet environment (think River Raid) we could add caked mud to the vehicles without having to worry about ruining the rest of the texture. This may seem inconsequential, but it is a wonderful thing for our 2D artists, and in the long run it will both save them a lot of work and allow us to make our art more convincing to you, the player.
Next, as you have probably already read, EA has released a new SDK for Renegade. Unfortunately, this SDK is poorly documented and lacks many of the features that the community SDK released several months ago has. Despite this, this release does show that we've got our foot in the door at EA, and as far as our relationship with them is concerned, it's a step in the right direction. Chronojam is already talking to them about the concerns of the community regarding the SDK and we expect to have warmer relations with EA in the future.
There hasn't been much testing this week, thanks to NeoSaber coming down with a cold. We all wish that he feels better soon. He has mentioned that he's tried tweaking the cloaking effect for the Gap Generator a bit so that the cloaked units can be seen from a little further away, since the double whammy of being blinded AND being attacked by invisible units hits the Soviets rather hard. Trust us in saying, however, that the Gap Generator and its mobile counterpart will be very useful come 0.994.
Finally, Chronojam has been working on a cool little side project of his own. Many of the things we've been working on as of late are top-secret and won't be revealed until much later down the road, but he's leaked some of his work to the public. Rather than tell you what it is, he has linked to it in one of his recent news posts at the forums. It's in the last six or so. See if you can find it!