Here is this weeks development blog, written by Ryan3k, modified for ModDB by myself.
Ryan3k:ALRIGHT! So you have waited two weeks, and as promised, here is the new blog.
I'm sure you are all curious as to What have we been up to all this time (and for the record, I aced all of the exams that kept me busy last weekend).
I'll start off by saying that we're currently testing another new alpha build, courtesy of NeoSaber (who is no longer ill, so cheers to that). Shock Troopers and Volkov can no longer be run over. Period. Furthermore, the damage they deal has been modified; Volkov actually trumps the Shock Trooper now, in terms of how much damage he deals to vehicles and buildings. This is natural, because Volkov is a pricier investment than the Shock Trooper. To put things simply, Volkov is quite the tank-killer now. However, there is concern that a group of Volkovs is simply too powerful (the same goes with Tanya).
The Aces of Razgriz has finished a trailer for APB (which some of you might have already seen) as well as a PSP Pack, which includes some nifty backgrounds and .mp3s, in addition to the trailer, for you PSP users out there. (Category5 blah @ PSP :P)
The Trailer :: YouTube || MegaUpload || ModDB
PSP Pack :: MegaUpload
In preparation for a future ad-campaign on the SomethingAwful forums, several members of the team have been making APB banners in their spare time. I've decided to show you guys a few. We encourage you all to help us in spreading the word about APB.
Idebo
drunkill

BigJoe

PointlessAmbler

Another thing. I thought I would show you guys a very early WIP of Renardin's work on the Mobile Gap Generator
[modimg49793 NOT FOUND]
He's having computer issues at the moment but will soon be back in the mix. Speaking of computer problems, drunkill is also having some. Luckily, he finished this WIP of the new APB manual cover before these problems came about.
[modimg49794 NOT FOUND]
Lastly, we've got a lovely new asset to show off. It's Soviet bedding from the period, but it wasn't made for the barracks; it is actually for one of the secret experimental projects the team is looking into. Model by Paradox, texture by Venom Pawz: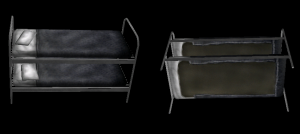 And that's that. I hope you have enjoyed this somewhat lengthy blog. I know it must have been quite a chore to read everything!
I'll have more for you guys to check out next week.