Hey everyone, I am almost done with the next update; expect it around this weekend. I will make sure the server hosted by the awesome [gamesketch network] will be updated immediately. I have quite a large list of bugs I want to fix before I upload it, though, but I am confident this won't take too long. Stuff I added last week:
Chests are now spawned randomly underground. And with random I really mean random; it is theoretically possible that there are 10 of them near spawn, but it is also possible you have to have walk for 30 minutes or more to find one. If it turns out people get frustrated over not being able to find one instead surprised and excited over the fact that you never know where and when you'll encounter one, I will of course change this.
I added town halls, taking advantage of the coop building feature I described [last time]: it allows people to work together on building their town hall, and it removes the need for players to carry all the materials at once. Town halls will be the place where you can found a city, and where the mayor will be able to change the laws, the city name, the city's signature color, etc. I'm going to start working on that right after I finish the current update. This is the first town hall ever built: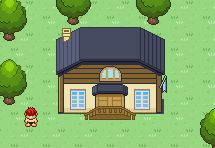 I increased the number of materials needed for the buildings you can build with coop building to something more realistic. For example, in the current version of the game you can build a small wooden house with only 4 wood (compared to 1 wood for a gun and 2 wood for a scooter). With a bit of luck you could get that all from one tree! I changed that to the more realistic 8 wood now. Besides realism, another advantage of doing this is that I extend the early game phase a bit with, but I realize this is a risky advantage. If there's anything I want to avoid at all costs, then it is building a grinding game; that is, a game in which you do (repetitive) stuff only for the reward, not because you really like it. This week's [Extra Credits] actually explains it pretty well. I think I'm going to stick to a 1 minute boundary: if it takes more than 1 minute to collect all materials of one type (so all stone, for instance), the recipe is probably too boring and repetitive.

I made the inside of the town hall:






You can't do anything right now there, the stairs don't work yet, there are no doors in the wall yet, etc., but that will come later. The counter is where players can request to become a citizen of this town, and the desk is from where the mayor can rule.
If you want more development, see [twitter] or [facebook]. If you want to be a tester, you can subscribe on [olvand.com].