Hey gang, Etherium development is still moving along. Among the many various developments, the lighting code has been improved, the rain has been corrected, and of course, there's this: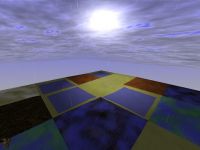 That sky is fully configurable, from the amount and darkness or wisp-likeness of the clouds, to the position of the sun and brightness of the sky. This will be invaluable for the night, day, and weather system, and the players won't see the same sky twice. Handy.
The development of the basic client-side structure is nearly complete, so the focus will now be shifting toward the server/client communications, as well as server-side gameplay code.
Keep your eyes peeled for future updates! In the meantime, feel free to visit our mod profile here.