Announcing Sim Hero Online!
Check out the Kickstarter page full of information:
We're here to officially announce Sim Hero Online (public Alpha testing)! What is Sim Hero Online? Well, we're glad you asked:
More information below: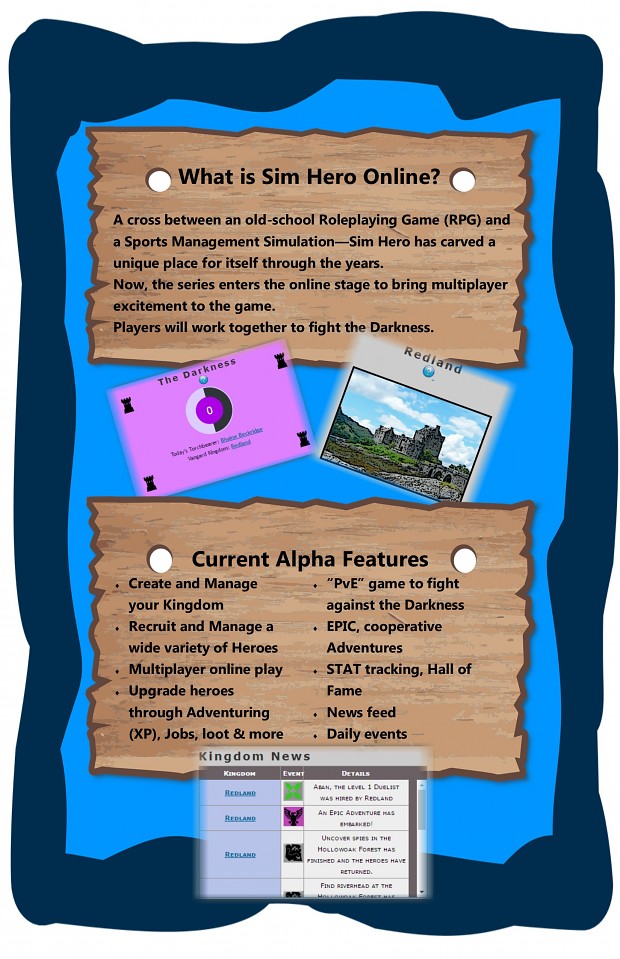 Sim Hero Online is a "simulation" type game with minimal graphics. The heart of the gameplay revolves around managing your kingdom and heroes. You'll need to decide which heroes to hire, utilize, upgrade - and which ones to let go. Then, you'll form parties of heroes to tackle your kingdom's available adventures and also decide which heroes to send on multiplayer EPIC adventures.
The core gameplay is a hybrid between a typical sports management sim (ie: Football Manager, Out of the Park Baseball, Goal Line Blitz) and an old-school RPG (ie: Final Fantasy 1, Ultima, Pool of Radiance). Like many sports sims, you are focused on management and strategy, rather than moment-to-moment action. You'll make decisions on which heroes to risk in adventures, pursue jobs and more.
In all cases, the game plays on all modern browsers and everyone is playing cooperatively in the same world.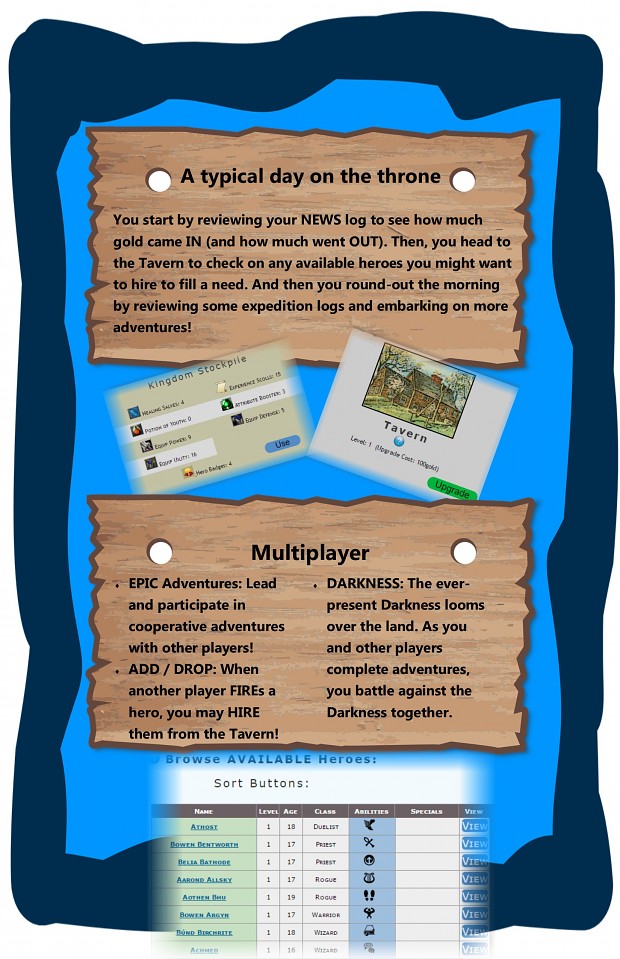 Unique Game Play
You'd be hard-pressed to find a game with features to match Sim Hero Classic or Sim Hero Online. Sim Hero Online differs from other current-day simulation games on several key points:
Multiplayer
Cooperative goals for players
Roguelike (play for as long as you wish, no "game arc" where you need to have heroes of a certain power to continue, heroes age and can die permanently, truly randomized heroes who organically develop as they adventure, randomized adventures)
The entire design goal of the game is to be a Simulation, not an adventure game... There are thousands of Final Fantasy 1 clones to choose from already.
Always something to do. Most online sports sim games only "process" once a day, or once every few days. In Sim Hero Online, there's plenty to do throughout each day.
Geek Fever Games: a long history of delivering the most feature-rich RPG management sim on planet Earth (Sim Hero Classic)
Free to Play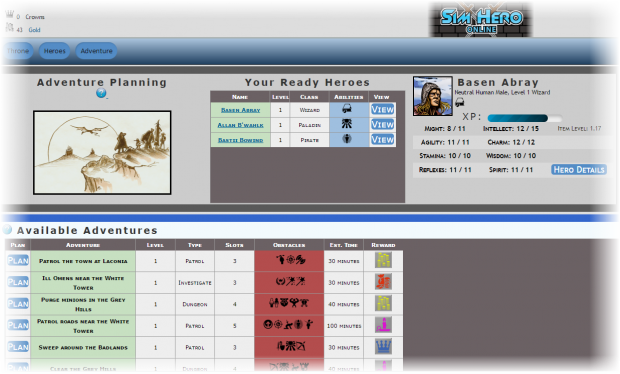 Alpha / Beta Test
Everything needs balancing, especially aspects of multiplayer. Jump in TODAY and help us Alpha Test by clicking here. Signup takes 5 seconds and costs nothing.
Open Alpha
Start: Now!
Est. End: February 2017
Goals: Bug squashing, New feature development, Game balancing, Community feedback
Open Beta
Est. Start: February 2017
Est. End: June 2017
Goals: Bug squashing, Final Balancing, Community feedback
Release
Estimated Release: June/July 2017
Free to Play (Kickstarter reward tiers grant about 2x the Crowns as the same $ value would post-release)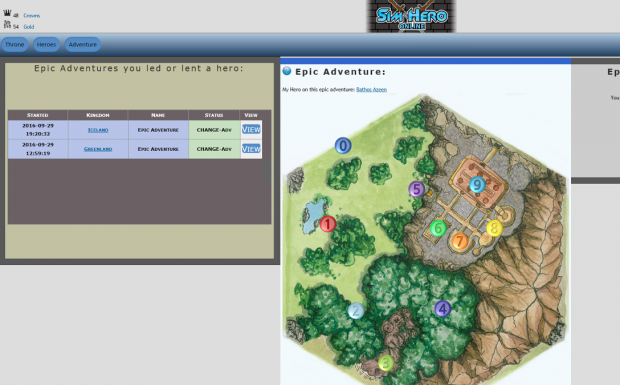 The Road Ahead
So, you've tried the ALPHA and found a feature-rich RPG management sim! What are we planning to push the game even further? Well, here's some of the things we're actively working on:
More Buildings. LOTS more! You'll really be able to tailor your kingdom to how you wish to play. Want a Necropolis? A wooded community? Trade hub? Many options/paths are planned (with some of them based on stretch goals).
Kingdom Population. As you build housing, different races will immigrate to your kingdom and you'll be able to see the population breakdown. Certain buildings will work "better" with certain populations, and when you recruit new heroes with a BADGE, that hero will be of one of the races in your kingdom, with different racial advantages/disadvantages. (Planned additional races: Dwarves, High Elves, Wood Elves, Halflings. Stretch goals can increase this list.)
Hero Specials. There are a few hero special abilities in the game which heroes can attain by having a high level and high attribute (each special ability is "linked" with an attrib). But, we plan to add LOTS more. Every hero should bring their own talents to bear in a unique way for your kingdom.
More Hero Classes. If you played Sim Hero Classic, you know we like hero classes. Expect a TON more. We want to break all records.
End Game. Notice those 4 Towers on the Darkness scale? Well, those aren't just for decoration - they are named locations near the Heart of Darkness. While those are in play, darkness will generate faster. But, intrepid leaders can embark on Epic Adventures to take those towers down. Once all 4 towers are down, an expedition can be led to defeat the big baddie. The Darkness will take time to rebuild itself after a defeat. Special rewards and recognition await.
Story Improvements. We plan to add more locations, more flavor text for adventure logs and special consideration for Epic Adventure logs to make them truly spectacular.
General Interface Improvements. We plan to continually improve the interface for clarity, ease of use and style.
Also, we have some ideas for features we'd like to see in the game at some point as well:
Tower Defense. Some buildings and heroes can assist in a "slow burn", continuous tower defense mini game where your army, player decisions and buildings defend your lands vs the encroaching hordes of darkness.
PvP Arena. Co-op is fun and all, but sometimes it's also fun to beat the stuffing out of your friends (and enemies). Send your heroes into the arena to compete for glory and gold.
Council. Promote a hero from the toils of adventuring to your trusted council of advisers (maybe they've taken just too many wounds?). Gain bonuses based on their class / level and what "position" you assign them to.
* of course, all of the above is subject to change
Check out the Kickstarter Today!