We've been hard at work behind the scenes and are proud to announce our latest feature - Indie DB Giveaways. We have a great community of passionate members and whether you are a gamer, developer or both - we want to thank you for calling Indie DB home by either giving you a free game or free marketing for your game.
Our first giveaway is live!
Spreading the word and getting your game on the homepage is tough, we know! To help our developers reach a wider audience any game that exists on Indie DB is eligible to host a giveaway granting you 24 hours of uninterrupted homepage exposure to help your game grow. Members of our community can then join the giveaway and go into the draw to win a key for your game.
How does it work?
Members
All that is required to join any giveaway is to be registered on our site.
Click 'join giveaway' (if one is running) and you're in with a chance to win a key.
You can increase your chances to win via social media boosts.
Once the countdown hits zero, we email the game keys to the lucky winners!
Developers
Click here to host a giveaway.
Fill out the details for your giveaway, including your preferred date for it to commence.
Submit at least 100 CD keys for us to randomly distribute to participants.
That's it! Your game will be featured in the giveaway box on the front page (below).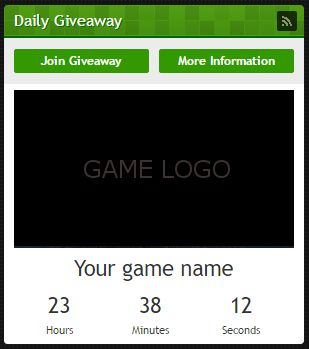 We're really excited about this feature and hope that our developers embrace it as an alternative to paid advertising which is unfortunately beyond the budget of many indie developers. There's plenty more exciting features we're working on behind the scenes so keep an eye out for them. If you have any questions please let us know in the comments section below, or read more about the giveaway system.