GrimWar is a dungeon scrawler with special features : exploration is only vertical
(you are in tower right ?).

Every floor is divided in a new game screen and that also means : one floor = one event. That event could be a chest full of gold to open, or a fierce battle to deliver.
Encounter diversity and fear of the unknown are what makes GrimWar a great game to play.
GrimWar also have tactile features. Yes, you read it right the first time and it wasn't a mistake, GrimWar is a dungeon scrawler.
Every spell need you to draw (or scraw) its symbol to cast it. That's also how you will resolve riddles.
Of course, we did not forget frenetic finger's gamers. Rubbing the screen like crazy will also have its usefulness !
As you may already understand, the game is scheduled for release on tactile devices (iOS/Android), fall 2013.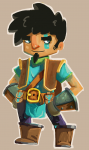 About SillyCat Studio
We are a French independant game development studio, based in Paris and founded in February 2013 by Alexandre Itard, Remi Lys and Thomas Baggi-Sani.
Our ambition lies in two words : "Simply Efficient". Make games with simple gameplay that can bring complexity by going deeper.
Also, we like cats.
Our first game Mothership Touch Battle has been released in february 2013. It's about space battle and 4 players on the same touch device.