You are Griff Dangers and your city needs you. You've been called to investigate rogue robot sightings in the city. But you soon find out, these are no ordinary, mindless robots. These robots are intelligent. They will evolve to adapt to your fighting style, trying to outwit you, becoming deadlier and deadlier. But you are Griff Dangers. You can handle it.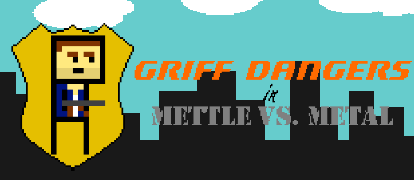 Shoot your way through this retro inspired 2D platformer/shooter game against robots that will do everything in their power to stop you. Change weapons to keep your enemies on their toes: machine guns, rifles, grenade launchers, they will try to adapt and take you down. They will be your doom…or will they?
Earn coins as you take them out to buy weapons and health, and share your score with your friends. They may get jealous…
Trial features the Machine Gun and the Rifle. Can't use ATM or Super Weapon Vending Machine. Score is not saved.
Features
Retro inspired graphics and sounds
Keyboard/Mouse and Touchscreen controls
Score synced between Windows 8/RT devices
"Griff Dangers in Mettle vs. Metal" was originally made in 48 hours for Ludum Dare 24 where it placed 357th out of 1006 entries. Ludumdare.com