Hey everybody, it's time to proudly announce Gearscape!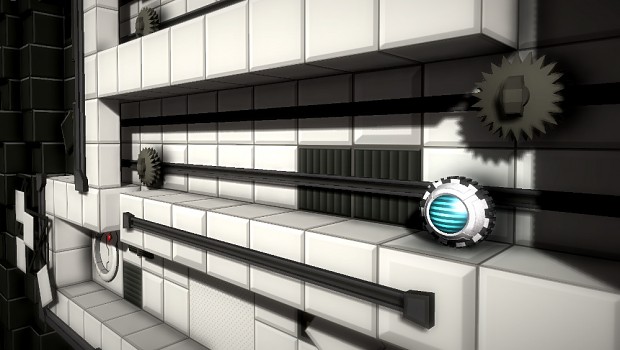 What kind of game is that?!
Well, the best way I have to describe the game is "Super Meat Boy meets Portal" aka "Reach the chamber exit fast and without dying".
Sounds easy, uh? It is! Except for traps, lasers, lava waterfalls and the ever spinning saws trying to kill you. Levels are designed to kill you (and they will, often) and you'll find that the only way to reach the exit door is to exploit the level itself with a sequence of running, jumping, wall grinding and wall jumps.
If you:
like fast action games
are not afraid to mercilessly die, die, die before completing a level
are a masochistic hardcore gamer
like to battle to reach the best leaderboard positions
know what a ragequit is
then, this game is for you :D
Gearscape will be available on many platforms, including:
Windows, Macintosh and Linux computers (keyboard or gamepad)
iOS and Android tablets (touch controls)
OUYA game console (gamepad)
Closed beta keys available
Next week we are going to start a closed beta with a few lucky players, if you want to try the game for free and help us refine the levels, just create yourself an account in the forums and then send us an email at beta@subvertgames.com including your forum username and a short description about you.
Warning: these screenshots are taken from the development version and does not reflect the final quality of the game