Hello everyone!
I can say that this is my first development diary of The Adventures of the Ball. So here it is. My first serious project. It's true, I have made some other prototypes in the past like Battle of the Games or some others in Gamemaker. But this project is really interesting and fun for me. I like to develop it.
I have many ideas and concepts for the game but I am sure that I can't implement all of them.
Here are some of the concepts and ideas (green one are realized, orange maybe, and red are very unlikely):
moving platforms

more than 50 levels

fall down levels

able to jump

portals/teleport

multiplayer

different zones

highscores/ranking
These are the most important concepts. I am sure that I will write about some of them in the coming diaries.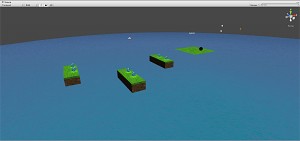 I'm considering right now, if a funding model in Desura would be appropriate to fund my other projects. For instance, anyone who wants to support me can buy the 2 € version of The Adventures of the Ball, so to speak, it runs as fundraiser. The investors also can give support, advices and ideas to the current version and can affect the development.I am not sure about that, but it sounds good for me.
So stay tuned for the first alpha version and visit the new website of Maxx Studios!