The Parasite gamemode (it's how Garry's mod 10 mod are called) , after less than two months of development , was released (with one person working on it). Because of the easy lua implementation of garry's mod and the contribution of new modders, Parasite will continue to evolve very fast.
Parasite is a multiplayer "the thing" like , in wich humans have to fight for survival against aliens and other humans , because anyone could be an alien disguised into an human form.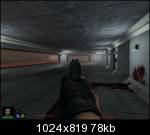 You can actually help the mod if you are a web designer/webmaster by creating a small homepage for the mod. Contact me at ickylevel@hotmail.fr .