3rd anniversary of the very first version of War Clicks is here and we have a special mission for you to complete! The world is currently not aware of War Clicks' awesomeness and what all it can still become, but it needs your guidance on its road to fully increase its potential and rule the world of gaming! :)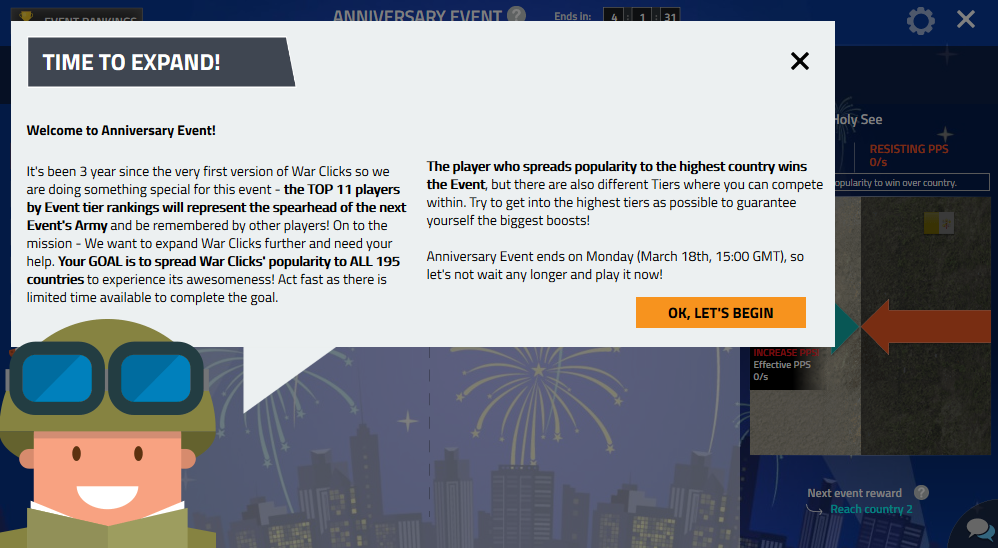 In this Event you will be commanding the War Clicks' team, managing its powerful resources and seeing its worldwide popularity plan become a reality – you'll have to buy academies that produce various tools for expanding the game. These can be produced and sold for cash or used by War Clicks' crew to further increase the game's popularity within every country.

There are plenty of different type of Academies and War Clicks' crew members at your disposal to get the job done, it's just up to you to make the most of it!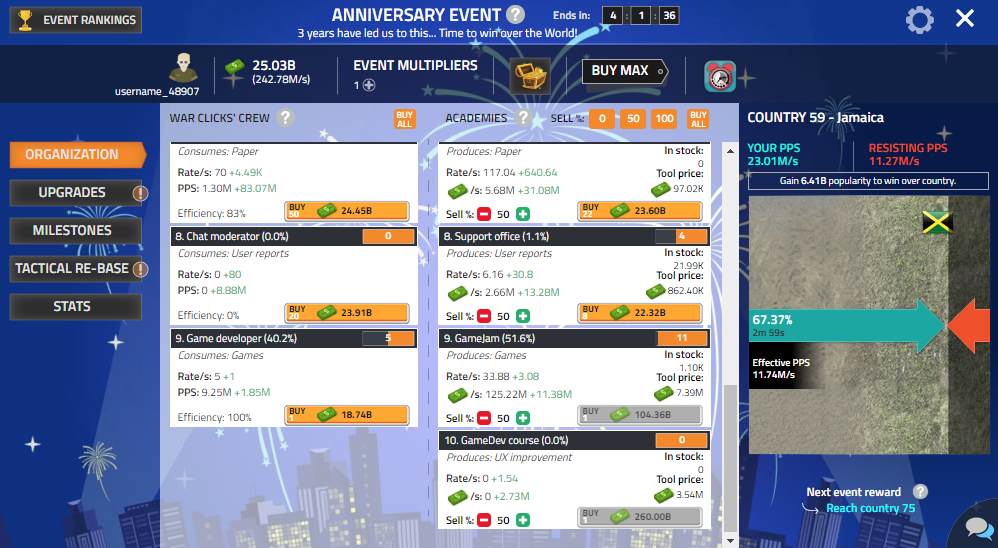 War Clicks' scouts report that the first few countries have almost no resistance left, but as you visit more you'll be met with more resistance. They seem to refuse these type of games and ruining our efforts. So you will have to find out a way to convince those players to try War Clicks and overwhelm them. The more you outmatch it, the faster you'll see increased popularity of War Clicks in that country.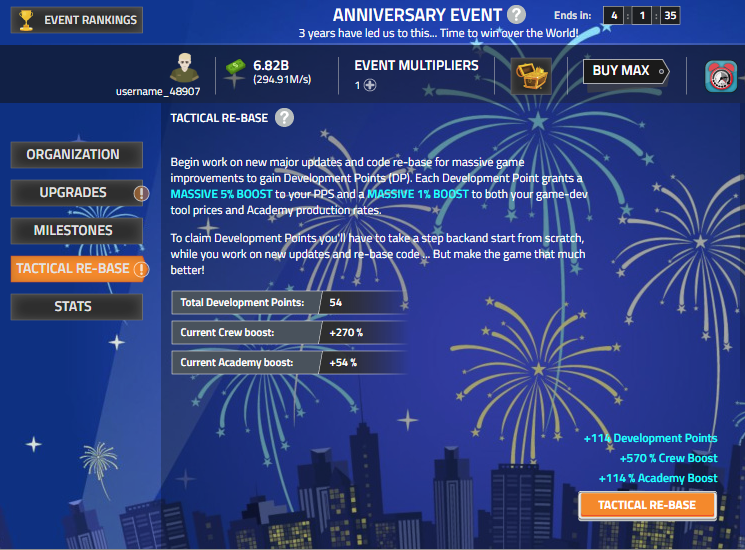 Note: You are managing your resources from a distance so both Academies and your crew will continue working/pushing forward even while you are away!

As you increase the game's popularity in countries you will also receive various rewards and Development points, which you will be able to use for some huge bonuses down the line.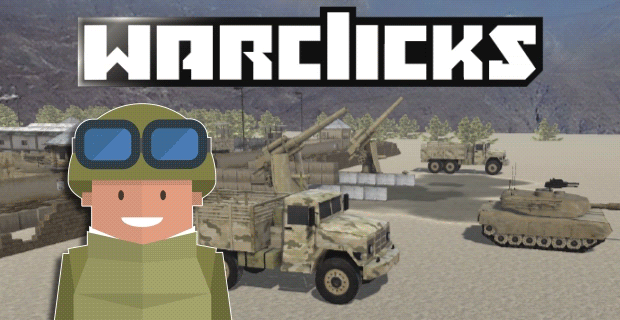 Last but not least, General Master Clicker asked a ton of other soldiers to help him, you are not alone. Those who manage to share the game's popularity into the most powerful countries will be given huge rewards at the end of the event. So make sure to check out the Event rankings and see how you are doing compared to other players and try to outperform them – we know you can!

Event starts on: Thursday, March 14th (15:00GMT)
Event ends on: Monday, March 18th (15:00GMT)
______________
For those who haven't played War Clicks yet, now is a special chance to try it out as we are giving OUT a special code you can use between March 14-21st... Here is your code for reward: CAKE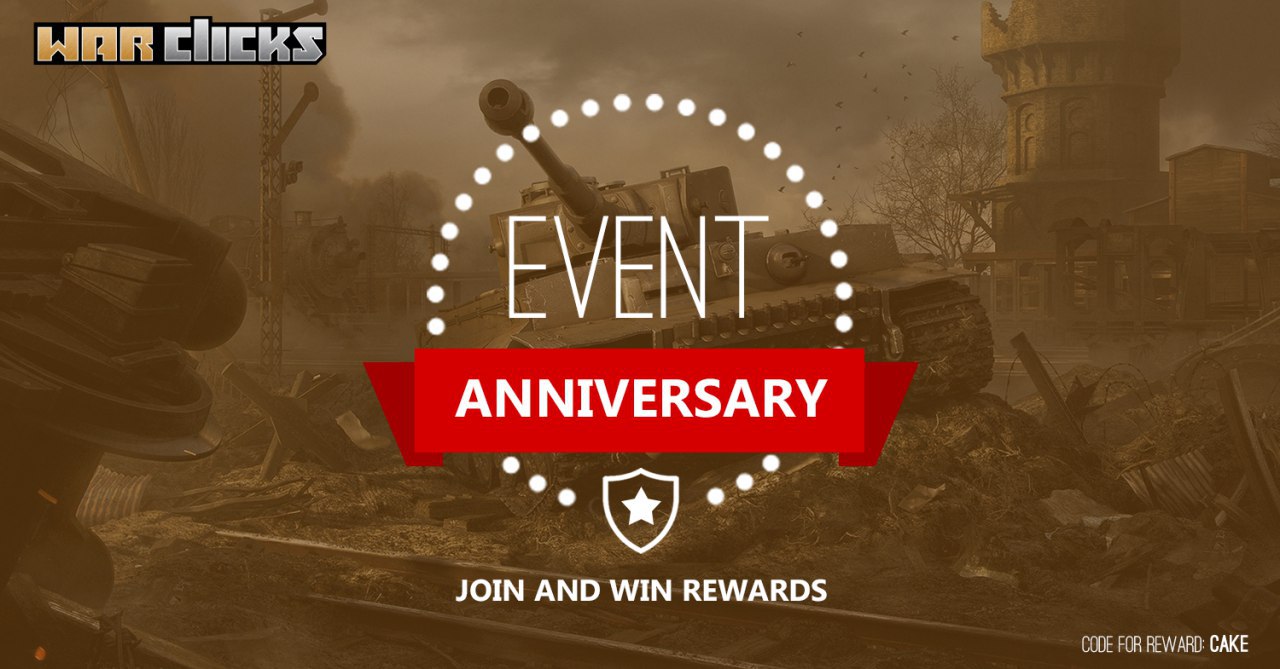 You can play the game on:
Official game website
Kongregate
ArmorGames

More about the game:
GameDev Blog
Press Materials
Media Kit