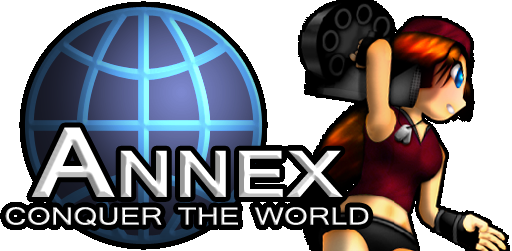 Annex changed from mod to Indie.
Hello a bit of news Annex old page on Moddb Moddb.com has been Upgraded to an Indie Game on Indiedb Indiedb.com. Please note the old page is no longer active.
Its been almost 3 Years of developement as a standalone mod, but I'm finally going to classify Annex as an Indie game. This is how Annex should have been classified from the start. If you have played Annex and Megaglest before you can see Annex is more than a mod, and now its even bigger than before. I guess it was my confusion about the technicalities of what is a "game" vs "mod". But thanks to the devs here, Annex is now situated where it should have been all along. Now there is just the issue of changing the links over the internet -.-
Don't worry though you should not be effected by this change, other than maybe updating your bookmarks.
Other Big Changes:
Changes to Insanity Mode: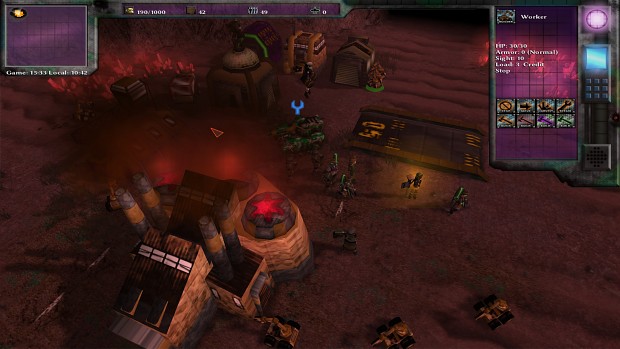 In release 3 I introduced a techtree called Insanity, which combined both Alliance and Shadow into one faction with no prerequisites. Now Annex grew to 4 factions and like before I combined all into one faction. However, due to space constraints, I cannot combine all infantry and vehicles into single barracks/factory as I did in the past. So to combat this I divided all the faction's buildings and vehicles to their own structure, meaning separate buildings for either Alliance, Renegade,Shadow or Republic. Each of these structures are built from their own tab under the worker unit. (as seen in screenshot)
Note,All faction tab produce the same Refinery (as its the only main structure) and Silo (for super weapons) Also upgrades are no longer Available.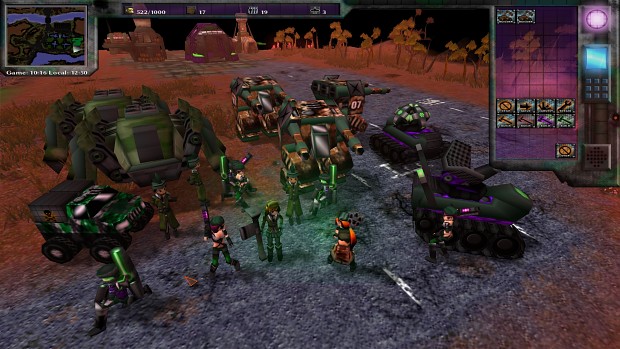 All Heros, Elite Units, and Super weapons were available at your disposal. I found out it is entirely possible to build this special army, however this requires a lot of money/time to be possible, as you will need structures of all kinds to be able to build such an army, also you will not be able to have any other units, (if you see i have 19 slots left thats enough for only 3 harvesters) I wonder if Its possible to win with a strategy like this...
Units that are shown are: Kestrel and Karina, Commandos, Infiltrators,Officers, Giant Spiders, Troop crawlers, Orbital strike, Shield Generator, and Demo Rangers
Population Cap Changes:
- Population cap increased from 85 to 100
- Normal Vehicles take 2 slots, Infantry 1 slot, Turrets 1 slot, Harvesters 5 Slots, Heros/Super Weapons 5 Slots, and Elite units 3 Slots.
- This allows for proper turtleing tactics, and Infantry rushes, also creates more choices, do you want to spend your last 10 slots on 10 infantry or 5 vehicles (remember infantry are stronger now)
New Techtrees:
- Added Half Damage, Double Damage, and Simple Battle techtrees variations
- Half and Double Damage are simply 0.5x and 2x default values in the techtree xml
- There are a Half Damage and Double Damage variation of all main techtrees indicated by an H or a D at the end of its name (example: Pre Deployed D)
- Simple Battle and Simple Deployed are special techtrees that reduces factionunits to these standard classes: Worker, Basic Infantry, Anti Tank Infantry, Harvester, Light Vehicle, Main Battle Tank, and Siege Vehicle.
I choose the units closest to those types. No heros, Super weapons, or aircraft. Good for new players who may otherwise be overwhelmed by Annex's large techtrees.
- Updated Infantry Only Mode to include Republic units such as Officer, Sniper, and Grenadier.
No Renegade units as they are exactly same as the Alliance Infantry, however I changed all structures to the Renegade equivalent to give them a presence in this mode.
- As of now there are a total of 33 Techtree variations in Annex!
Sound:
- As of now I removed unit Voices as they are far below the quality of the rest of the game.
- Battle sound fx like Guns, Missiles and Cannons were greatly improved, Thanks to MichaelB!
Annex Home Site:
Annex home site almost done. Actually
site will be focused on Annex but will also be about any past/future
games I plan on releasing as well.
Currently waiting to set up a small forum and then I will make its announcement here!
So what is left?
-"Core" (gameplay, techtrees, Factions, Maps, and Tilesets) are done and ready to go!
- I need to get music for the Renegade and Republic (3-4 songs each) probably get it from Newgrounds like always :P or maybe ill just use same music for now and update in a later release.
- I will need to update Annex's "Starting Guide"
- Annex home site and forum.
Whew... Thanks for reading all this! Feel free to comment question below!
Get a copy of "Annex: Conquer the World Release 3" Here:
No need for Annex Beta 2 or Megaglest to run!
PS Mod DB Downloads may not be up to date!!!! Please get from locations below:
Get a copy of "Annex: Conquer the World Release 3" Here:
No need for Annex Beta 2 or Megaglest to run!
PS Mod DB Downloads may not be up to date!!!! Please get from locations below:
For Windows:
download:
Annex.megaglest.org
simply unzip "annex_release_3_win.zip" anywhere and run annex.exe in main folder
For Mac OSX:
download:
Annex.megaglest.org
unpack "annex_release_3_osx.app.zip" and run annex_release_3.app
For Linux 64 bit:
download:
Annex.megaglest.org
extract annex_release_3_linux_64.tar.xz to your home directory
run: ./annex -or- chmod +x ./annex ./annex.bin
./annex
For Linux 32 bit:
download:
Annex.megaglest.org
extract annex_release_3_linux_32.tar.xz to your home directory
run: ./annex -or- chmod +x ./annex ./annex.bin
./annex
Contacts:
Facebook: Facebook.com
Glest Forums: Glest.org
Find me on twitter: @Delphadesign