A 15% launch discount will mark the game's first week on the PlayStation Store.
A new trailer accompanies the console release - Youtu.be
Ancestors Legacy, so far the most complex and successful title by developer Destructive Creations, releases today on PS4 and Xbox One, retailing at the price of EUR 34.99 / USD 39.99, with a 15% launch discount on PlayStationStore US. Later this year, a physical version of the game for PlayStation®4 including bonus material will be made available in selected retail stores for EUR 39.99, as will the PS4 digital and retail versions for Japan and Asia.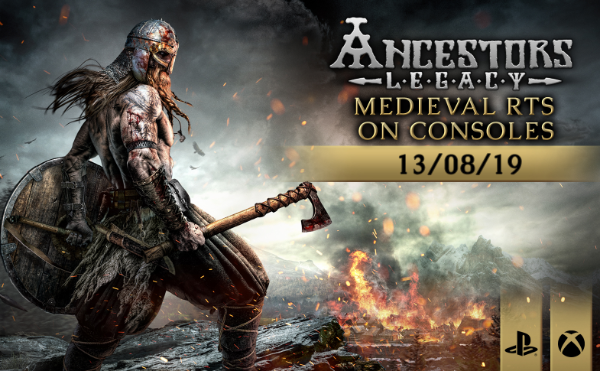 Confident in the title's quality, supported by numerous positive reviews and a 77% average rating on both Metacritic and Steam, Destructive Creations are looking forward to seeing gamers enjoy the medieval atmosphere and harsh battles of Ancestors Legacy on consoles. With porting support from Slipgate Ironworks, Ancestors Legacy is bringing all its main features to consoles: an enticing history-inspired storyline, tactical squad-based battles, day-night cycle, action camera, pleasing visuals on a par with the PC version, and the extra hours of gameplay in skirmish and online multiplayer modes.
The addition of a first-rate RTS to non-PC platforms, where such titles are scarce, has been highly anticipated by many gamers and Ancestors Legacy will not let them down in terms of content, quality and accessibility via the controller, the use of which has been prepared and tested for right from the very beginning. Following a challenging development for PC, additional free updates and a paid DLC, the porting of the game was no easy task, and having finally brought it to the remaining platforms is a gratification for the whole team. The cooperation with Slipgate Ironworks on the PS4 build cannot be stressed enough.
Watch the release trailer HERE.
Journalists and influencers are welcome to request review keys, either through Keymailer or by replying to this email.
Destructive Creations will be present at this year's Gamescom as the developer of Ancestors Legacy and the publisher of Daymare: 1998 and Follia – Dear Father. You can find us in Business Area, Booth D-020, Hall 2.2.
ABOUT ANCESTORS LEGACY
Ancestors Legacy is a history-inspired, real-time strategy game influenced by historical events in the Middle Ages. The game combines resource management and base-building with large-scale, squad-based battles across vast battlefields, all rendered in superb detail with Unreal Engine 4. Experience medieval bloodshed like never before thanks to the cinematic action camera that puts you right in the middle of the battle at the press of a button.
Take command of your army as you storm through medieval Europe in an extensive series of campaigns. Choosing one of the four available nations – Viking, Anglo-Saxon, German, or Slav – you will be tasked with more than just conquering, raiding, and pillaging enemy camps, villages, and towns. Only by utilizing the full range of available tactical options, taking strategic advantage of the environment, and managing your temporary bases and settlements will you emerge victorious.
ANCESTORS LEGACY MAIN FEATURES:
Precise controls with native controller support;
Four playable nations in an extensive single-player campaign inspired by historical events;
Various modes of intense multiplayer battles;
Advanced tactical options combining the use of terrain, experience, and morale;
Cinematic battle camera view that puts you right in the center of the action;
Outstanding visual fidelity powered by Unreal Engine 4;
Streamlined resource management and village construction.
More information about the game can be found on the official website, Facebook, and Twitter.