Dear ModDB Watchers,
Here we are, again, in the epicenter of another situation that we had in our Studio. Amnesia: Fear in Hands is now officially back on track and is in full development with Canis Lupus. We decided to rewrite our concepts and restart the game because we thought that the game wasn´t good enough. We wanted more and we will show to you guys what we were meaning really soon. Amnesia: Fear in Hands will use and abuse of the AAMFP and ATDD assets and even more, that we will be creating exclusively for the game. Some great screenshots shall be coming in the next few days.
---------------------------------------------
You can see ahead an updated list of the In-Game features:
- The game is set in the City of Brennard.
- There will be playable flashbacks and flashfowards.
- 3 different main campaigns: Daryon Wolfinger (father), Sofia Wolfinger (daughter) and The Torturer (classifield).
- New monsters and characters.
- New models. Including the A Machine for Pigs assets.
- Between 1 to 2 hours of gameplay.
- After a lot of requests, we officially REMOVED all the jumpscares of the game.
- We REMOVED alternative endings.
- Different decisions will affect the others campaigns in the game.
- Mementos, Diaries and Notes will be constantly showed in the gameplay
- There is going to be some interesting puzzles. Not hard ones by the way.
- There will be traps that can harm both you or your enemies. Be smart.
- Water monsters will have such a special attention in this custom story.
- A huge map to explore (few loading screens).
- Amnesia: Fear in Hands will have DIRECT connections of a lot of different customs stories. Pay attention to the details.
---------------------------------------------
And Sofia start screaming... I could hear her sad voice coming from a small locked room."He is not my daddy, He is not my daddy, He is not my daddy, i beg you, stop saying that!"
And then... One guy, that looks like a very old man answered her."Don´t cry my princess... It's just a little prick, and you will nevel feel pain anymore. Come on and give your fella a last hug.".
She obey him and extended her arm slowly to him... He start collecting her vitae and the screams have returned for more than three hours before she gone...
---------------------------------------------
The website now has changed too, you can find the new website at: www.blasterlizardbrazil.wix.com/home. Canis Lupus can be found there too.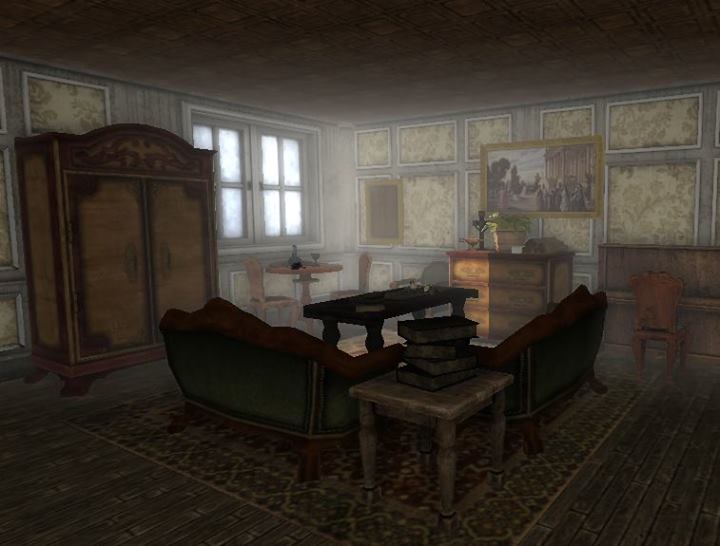 You can see above the first OFFICIAL screenshot of the new looking of the game. Better than before huh? Well, hope you like it! There is a lot of new stuff to come! We´re excited to let you guys play it!.
---------------------------------------------
About the OLD STUFF, we´re still going to make use of that ''pre-order'' (remembering that pre-order is not ''pre-buying'', just a pre-request of the game) that will include an entire new campaign for the player to join.
The Soundtrack will still be the same. You can find it for download at the download section of this page. Have fun hearing more than 20 exclusive songs that will consist in the final product of our custom story.
---------------------------------------------
About the VOICE ACTING, you can find the official Fear in Hands Voice Actors List bellow:
MEGAN KELLY - Natalia Wolfinger.
WHITEFROZENPETALS - Sofia Wolfinger.
SAMPLEMAN - The Torturer.
SEACATS - Clarice Goldman.
MATHEUS RODRIGUES - Nathan Alexbird.
ALEXANDRE FOLI - Daryon Wolfinger.
VERMICOUS - Barman.
THIS LIST WILL NOT GOING TO CHANGE... No matter what. This is the official list.
If you´re one of the guys above, have patient, we will be providing this month the entire storyboard for you to act.
---------------------------------------------
We are really sorry to dissapoint a lot of you guys, delaying the game for two times and not releasing it, making people very angry. But, as we promised, we haven´t died yet. It will require a lot more to crash us down. Relax now and enjoy darkness, Fear in Hands is coming.