Hi Guys and Girls,
I snagged a quick photo of one of our many ideas for implementing leveling into Alt Space.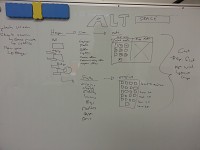 So far our plan is:
Start with designing your own ship from a set of pre-made pieces. You would require an engine, bridge, hull at least.
From there you select your crew and ship equipment.
In the example, we selected Medic, who has two "Skill Tree's"
Combat Medic or Ship Doctor - We will update the "Skill Tree's" in future posts
As your crew levels up you can upgrade along one of the "Skill Tree's"
With regards to ship equipment, you require a specific level class for certain upgrades.
In our example we chose engines, which as you progress require a higher level engineer.
Hope you enjoyed the sneak peak...
We are expecting to have videos of gameplay in a few months and hopefully a stable alpha shortly after :P