Lots of contests, and winners this time around! So let's get to it, then!
Contest 1: Pimp My Gear
(Details here)
The player who had the best looking weapon or shield, by player vote, is:
Rune, with the character Rujen
And the weapon? Have a look:
Just watch where you point that thing, Rune. And enjoy your brand new T-shirt! Sure, it's a draug talking about goblins… not dwarves in sight… But maybe one day, one contest, we'll have just the right one for you. For now, enjoy!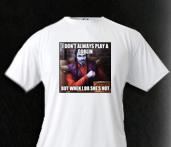 Contest 2: Schoolyard Bully (aka Refuge Ruffian)
(Details here)
The player with the most PvP wins is:
davidbankson, with the character randalthor!
With a crushing 39 PvP wins, you're one mean Schoolyard Bully and we should all hand over our lunch money immediately. Congratulations! You win a Supporter Level Collaborator Pack!

Contest 3: Fetch-for-Dev
(Details here)
We had a lot of fun asking players not only to run around trying to find random objects for us, but to also try to find where we were hiding. With Andrew, Ethan, Judy and myself (Gab of course) dictating our demands, one player stepped up to the challenge and claimed the prize:
Vodzu
Thanks for being so servile, Vodzu! For your efforts, enjoy your very own T-shirt!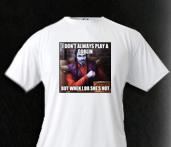 Contest 4: YouTube Trailer
This contest is still ongoing! Make a City of Steam, trailer on YouTube and get your video up on our homepage for 1 week! Also, win a T-shirt! Get more details here!
Contest 5: Mystery Contest Revealed: Most Popular NPC!
(Details here)
Who was the most talked-to NPC in the game? Why it was Lieutenant Twyne of course!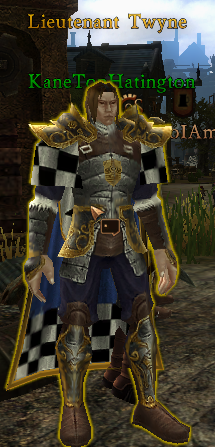 Congratulations on winning this truly amazing contest! It must have been a chore to talk to so many people, but we know the prize will make all of that worth it! You win an extreme makeover! Yes! In future game versions, look for an entirely new Lieutenant Twyne in Refuge! Will we able to still recognize him? Come back and find out!
Wow, what a great guy, that Twyne….
Contest 6: Scrooge McSteam III
(Details here)
The player who collected the most Shillings during the weekend was:
Shmalex (Again!?)
With a total of 2,134,705 Shillings this time around, you really raked in the money! You already got a T-shirt last time, but this week's is a different one, so there! Game-money (not real) for a T-shirt (real)? Pretty sweet deal!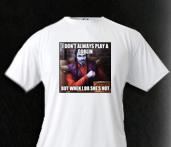 Contest 8: Grind Master
(Details here)
The first player to assemble a full roster of 5 character, each having reached at least level 20 (with screenshots to prove it) was:
Vodzu (2 contests in one weekend? You sure kept yourself busy!)
And the proof?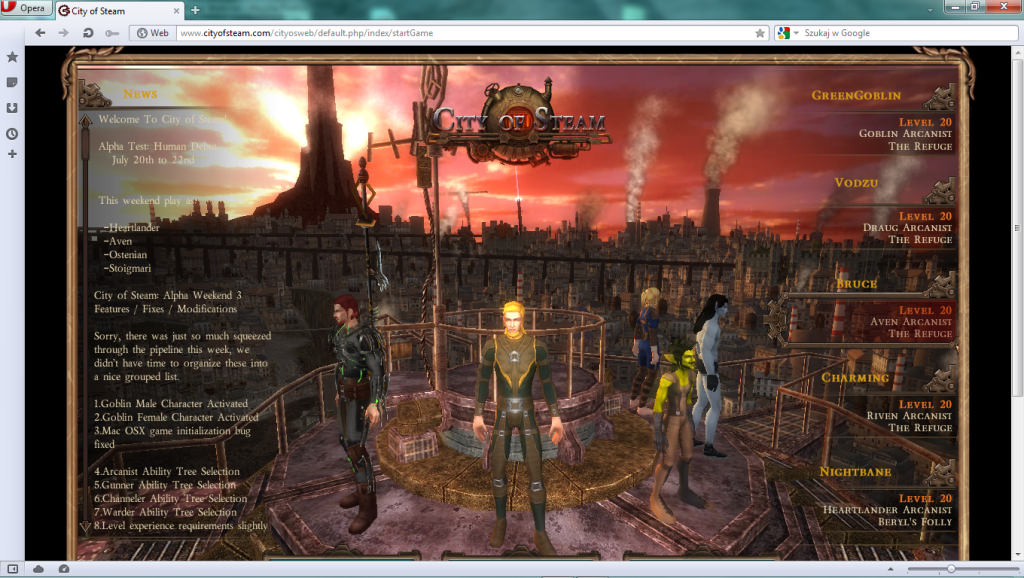 For anyone doubting this, your eyes do not deceive you. Photoshop was not involved. We checked our database and everything is in order. What a grinder! Vodzu, in addition to that T-shirt from the Fetch-for Dev contest, you get yourself a Toiler level Collaborator Pack! Hope you enjoy the awesomeness that lies within!

Contest 9: Paparazzi Photobomber
(Details here)
The player who captured screenshots of the most devs is:
Dewberry
Having caught no fewer than 16 of us wandering around, you've really kept your eyes peeled!… Or did you just stalk us one by one from the railhauler station….? Either way, not you can feel like part of the team with your own City of Steam T-shirt, goblin-themed just like your character (even if yours wasn't female )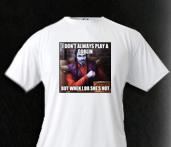 Contest 10: Exterminator Award (Rise of the…uh, Bugs?)
(Details here)
The player having reported the most unique bugs on the second Alpha weekend (without repeating the same one) is:
Trenial, for the second week in a row!
This time around, in the Alpha forum, you reported even more bugs, at 32 different bugs this time! Now although you already won a mousepad, we feel this second one, as awesome as it is, is not not quite enough. So, along with the initial prize, we're throwing in a bonus prize of a Supporter level Collaborator Pack! It includes guaranteed Beta access, so you can bet we hope to see you around for that too!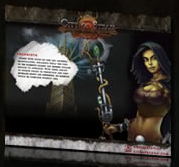 Note: Mousepad art may differ from the one displayed
AND

Contest 11: Un-deathdefying – Won't Stay Down
(Details here)
Wait…what? Contest 11? This wasn't announced… Surprise Contest?!?! Well why not!
The player with the most character deaths is:
Andrew, with the character MechAndrew
You died a total of 36 times… pfffft… Shouldn't devs be the masters of their own game? Well, either way, you've just proved how much you plain suck. I'm sorry, but you do. No way around it. Nope.
You do at least get a prize. We present to you Andrew's Statue of Shame: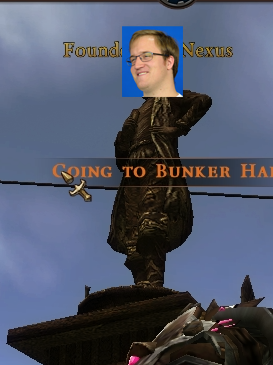 Hope you're proud of yourself. *disapproving head shake*
Anyway, congratulations again to all winners! To everyone else, there are more contests to come next Alpha weekend on August 17th! Some may return, new ones may appear, and it being our final Alpha weekend, it may be your last chance to grab some sweet, sweet (and free!) swag for a while! So stick around.
There's also a Trivia Contest running right now, so if you fancy yourself an expert on City of Steam lore (or even if you don't), check our Rune's Trivia Contest and give it a go! You could win an official City of Steam mug! Perfect for pondering trivia in the future, or to drink yourself into sleepless Alpha/Beta testing.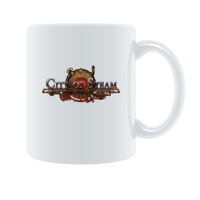 Want to congratulate our winners? Come by the forum and leave a message!
Note: All winners will be contacted individually, be sure to check your emails!