Meet a new map - Oilrig!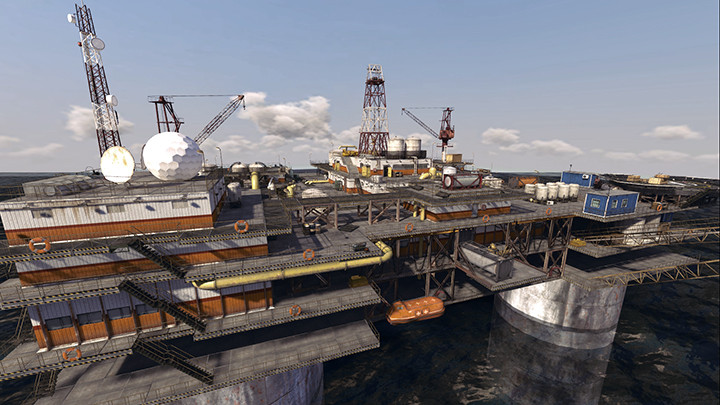 The map is available in PvP mode from level 7, and in PvE battles against Raiders, Collectors, Contrabandists and Alliance.
New quests
• "Raid: Triplex" [Level 9-15] - gather your friends and prepare your best weapons to destroy an innovative Alliance battle droid squad.
• "Lost cargo" [Level 9-15] - return the fallen cargo from a helicopter to government forces.
• "Lab Supplies" [Level 10-15] - no time to rest! Catch an alpha-freak alive!
Also some of existing contracts have been modified
• "Raid: Annihilator" - Annihilator's HP have been increased. More - he's got an improved weapon.
• "Psychos" - the contract is available only in co-op.
Note - right-clicking on the task in tasklist on the right allows you to see the taken quest's destination. The camera will show you the place.
Quest contract improvements
• Mandatory compliance of mercenarie numbers between the creator and the player whom is joining has been removed. The number of mercenaries may be different (but it must match the quest parameters).
• Each players current amount of mercanaries are now displayed in the quest lobby.
• All contracts have their own EXP-awards. The award is distributed between the active squad after successful contract complection.
• It is possible to see all the contracts that gives NPCes even if the contract doesn`t fit your level.
• Contracts have details about their difficulty, this is shown in the contract info.
• A new element has been added in the title list of contacts - number in brackets (X). It means the number of all available contracts of this NPC at the current moment.
• The check for the presence of weapon any in hand before entering the contract - added.
AI improvements
The logic of the mobs was optimized considerably. They "think" and commit acts much faster now.
Other changes and fixes
• Quest "Anarchy Raid" is now available from the 4th level onwards. "Anarchy raid" grants access to PvP Arena, Police Department and Barricade on the bridge.
• Quest "Checkpoint Protection" is available from the 4th level.
• Entering the arena is available only after compliance of "Checkpoint Protection".
• Global map has been improved.
• The amount of stars award in PvP 3v3 has been increased to 3,000 cr and in 4v4 - to 4000 cr.
• Platinum awards for achievements in PvP League - added (for places taken from this update).
• Damage from the multibullet weapons is now rounded upwards (average +0.5 damage for the bullet).
• EMP grenades are now considered equipment (it is not covered by restriction).
• First team of droids freezing in the event "Droids" - fixed.
• Incorrect characters animation when using shield - fixed.
• Incorrect displacement in the particle system (e. g. sparcles) - fixed.
• Freaks texture appearance has been slightly modified.
• Global notification based on the establishment of a training battle have been disabled.
• Unable to display the item binding removal price for more than 256 gold - fixed.
• A special message alerts you during changing nick-name if the desired nick-name is already taken by another player.
Play Now
Lost-sector.com