Developer's Log 4
Hello everyone and big thanks to all alpha testers who provide valuable feedback - with your help this game are getting better and better. Thanks again.
So, one day behind schedule, but I finally finish it - alpha 0.3 is there. And reason for delay - working NoS! Now game became a lot faster and a lot challenging.
Updates
Not one, but two new maps are added into this version for you to enjoy.
Help system implemented. Now handy tips will pop up while you are browsing through menu. But do not worry - tips will disappear once you drive for a while.
More physics - now more objects in the game can be "dislocated", you may bring some havoc into racing.
NoS - Nitrous Oxide System will give you speed boost once applied. But be careful - you will overheat your engine if overused. There is 3 ways to find out current engine state - 1) HUD on control panel / steering wheel will go from off-to-yellow-to-red. 2) Exhaust pipes starts to glow. 3) Flames and smoke appearing from your engine :) If you manage to blow it up - there is few second penalty, and your car will halt in place while engine slowly cools down.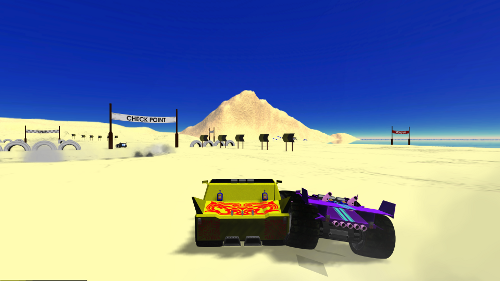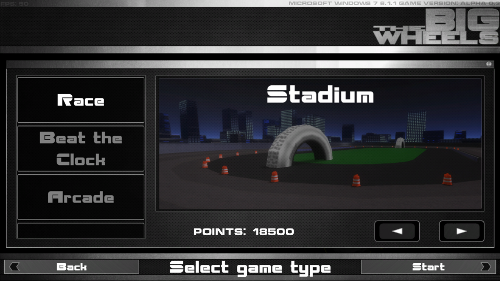 Q&A
Q. To play this game I need to login - do I need to be connected to the internet all the time?
A. No, you need internet connection only to login and game save in single player mode. Game data is stored on our server, so if system can't reach server you still be able to play. You obviously need internet connection to play multiplayer mode.
Q. How saving in the game works.
A. Any changes you make to your car, achievements, points etc. will be saved on our server, if possible. If not, it will be stored on your device (PC/Mac/iPad/Android ect.). Every time you login, system will try to sync your progress with our servers.
Q. Can I play it on multiple devices?
A. Yes, you can play full game if you login.
Q. Is there a story / tutorial?
A. Unfortunately, I'm not a good story teller, so tutorial will be available in future.
Have fun experience with this game.
Thank you .