Leading up to Alpha, we've been working hard on getting media attention to get the word out. You may have already noticed a few articles and videos floating around, and some of you may even be here because of them (if so, welcome!).
As most of you already know, the Alpha test will be spread out over 3 weekends, possibly more depending on how things go along the way. Each weekend will focus on different aspects of the game, which we will notify you of in between weekends, so be sure to keep an eye out for what to look for. We'll also send you a questionnaire to fill out after each test weekend, so please be sure to fill them out to help us refine the game. Your feedback is needed, and very much appreciated!
We'll also be adding content each weekend. Indeed, all the more reason to keep coming back to see what's new! New features, quests, contests to win prizes (keep an eye out for more announcements on this), and more! Probably the most notable addition will be for races, they will be added on gradually, as follows:


July 20-22nd – Human Debut
We will be testing the four human races in City of Steam and making sure everything is nice and smooth. Play as an open-minded but downtrodden Heartlander, strict and patriarchal Aven, Ostenian with conflicted loyalties, or a harsh but proud Stoigmari!


July 27-29th – Elven Elite
Elves enter the mix: play as a stylish and charismatic riven or a cautious and withdrawn draug!

August 3-5th – Greenskin
Incursion (Saving the best for last, eh?) Finally! This alpha test weekend you'll be able to play as any of the greenskins – meddlesome goblins, gruff hobbes and burly orcs. Bringing the total to 9 playable races!
So if you haven't already, and want to get in on the action, you should really sign up for the Newsletter now to get a chance at grabbing an Alpha key, as they are in limited supply. Without an Alpha key, you won't be able to play, so get to it! Now! If you still don't get a key, we will have partner sites doing giveaways, so keep on the lookout for 'em.
But there is a way to get a key, guaranteed…
If you've wanted to support the development of City of Steam, well now's your chance: we have Collaborator Packs! Chock full of City of Steam swag, it's your chance to get some awesome stuff while also supporting the game! In case you didn't get an Alpha key to access the upcoming test version, each pack contains at least one (higher level packs have extra keys for friends!). Even if you already have a key, you can still feel warm inside by knowing that for a small contribution, you can help a tired developer get 1 cup of coffee a day. Only with your help can we bring a brighter future to starving indie developers! (And hey, you get lots of swag. SWAG!!) So head on over and check out the goodies!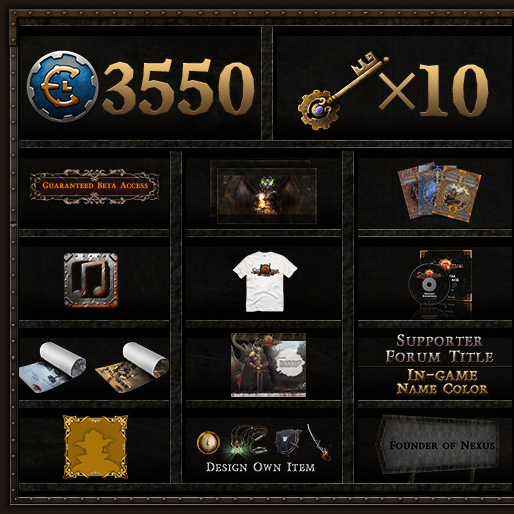 We're very excited to get started, and are all looking forward to seeing how you all receive it. And with your help, we can really make City of Steam shine, so again, feedback, feedback, feedback! We want it!
Be sure to pour in your excitement on our forum, your support could be a big push for the development of City of Steam.