Been a long run, but we're finally about to see the end of our alpha. This week in particular has been a mess of setting up social media sites and accounts, and getting them all into the game. We've also put up a little in-game social network called Cluckr, where we share important details about our meal to meal eating habits. We also use it to display tips and things. We think it's a great compromise. Furthermore, you can get a sense of how your restaurant is doing by reading your Cluckr feed.


Cluckr is a cool way for us to get a little more personality into the game.
We are about 50% on Hosted Events, and had some help from super cool guy Eric Balistrieri, animator extraordinaire, who came over and put some of his chops into our little dudes. There was an incident involving an octopus arm that needed fixing, so we got on that quickly. The guided tutorial is now at 100% as well, and people can successfully play through our alpha. We're desperately trying to have a polished media build for April 1. Ideally, since this is written in HTML5, this will be able to be embedded right into the site, and you'll be able to come back and see it as it develops.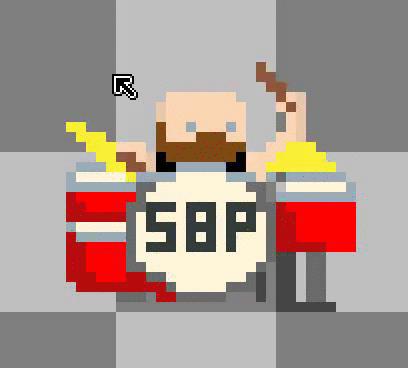 Octo-arm-guy and crazy rage drummer have no time for us.
On the other hand, I despise how caching is handled with most browsers, so seeing the updates requires brain surgery if you've previously played the game. We're chasing some pretty cool (terrible) bugs right now too. Katie's hard at work turning this all into French, and Matt is writing his butt off. We ran like mad people on #screenshotsaturday, and that was a pretty cool deal. Lastly, we've started making the recipes from our game on a weekly basis and subjecting ourselves to them in the hopes that someone will follow us in a kind-of-Tom-Greenish morbid curiosity.
Twitter.com
We should have a new video up demoing the Tutorial this week. Stay tuned!
M