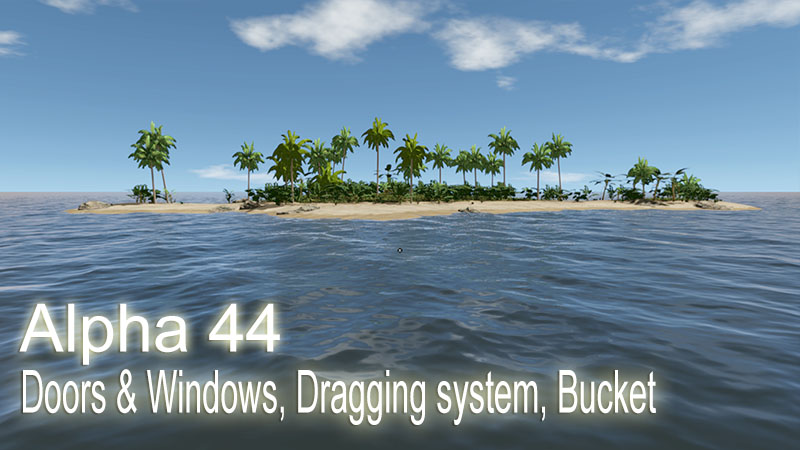 Hi everyone,
the new Escape the Pacific version 'Alpha 44' is now available.
For this update we were mainly focusing on adding the mechanic for Doors and Windows. The object Dragging system was upgraded and a new collectible Bucket was also added. A couple of the issues were fixed too.
The Door & Window mechanic finally allows to completely seal off buildings against all of the weather elements. They can be attached/detached to Door and Window wall modules in a way similar to the raft building mechanic. Orientation of Doors and Windows can be changed any time holding a Hammer in hands after they were attached. This wall attach mechanic will be used for some other craftable objects which will be introduced in the next updates.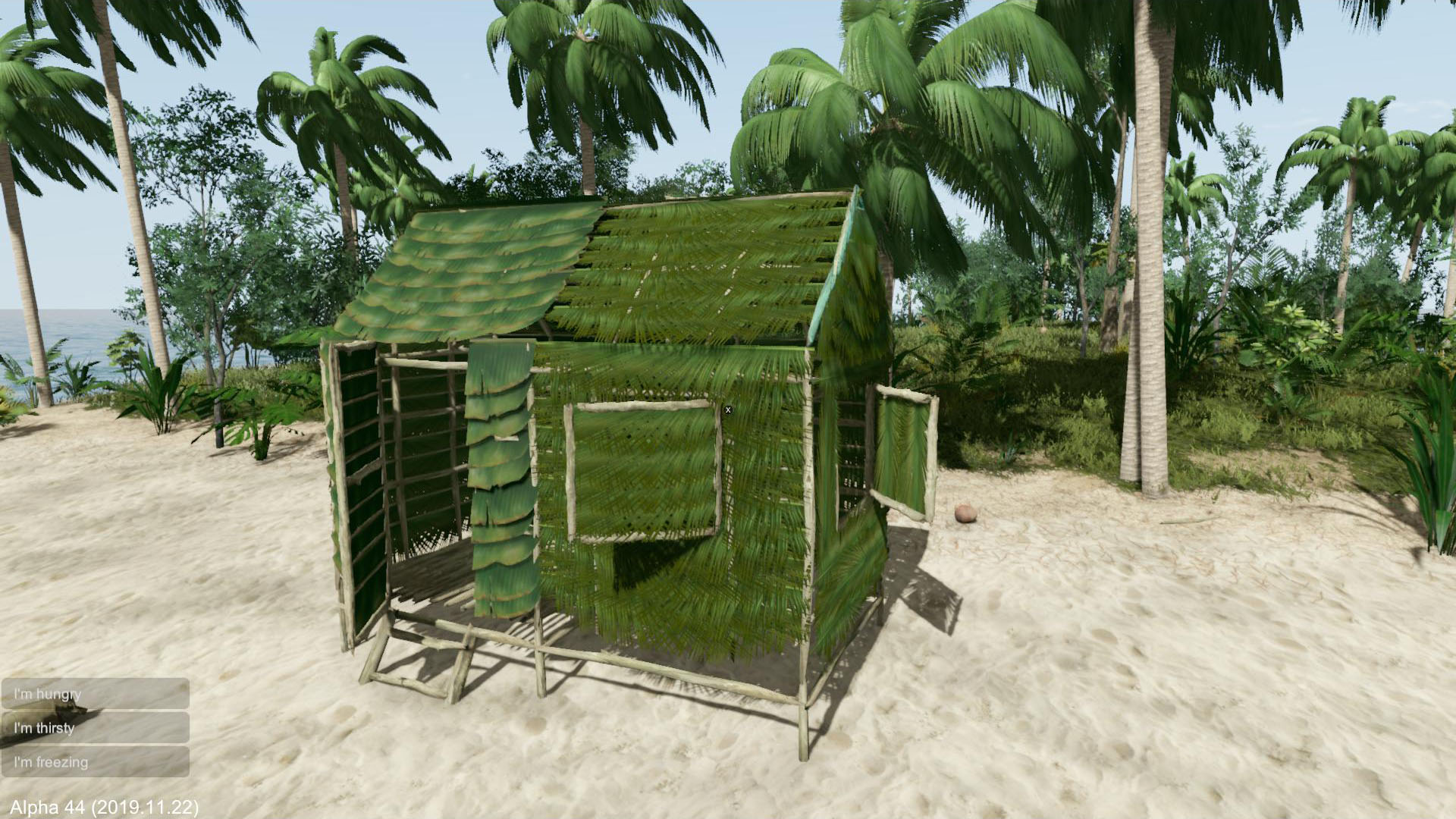 The object dragging system has been finally upgraded to work correctly while interacting with floatable objects. Simple objects are pushed by dragged objects but floatable objects aren't affected until they are dragged directly. Dragged objects won't be slowed down when they get in contact with other objects.
The new collectible Bucket makes transferring liquids easier and collects much more rain than other collectors.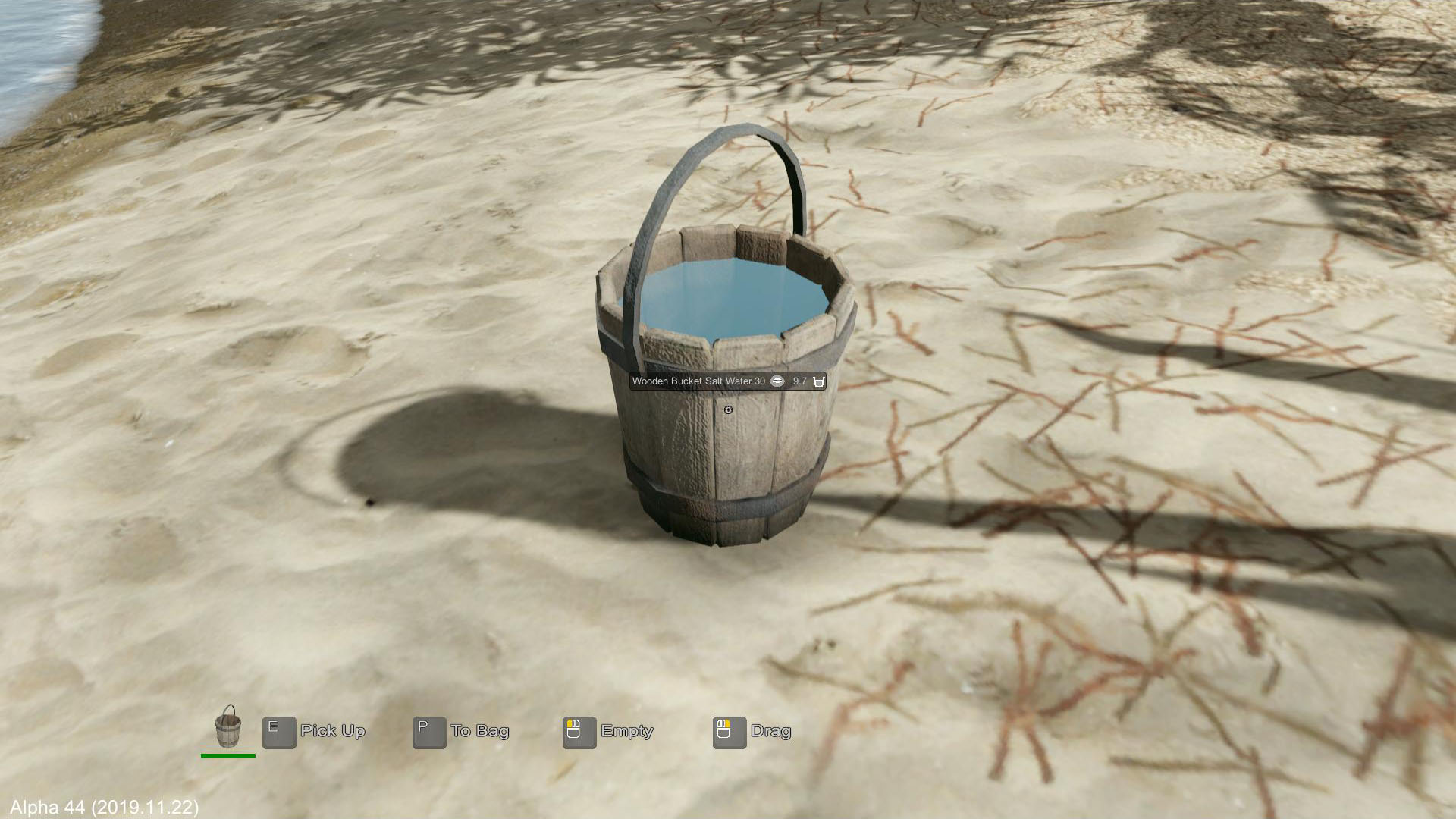 Changelog:
New features:
01. Added: Attach to Wall mechanic
02. Added: 5 types of Doors
03. Added: 5 types of Windows
04. Added: New Dragging system
05. Added: Collectible Bucket
General:
01. Added: Item image shown in Journal Hint screen
02. Added: Hint pages with Image for Bench, Stool, Green Coconut and Brown Coconut
03. Added: ActionBar keys for Door&Window Open/Close and Next Position
04. Added: ActionBar keys for Door&Window Attach/Detach
Fixes:
01. Fixed: Incorrect collider in Window Wall modules
02. Fixed: Campfire on Floor sometimes not warming up ingame character
03. Changed: ActionBar key desription positions to allow longer 2 line text display
04. Fixed: Incorrect Actionbar Mouse button icon for some keys after they were remapped in Options
05. Fixed: Objects attached to raft sometimes losing the attached state after save/load
06. Fixed: Objects attached to raft sometimes displaying the attaching rope in wrong placement after save/load
We plan to work some more on making our game more user friendly with more Hints, Tutorials and narrative texts but re-enabling the Sextant and the 5000x5000 km game map again will still be our top priority. The additional plans include also the Map UI, Fruit ripening, Fruit regrow, Spear, Smoker, Ship wrecks, Sailing UI, Dolphins, Sharks, Game Controller, Simple Quests ... We will work also on solving the new issues and we will recheck some older issues too. Other new features will be added as implementing the planned features and fixing issues will allow us to.
Thank you for your patience and for your constructive feedbacks helping us to get rid of the issues as fast as is possible.
Do you like our game and want to help even more during development? We look forward to every positive review posted on our Steam page and thank everyone who decides to support us along the way!
Please be aware that during early access phase game code could change as much as affecting gameplay when loading/saving savegames from earlier versions. To always be on the safe side make sure to start a new game with each update. Thank you!
G4GTeam.