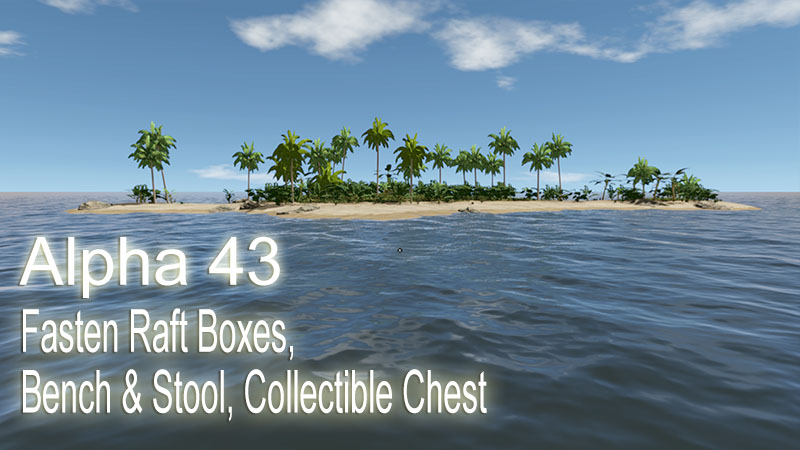 Hi everyone,
the new Escape the Pacific version 'Alpha 43' is now avail able.
For this update we were mainly focusing on adding the mechanic to fasten Boxes to Rafts. The new Stool and Bench allows more comfortable resting. There is a new Chest for more valuable collectibles and a couple of issues were fixed too.
Fastening objects to Rafts allows you to make sure they won't fall off - even when approaching bigger waves. Boxes, chests and barrels only can be fastened and to do so you'll need a Strong Rope which can be crafted from a couple of Small Ropes.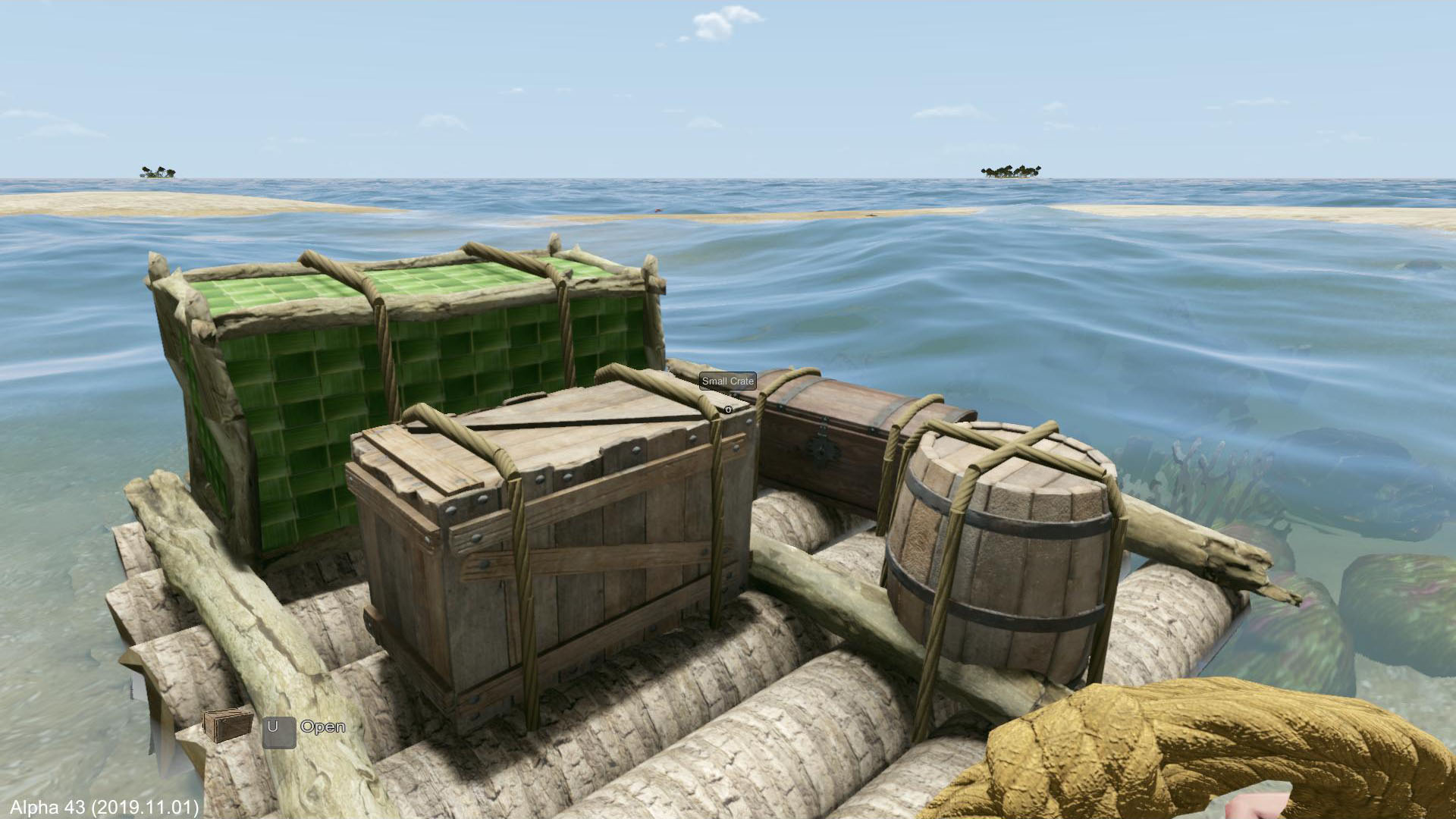 Stool and Bench are helpful when looking forward to rest during hard work or to simply wait for some event. The mechanic is identical to sitting on the ground: Tiredness in the morning hours slowly decreases, increasing tiredness in the afternoon and in the evening will be slown down and Stamina recovery is sped up. The only difference is that the Stool decreases the tiredness faster than the Bench and the Bench faster than the ground.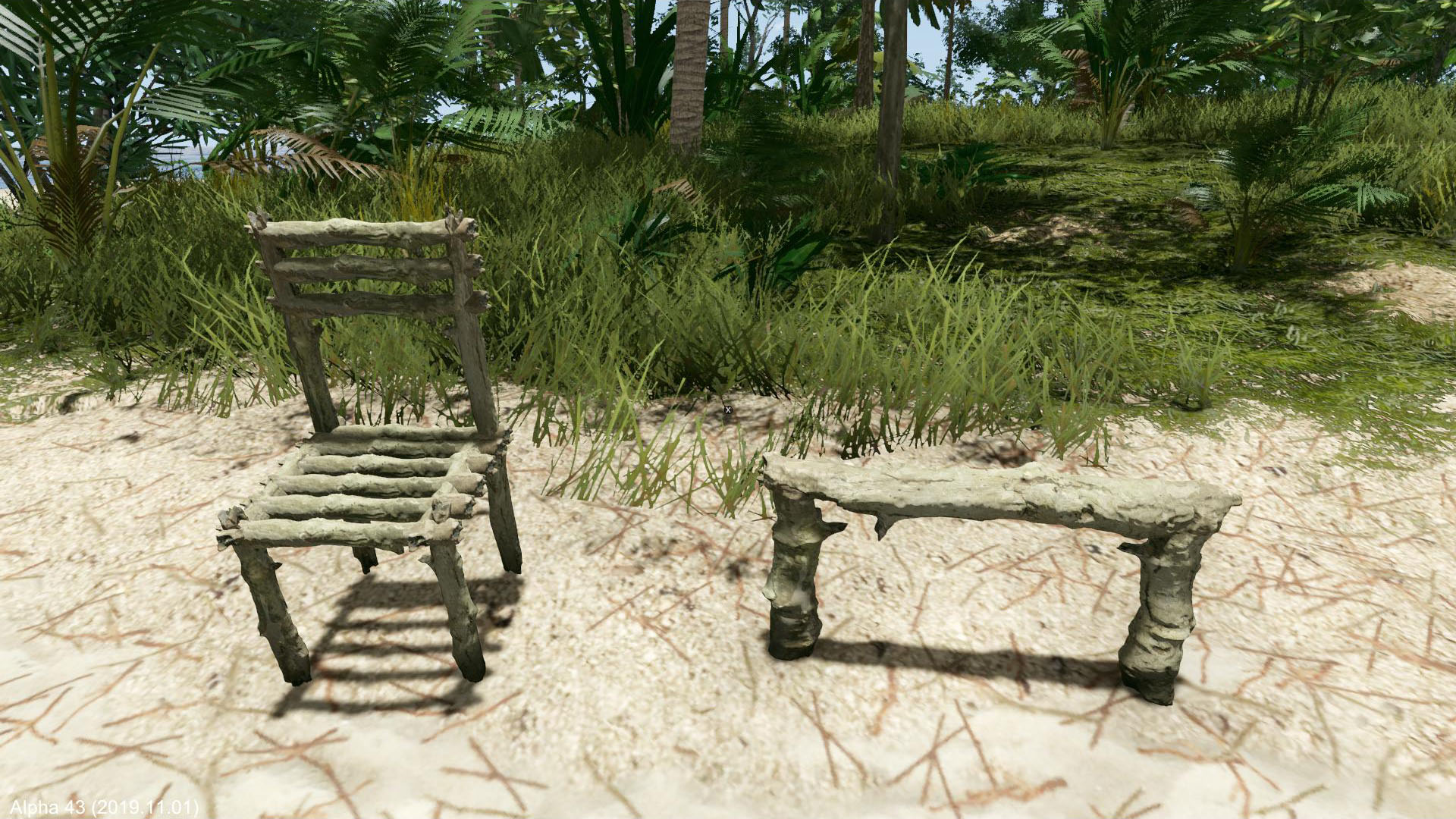 On some shores of random islands you might find the new chests holding more valuable collectibles. More special items will be added in future updates and those can be found in these new Chests only.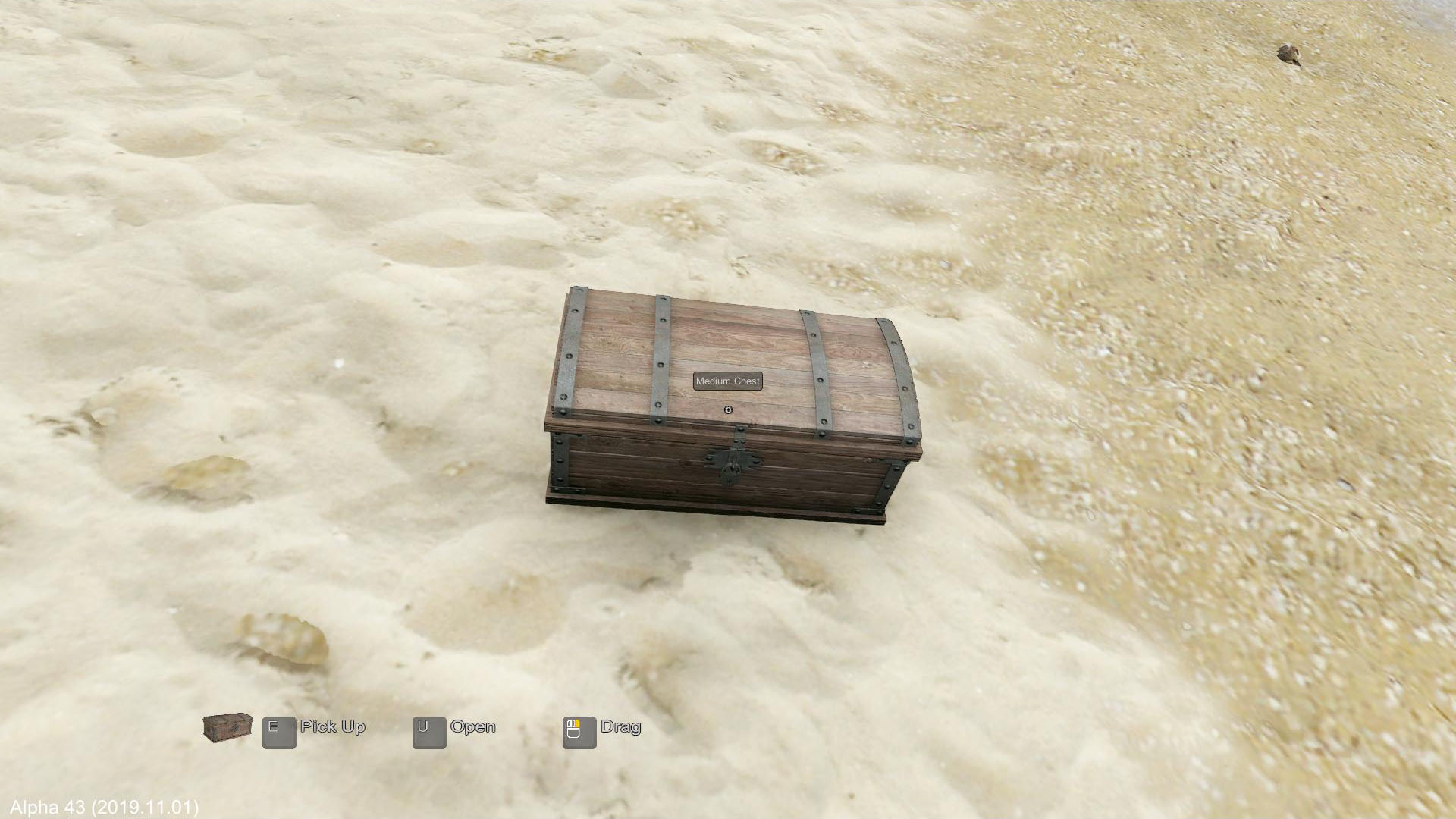 Changelog:
New features:
01. Added: Fasten Boxes to Raft
02. Added: Stool model and recipe
03. Added: Bench model and recipe
04. Added: Strong Rope model and recipe
05. Added: Chest collectible
General:
01. Added: Functionality for displaying Hint Screens with Image
02. Added: Custom Tiredness recovery curve for Stool
03. Added: Custom Tiredness recovery curve for Bench
04. Added: Key shortcut hints for Map in ActionBar
Fixes:
01. Added: Additional logging to help tracking down some issues
02. Fixed: Crashing when saving Tree/Bush/Foliage after hitting but not cut down
03. Fixed: Sometimes shown white rectangle in ActionBar instead of icon of the object in focus
04. Fixed: Campfire on Raft base sometimes not correctly attached
05. Fixed: Objects of far remote islands disappear after save/load when player was on another island
06. Fixed: Sometimes Collectible crates were not at the exact position as before save/load
07. Fixed: Impossible to add Kindling to Campfire when there is evidently no Kindling in it
08. Fixed: Impossible to ignite Campfire when there is evidently Kindling in it
09. Fixed: Cooked objects on cooking stones that were removed re-appearing after save/load
10. Fixed: Mixing up liquid type in all Coconut pots when multiple separate coconut pots with different liquids are cooked at the same time on the same Campfire
11. Fixed: Unresponsive Equip/Pick up commands after Map was opened while holding an object in hand while with no free space in Inventory left to stash held item
We plan to work some more on making our game more user friendly with more Hints, Tutorials and narrative texts but re-enabling the Sextant and the 5000x5000 km game map again and the Dragging system will still be our top priority. The additional plans include also the Map UI, Fruit ripening, Fruit regrow, Door, Window, Spear, Smoker, Ship wrecks, Sailing UI, Dolphins, Sharks, Game Controller, Simple Quests ... We will work also on solving the new issues and we will recheck some older issues too. Other new features will be added as implementing the planned features and fixing issues will allow us to.
Thank you for your patience and for your constructive feedbacks helping us to get rid of the issues as fast as is possible.
Do you like our game and want to help even more during development? We look forward to every positive review posted on our Steam page and thank everyone who decides to support us along the way!
Please be aware that during early access phase game code could change as much as affecting gameplay when loading/saving savegames from earlier versions. To always be on the safe side make sure to start a new game with each update. Thank you!
G4GTeam.