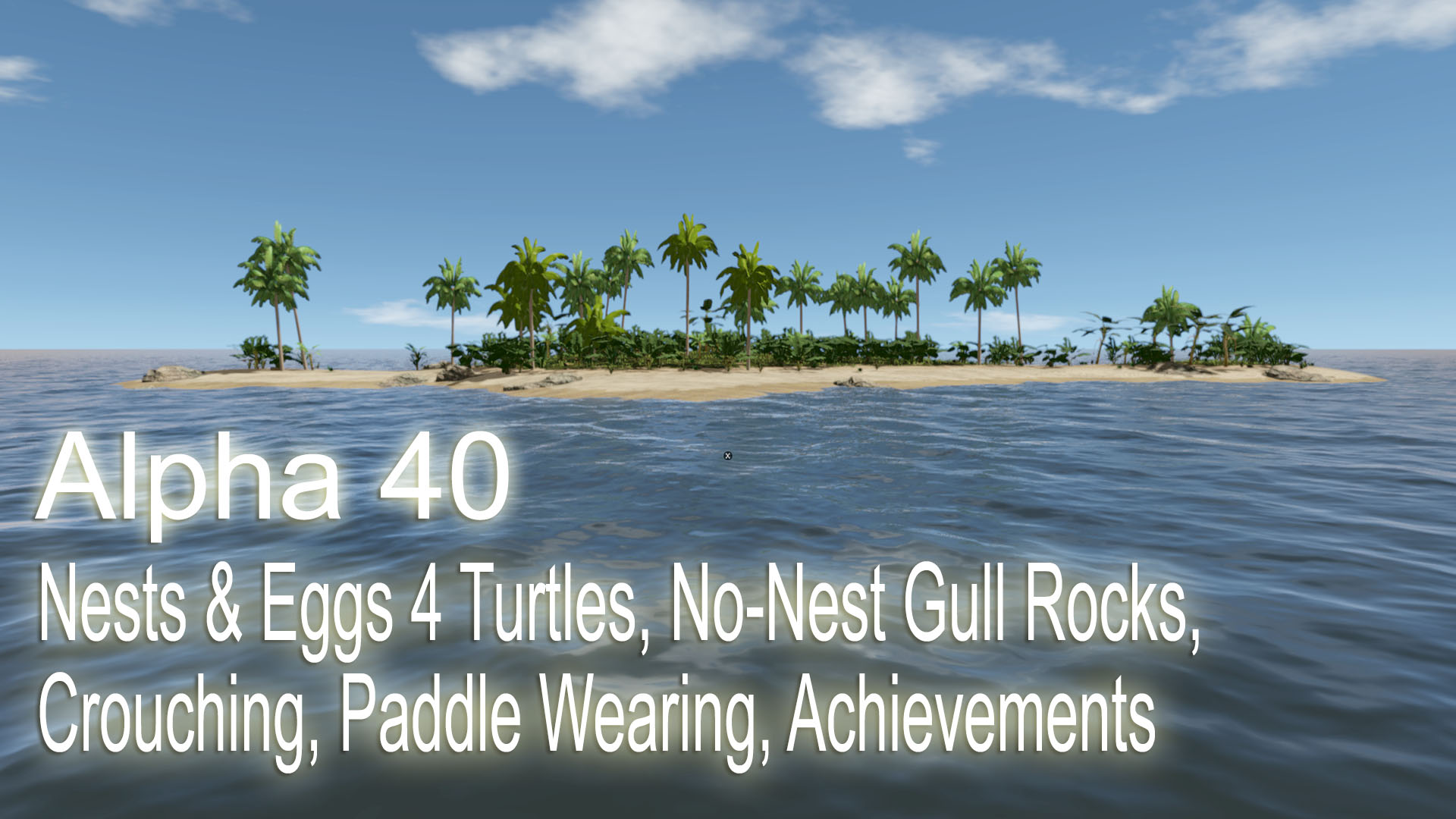 Hi everyone,
the new Escape the Pacific version 'Alpha 40' is now available.
For this update we were mainly focusing on adding the Turtle Nests & Eggs and Crouch features. There is a Wearing out Paddle model and a No-Nest Seagull Rock added too. A new Hint notification system and a basic Achievement system is also introduced. There are some gameplay improvements and a couple of the issues were fixed too.
The Turtle Nests & Eggs feature increases the variety of the daily food gathering routine.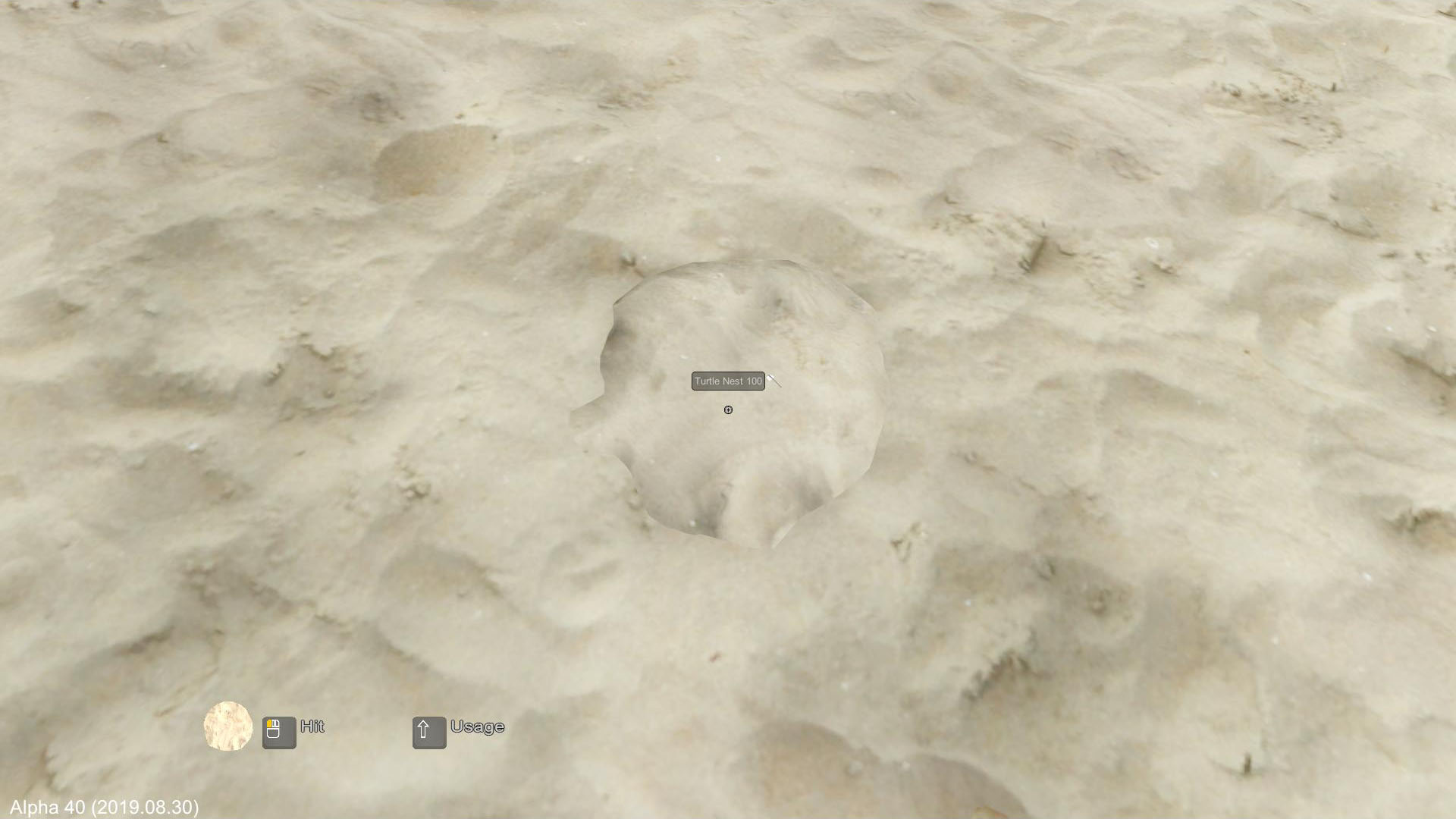 Turtle Eggs are covered in Turtle Nests which can be found shore-side.
To balance the amount of Turtle Eggs they are less nutritious and they are spoiling faster. Another balancing feature is the No-Nest Seagull Rock so not every island provides the possibility to get Seagull Eggs. Later in development the full Turtle life cycle will be introduced.
The Crouching pose is giving the possibility to grab/pick up items from hard-to-reach places and the new Paddle model gives an interesting visual indication of its worn out state.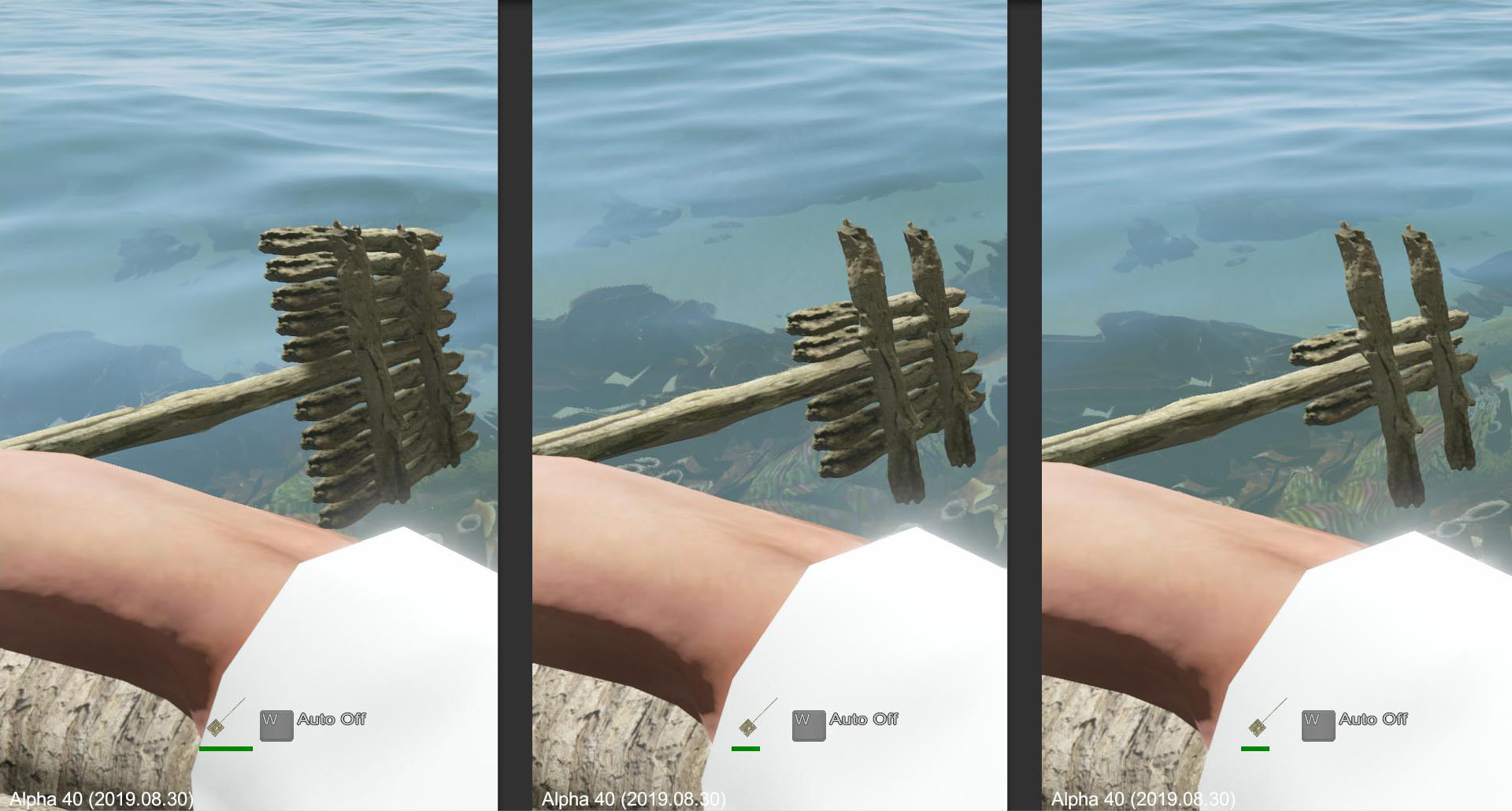 The Achievement engine now supports only Steam Achievements but the functionality will be expanded to also offer "ingame" achievements which will be erased with each new game started. The actual Achievements list contains some basic survival/craft/hunt achievements only for now, so the list will widely grow as more content is added to the game.
Changelog:
New Features:
01. Added: Turtle Nest
02. Added: Turtle Egg
03. Added: Cook recipes for Turtle Egg
04. Added: No-Nest Seagull Rock
05. Added: Crouching
06. Added: Notification about Hints not stopping game
07. Added: Achievement System
General:
01. Added: Configurable Crouch Key
02. Added: Stick paddle losing sticks from it when used
03. Added: Show Hint about aimed item functionality
04. Added: Shown Hint can be closed with Journal key
05. Added: Load Game screen displays the actual Screenshot from the savegame
06. Changed: Water Collector objects filling up faster when placed under water
Fixes:
01. Fixed: Journal key binding saved incorrectly (messed up the Toolbelt key binding)
02. Fixed: Hint status sometimes saved incorrectly (caused overwriting Hints when new Hints were introduced)
03. Fixed: Coconut Pots clipping into Cooking stones when placed on them
We plan to work some more on the newly introduced Achievement system. The additional plans include also the Fruit ripening, Fruit regrow, Door, Window, Spear, Smoker, Ship wrecks, Sailing UI, Dolphins, Sharks, Game Controller, Tutorial System, Simple Quests ... We will work also on solving the new issues and we will recheck some older issues too. Other new features will be added as implementing the planned features and fixing issues will allow us to.
Thank you for your patience and for your constructive feedbacks helping us to get rid of the issues as fast as is possible.
Do you like our game and want to help even more during development? We look forward to every positive review posted on our Steam page and thank everyone who decides to support us along the way!
Please be aware that during early access phase game code could change as much as affecting gameplay when loading/saving savegames from earlier versions. To always be on the safe side make sure to start a new game with each update. Thank you!
G4GTeam.