9 different biome types to classify different areas on each planet
Planet texturing based on biomes
Planet generator based on biomes
Biome editor in sandbox mode
New forest type Acacia
New food producing building Cultivation Unit
First version of Spanish community translation
Balancing of forests and buildings
Biomes
This is a fundamental new (and really awesome) gameplay element. Biomes classify the average temperature and fertility of a small planet area. Each comes with an individual type of forest and graphics for the ground, rocks and mountains.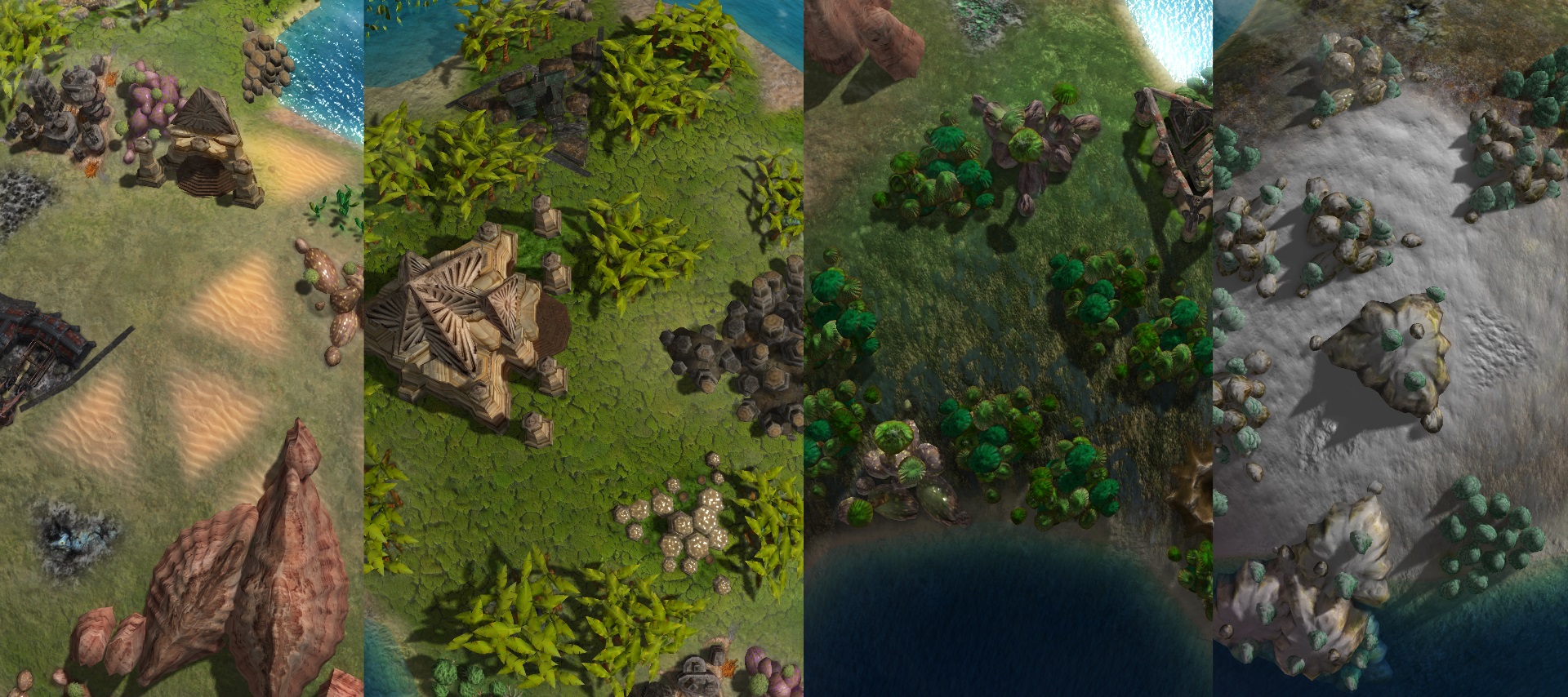 Summed up: It's much easier to just see how well a certain area on the planet fits the needs of your colony. Here is a short description of all 9 biomes:
Rainforest: Hot and very fertile area where palm trees grow.
Savanna: Hot area of medium fertility where acacia grow.
Desert: Hot and barren area where cacti grow.
Subtrope: Fertile area where thick bamboo forests grow.
Temperate zone: Area with moderate fertility and temperatures, in which a lot of deciduous forest grows.
Drylands: Infertile area in the medium temperature range.
Mires: Cold but fertile area in which mushroom forest grows.
Taiga: Cold area of medium fertility with a lot of coniferous forest.
Mountain: Cold area of high elevation, which is mostly barren. Thinly populated with coniferous forest.
In addition Illuminati temples and camps are placed in the hot biomes rainforest, savanna and desert. Other temples and native camps are used in the moderate temperature areas of the subtrope biome, temperate zone and drylands. Since this is a completely new game element we still have to figure out a few details. Please let us know what you think about the biomes!
Biome based planet generator
Those biomes are perfect to generate different types of planets.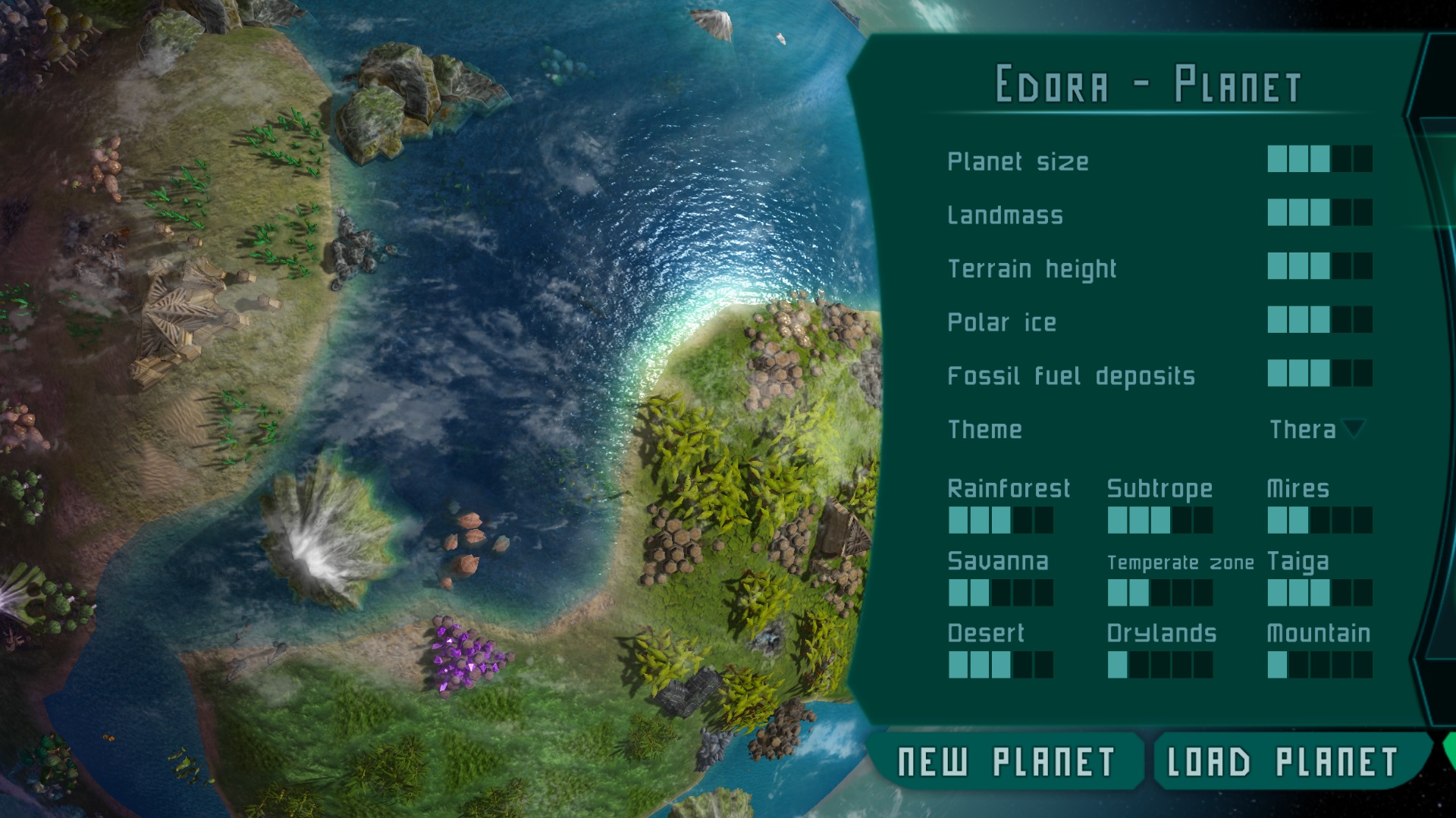 As shown above the planet generator now allows you to define the biome distribution on the planet. Each planet themes also come with a predefined configuration. E.g. Bora is a very fertile planet that mainly comes with the fertile biomes Rainforest, Subtrope and Mires, but also some areas of Savanna, Temperate zone and Taiga.
Biome sandbox editor
In the sandbox editor you can use the biomes to paint the planet with regions of different temperature, fertility, fossils, forests, rocks, rare resources and temples.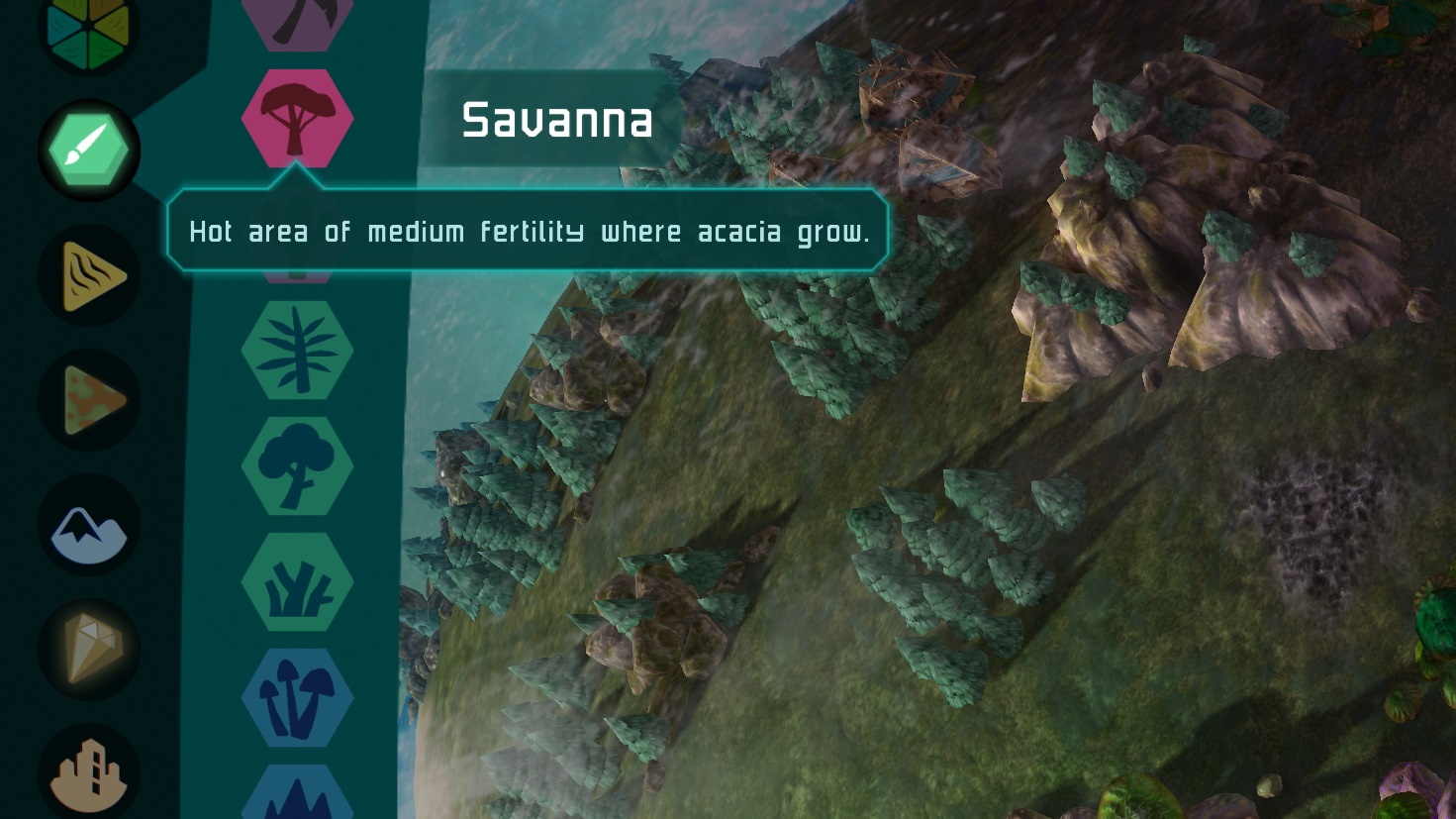 Cultivation Unit
This new building is made available in the Joma mission. It breeds and harvests crops that thrive in symbiosis with the local flora. Therefore, each adjacent forest piece increases the yield of berries and herbs.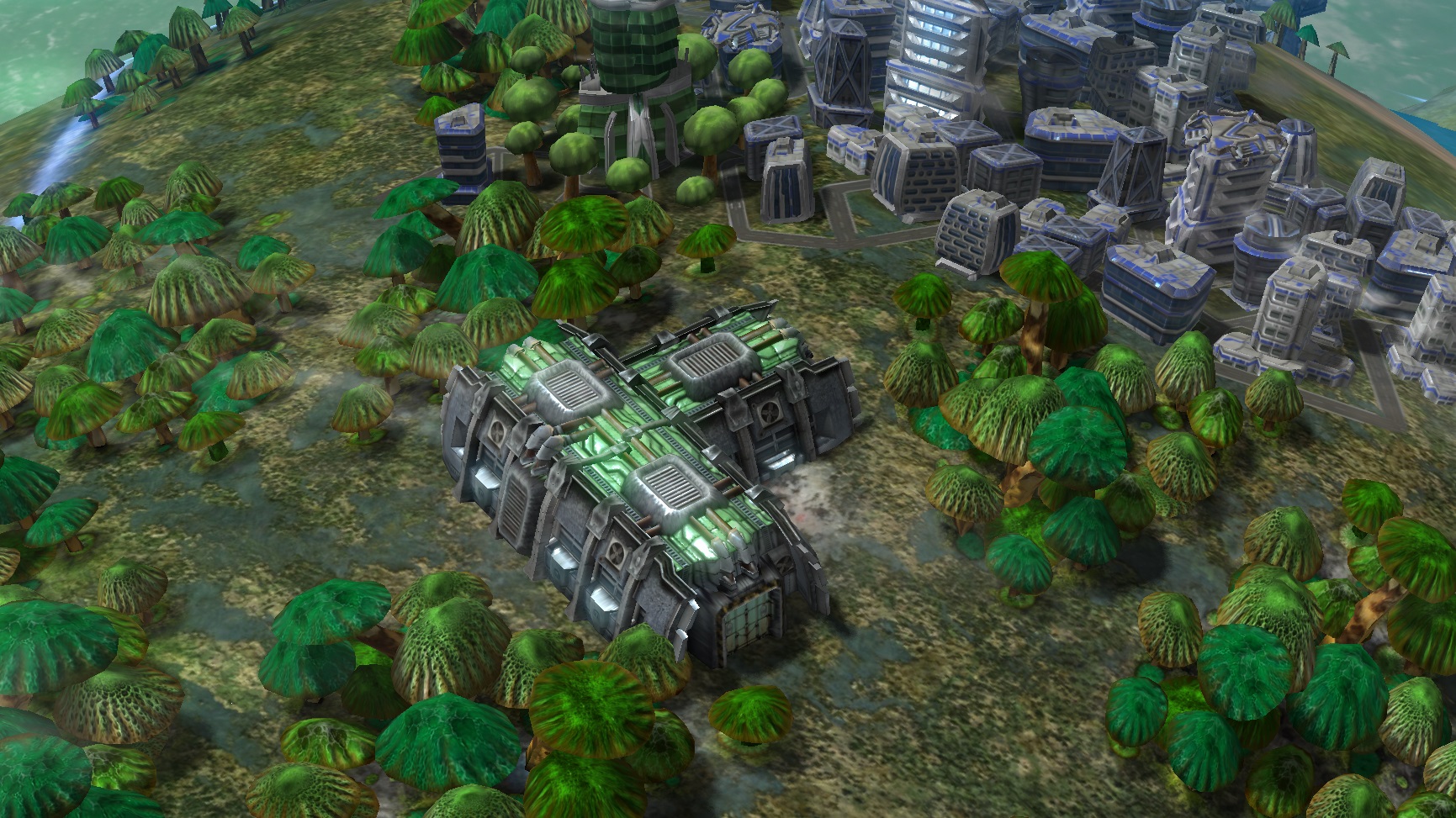 The upgrade "bio lab" reduces the costs of the cultivation program by genetic adaptation of the seedlings to local conditions. The upgrade "external herb beds" enables the cultivation of valuable herbs and grasses on areas that can not be used for other plants.
Acacia
A new type of forest that is very robust against drought and mainly spread in the savanna biome.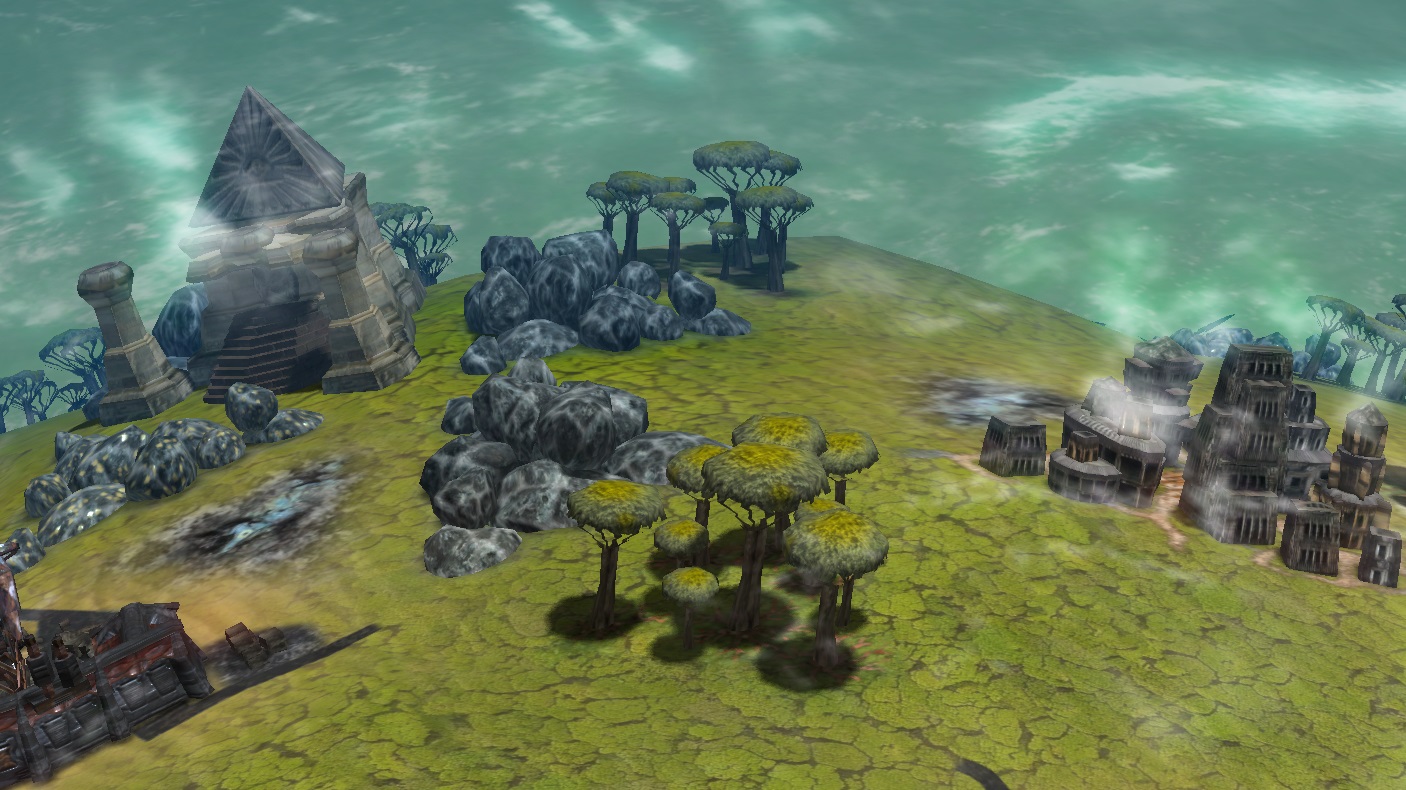 Community Translation
Alpha 28 comes with the first version of a Spanish translation that has been written by Purple Sister. THANKS A LOT! In addition a french translation is in progress. If you are also working on a translation or would like to contribute, please let us know in the community translation thread in the forums.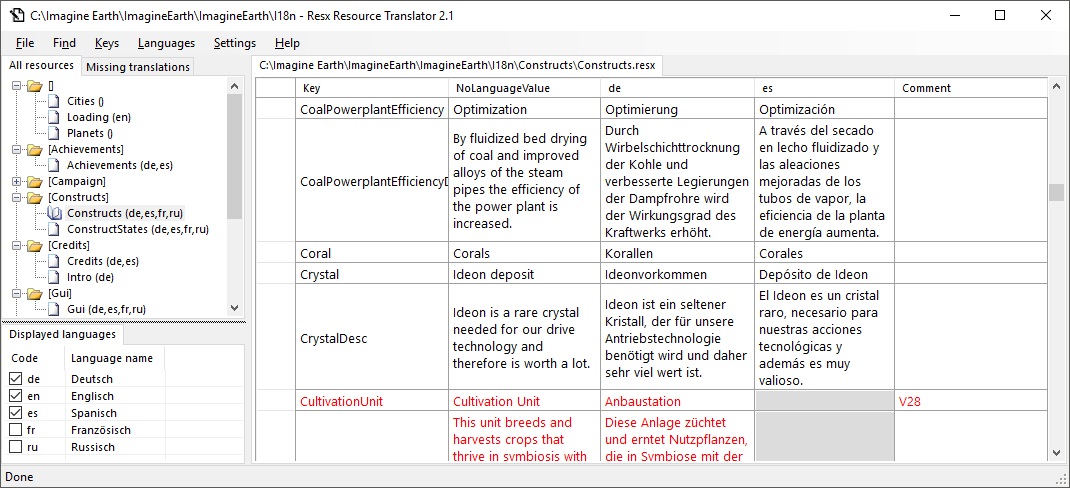 We have updated the Imagine Earth fonts with a few new letters (for czech). In addition the many UI elements now automatically make sure the text fits into the available space. The next big step here for us is to make missions translatable.
Balancing
Frontier tower is now available starting with the Joma mission
Relocation tool now also relocated upgrades
Explosive device now completely blasts rocks (instead of only 50%)
Forest growth calculation has been updated based on the new biomes
Mine produces more at lower cost
Recycling factory produces more goods
Sorting system no longer causes increased ground pollution
Fishing port upgrades require less energy and money
Cattle farm needs less energy and money
Waterworks has greater dependence on fertility
Special thanks to Justice for writing a very detailed balancing feedback on this!
Other stuff
Completely pause the game
New ideon goal in Joma mission (5th bonus goal)
Pulse cannon is available for defense against first Xrathul wave on Magni
Orientation of particle effects for better engine exhaust graphics
New animation for fishing port graphics
New colorization and icons for rare resources
Big Illuminati temple has now up to 8 gaian power slots
Graphics setting "Shader quality" allows disabling normals maps for more performance
New neutral smiley icon when when city is unpopulated
Number of available items sold be the tech trader is now shown as bars