Alpha 10 is complete, and with it we are officially entering late-game branch territory! While the new content is mostly focused on the upper parts of the world, there's definitely something for everyone considering all the new UI features and quality of life enhancements.

Alpha 10 introduces less new lore than the previous two releases, though what lore has been added is incredibly crucial to tying the story together, and is also very secret and difficult to access ;). And to help organize it all there's the whole new meta interface for lore collection.
As usual, most of the new stuff I can't spoil, but below is a sample of some of the showable features: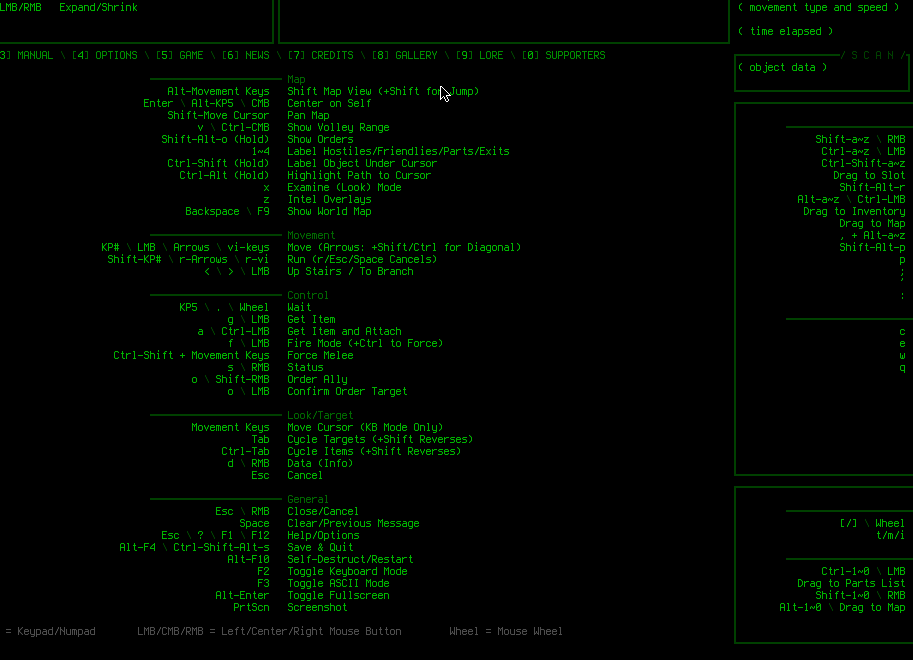 A brand new central UI to browse collected lore for reference
and to see how many pieces of the puzzle (or tips!) you might still be missing.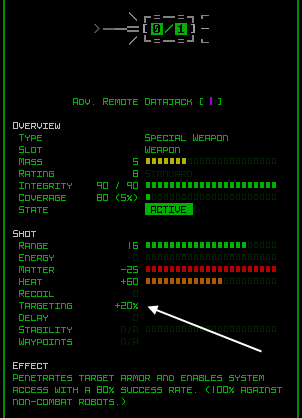 Remote Datajacks now come with built-in targeting assistance.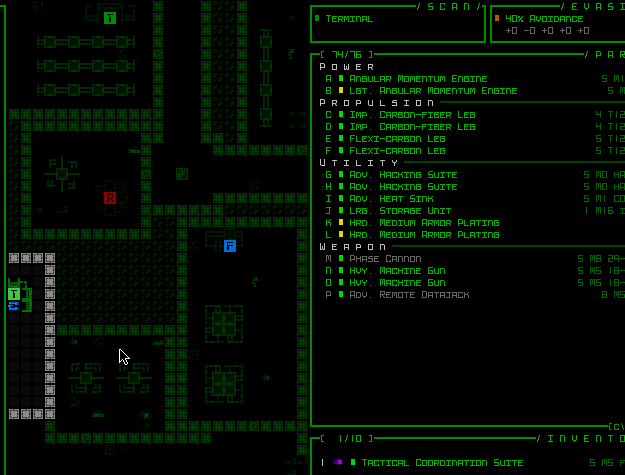 Menu access to all discovered unique hacking codes, accessible for both mouse and keyboard users.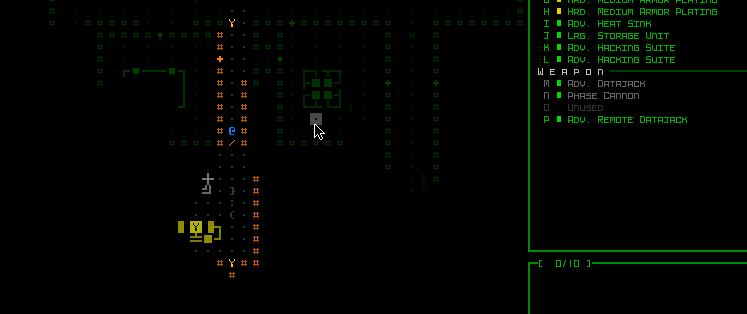 Also works for robot-targeting codes!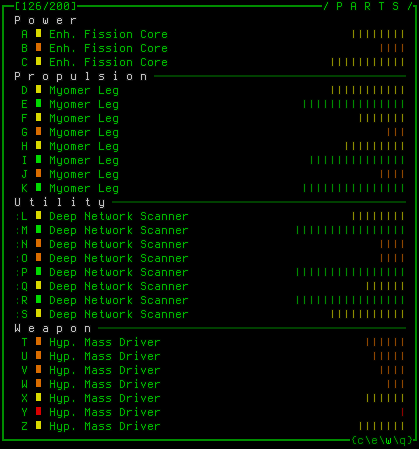 Parts list autosorting now orders same-type parts by integrity, high to low.
...not that you would ever have a build that looks quite like this one :P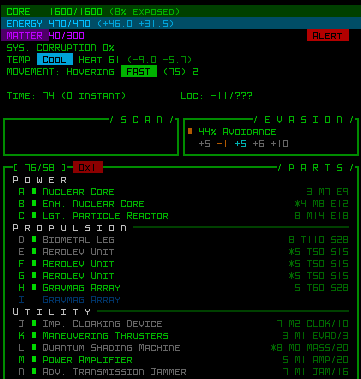 Volley window replaced by Evasion window (except in targeting mode), where you can see a breakdown of defensive modifiers and their combined effect on the chance of being hit.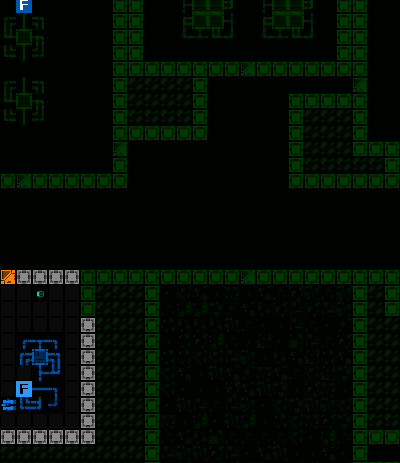 Repeat a build command on reconnection without reloading the schematic--
Fabricators remember what was last loaded.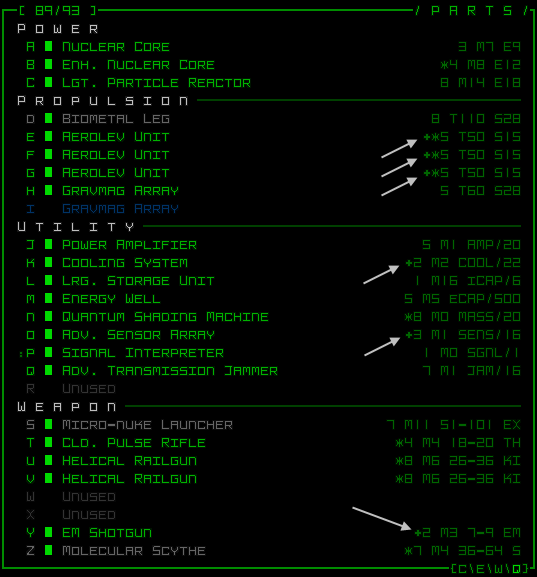 Part info visualization data preceded with a '+' when you already have a schematic for that part.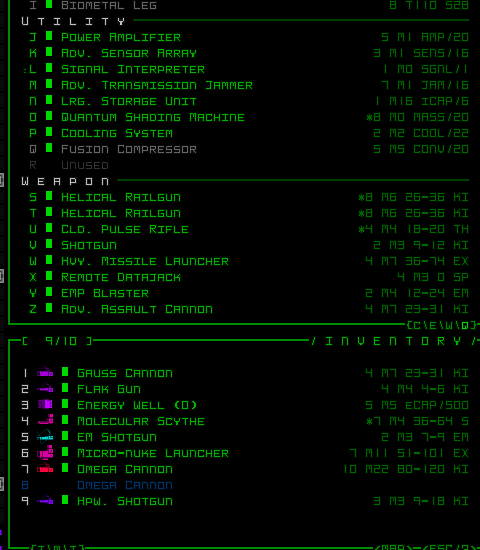 Seventh part data visualization mode, Matter, for graphing relative matter consumption of weapons.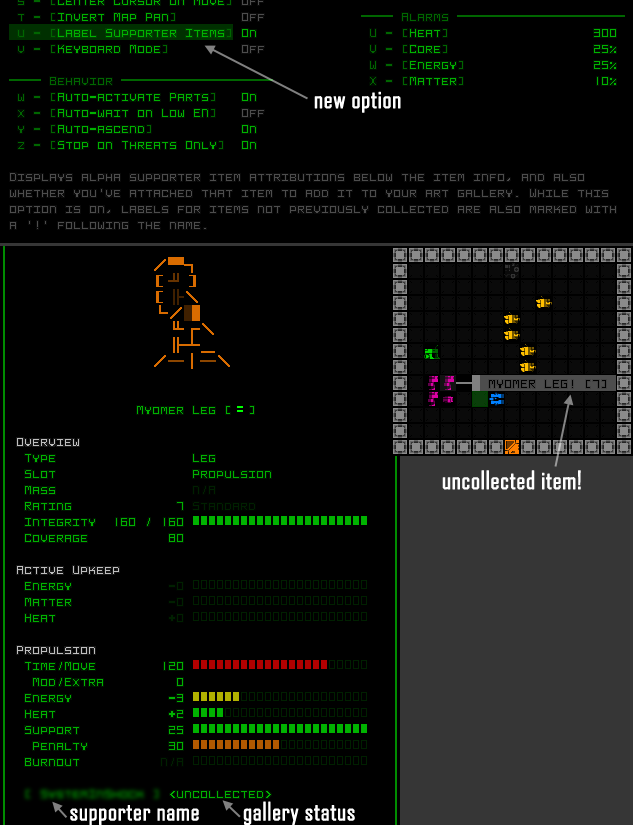 Gallery status indicators controlled from options menu,
and uncollected items shown directly in labels while option active.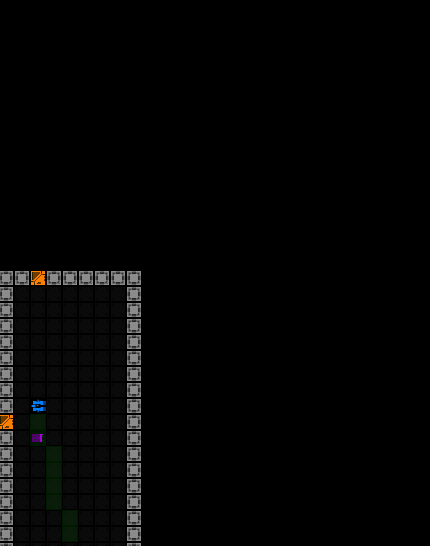 Fabricators may be preloaded with schematics that you can build instantly,
even without having the schematic yourself.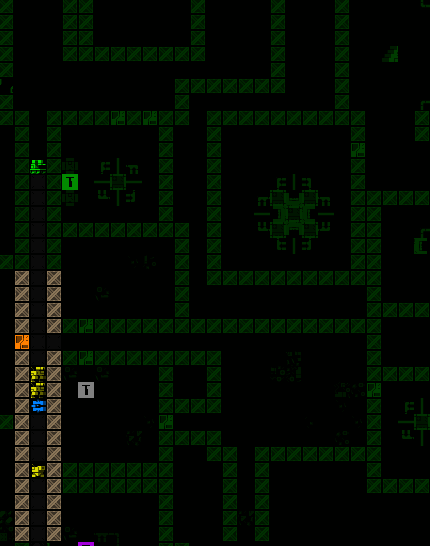 Hack-linking a target robot now displays that stasus in three redundant locations:
their info window, the scan window, and in the robot label itself as "(+)".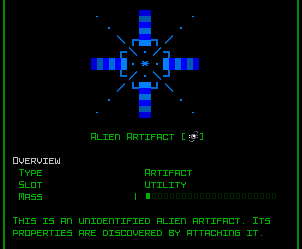 This new artifact will become one of the most coveted items in the game. But what is it? :P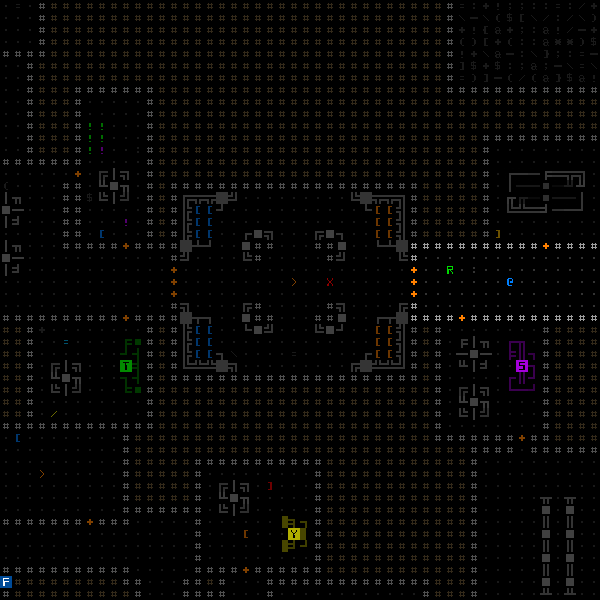 While I won't spoil the new maps, for those of you who've been exploring
the end game areas this exit/entrance is now open for business :D

See here for the full release notes with plenty more details.
The full Alpha 10 (0.10.160809) changelog:
NEW: Branch map "Armory"
NEW: Branch map "[redacted]"
NEW: 2 new alien artifacts
NEW: 9 new special items
NEW: 1 more plot-related NPC encounter
NEW: Two dozen more location-specific lore records
NEW: Twice as many Assembled variants
NEW: Assembled announce their entry with a new sound effect
NEW: Completely new mechanic which can change the way the end game is played (any more info would spoil it)
NEW: Unique type of interactive terminal (secret)
NEW: Evasion status summary, replaces volley window except in firing mode (hover or press '/' for full details)
NEW: Lore-related terminal records and dialogue remembered between runs
NEW: Lore review interface for exploring previously discovered information (game menu 9)
NEW: Part/inventory data visualization now includes seventh mode: "relative matter consumption" (toggle via info 'q' command/button)
NEW: Discovered manual (randomized) hacking codes shown in new selection menu along with source and target when hacking machines/robots
NEW: Force-trigger chute traps by using them as you would stairs
NEW: Fabricators may have a random schematic preloaded
NEW: Reconnecting to a Fabricator with a previous build in progress still shows name of object being fabricated
NEW: All direct hacks that don't make sense to repeat are grayed out after successfully hacking them and reconnecting to same machine
NEW: Several additional useful message types accompany Warlord-related plot events
NEW: Option to invert map panning (available in options menu)
NEW: Option to mark previously undiscovered lore directly in terminals, active by default (cogmind.cfg only: see markUndiscoveredLore)
NEW: Part info visualization data preceded with a '+' when you have a schematic for that attached/inventory part
NEW: Parts list autosorting further orders multiple same-type items by integrity, high to low
NEW: Several more score sheet entries
NEW: Score sheet inventory lists both for final parts and peak state are sorted by item type
NEW: Hack-linking a target with a datajack reduces their accuracy by 15% on top of the existing benefits
NEW: Hack-linked victims display glowing "(linked)" indicator in their info window, include a "(+)" in their label and scan window
NEW: Advanced commands list explicitly specifies keys for setting guided weapon waypoints, also adding KP5 to that list
NEW: Label Supporter Items option also indicates whether you've collected the item for your art gallery yet (see description)
NEW: Most key commands also listed in the text manual itself, rather than only in game
NEW: Several more tutorial messages
NEW: Art gallery may also be scrolled via numpad
NEW: All supporter names registered since Alpha 9 added to in-game list (see Credits menu)
MOD: Updated robot variants with poor heat management, including Behemoths, Programmers and others, to reduce excessive overheating
MOD: Waste somewhat less likely to contain prototypes (parts still generally out of depth, though)
MOD: Hub_04(d) may now contain prototypes and matter among random items (originally was common items only)
MOD: Infested traps, garrisons, etc. closer to surface include more deadly Assembled variants
MOD: Remote Datajacks have built-in targeting assistance
MOD: Rescaled/boosted bonus points for fast wins
MOD: Traveling through Waste no longer has quite as significant an impact on alert level
MOD: Tweaked alert level changes on moving to a new map; more variable and closely tied to the specific areas both exited and entered
MOD: Item/robot schematics loaded into Fabricators remain until overwritten, allowing repeat builds without a new load hack
MOD: Chute-chaining/farming no longer possible in Factory (only the first time each depth is visited will that area have access to Waste)
MOD: Force of two "explosive plot events" reduced by 25% due to explosion overlap fix in Alpha 7
MOD: Hyphen inserted into terminal-reported alert level designation to avoid misinterpretation of letters in some fonts
MOD: Score component "Alien Tech Identified" changed to "Alien Tech Recovered" (must attach rather than simply identify)
MOD: LMB on a hard target (robot/machine/door/wall) fires a guided weapon rather than setting another waypoint
MOD: Refined parts list utilities auto-sorting order to better group parts with related functionality
MOD: Manual hacking code entry can no longer be exited by clicking outside the window
MOD: labelSupporterItems value originally in cfg file now accessible via options menu
MOD: Part mass visualization colors switched from purple scheme to brown and yellow
MOD: Brightened console border color effects for overheating and low core integrity
MOD: Updated explosion damage context help to include more info from manual regarding damage spread via chunks
MOD: Removed map dimension selection from in-game options menu (still accessible via cogmind.cfg)
MOD: In-game supporters list change from menu 9 to 0
FIX: Traveling through Proximity Caves recorded incorrect core integrity to score sheet [Happylisk]
FIX: Typo in random Zion dialogue [Happylisk]
FIX: Parts list autosorting converted reference letters to lower case in some fonts
FIX: With square map dimensions in 4:3 mode, manually hacking a robot to far west via Remote Datajack causes partially offscreen text box
FIX: Score sheet never fully tallied Traps Triggered
FIX: Scan window still showed utility effect data for common parts lost from the database
FIX: In rare cases multiple Workers actively pushing disabled robots might get stuck in a traffic jam in a narrow corridor
FIX: Typo in score sheet for "Fabrication Network Shutdowns," name also too wide for column