Hey all! As you might have noticed, I decided to skip last week. Like I said last time, I'm currently in an incredibly boring period of development: fixing bugs and rebuilding the graphics engine. That's not only boring because it gives us (a more easy to handle and faster version of) something we already had (graphics), it also means I can't implement fun little things on the side; without the graphics working, I can't do anything.
But the end is in sight! Not only does the graphical part of Glux now fully seem to work, I also worked my way through the enormous list of bugs I had collected since the last release of Olvand. Besides these two things, the third thing I wanted to add this release was the new lighting system, and that's almost finished as well. This is how it look right now, and it's fast enough to be playable: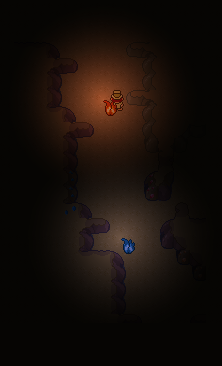 Besides some small stuff, one last important thing I still want to fix is that each time the lighting changes (for example, because a fire appears of disappears), the game freezes for a second, because the lighting layer is recalculated for the whole game from the ground up. I expect to be able to optimize this somehow.
Once's that finished, I'm going to delete all my achievements, and try to get as many as possible in a day or two, to see if the game is really fully playable without too many crashes. And once I'm happy with that, finally, like I promised, there will be 3 new groups of 100 invites. It's a period quite a lot of you seem to be looking forward too, including myself, because I'll finally be able to work on smaller, more rewarding stuff, and do more releases!
Speaking of new people, I have been quite busy with making the website more interesting to new people lately. Instead of the weirdly-shaped bar with the 3 images at the top, I now [six excerpts of more recent screenshots]. And to be able to show off the music a little bit, I made medley, which you can listen to in the 'About'-section. I'll put it here too, in case you've never heard Olvand's music before (or if you want to hear it again):
If you want more development, see [twitter] or [facebook]. If you want to be a tester, you can subscribe on [olvand.com].