As an agent of unknown alien specie, it's your job to obtain the self-powered 'orbs' across realms-- for the benefit of your alien collective.
Alien Step is an web game, inspired by old grid-based games like Chip's Challenge and Tinker.
It's a hybrid between puzzle and action element where you need to coordinated with speed and precision.
The game was first released on Nov 4, 2019 as version 0.9, and now updated to version 1.0 as of today.
Alien Step is now available on game portal Kongregate exclusively. (link's down below)
FEATURES:
---
Alien Step has a total of 36 levels: Including 3 tutorials, 8 main levels on each realm (24 total), and 9 extra levels. The 3 realms are Bluzoul- the alien's blue, crystal filled home-place; Mabarossa - a desert planet with dangerous sand creatures, & Enigmus- the abandoned mining place with lava flowing underneath.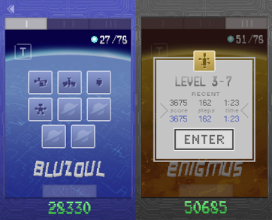 For the gameplay, you control the alien character movements by mouse click/drag on 4 directions on the stage (up, down, left, right). For those who prefer keyboard input, just press the 4 directional keys. (This directional keys however do not work when stepping into "think zones".)
To win a level, you go back to the activated triangle once you obtained the stage orbs on the stage, where you proceed to another level. Levels will get harder generally. The big green scores is your accumulated Hi-Score, it adds depending how much time you spend or how less steps you make to beat a level.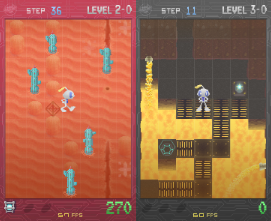 Every realms have their different and unique gameplay elements.

There are pushing blocks to be pushed to the circle trigger, zap posts to avoid. Special alien functions like 'think zone' where you can stop the time and plan your steps ahead, or flickering antenna when you get near a landmine... They are more, you need to discover them and understand how they work in order to beat the levels.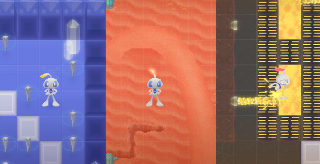 As for the alien agent, he'll face many dangers such as getting zapped, blasted, eaten alive, falling into bottomless pit, washed by flowing lava etc. Keep it safe from harm.
The game also includes an option menu for graphic settings & music volume. There are 'glow', '3D Walls', 'lens effect' for eye candies, you can setting your favorite graphic setting by toggling the buttons.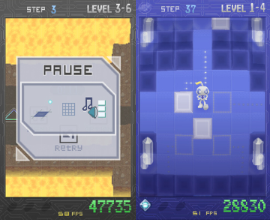 (a caution to you that enabling 'Glow' or '3D Walls' affect framerates. Keep the framerates over 40 fps and best at 50+ fps.)
In addition, the game intergrates Kongregate's API. You can view your best hi-score & also completion time (when you collected all orbs) on their leaderboards.
Alien Step is FREE to play.
If you like action puzzler and you can control an alien-- to make it accomplish its mission, or watch it squeal in pain, then give it a go!

You can visit the development log here along with my other games.
Or follow my work via Facebook & Twitter.
Cheers!
-Allen T, Snouty Plays