Alien Smash is a 2D Tower Defense game. Unlike the other games, Alien Smash has unique game-play in which you control a hammer to smash the aliens. The cute aliens is evading your land and your mission is to stop their evil plan. Don't let their cute appearances trick you, SMASH THEM ALL!
In this game, Your gate is the last defense on earth and the aliens are trying to break and pass the gate. Your mission is to control an unique hammer with your skill and smash them all. Alien Smash will surprise you with unique game-play and cute animations.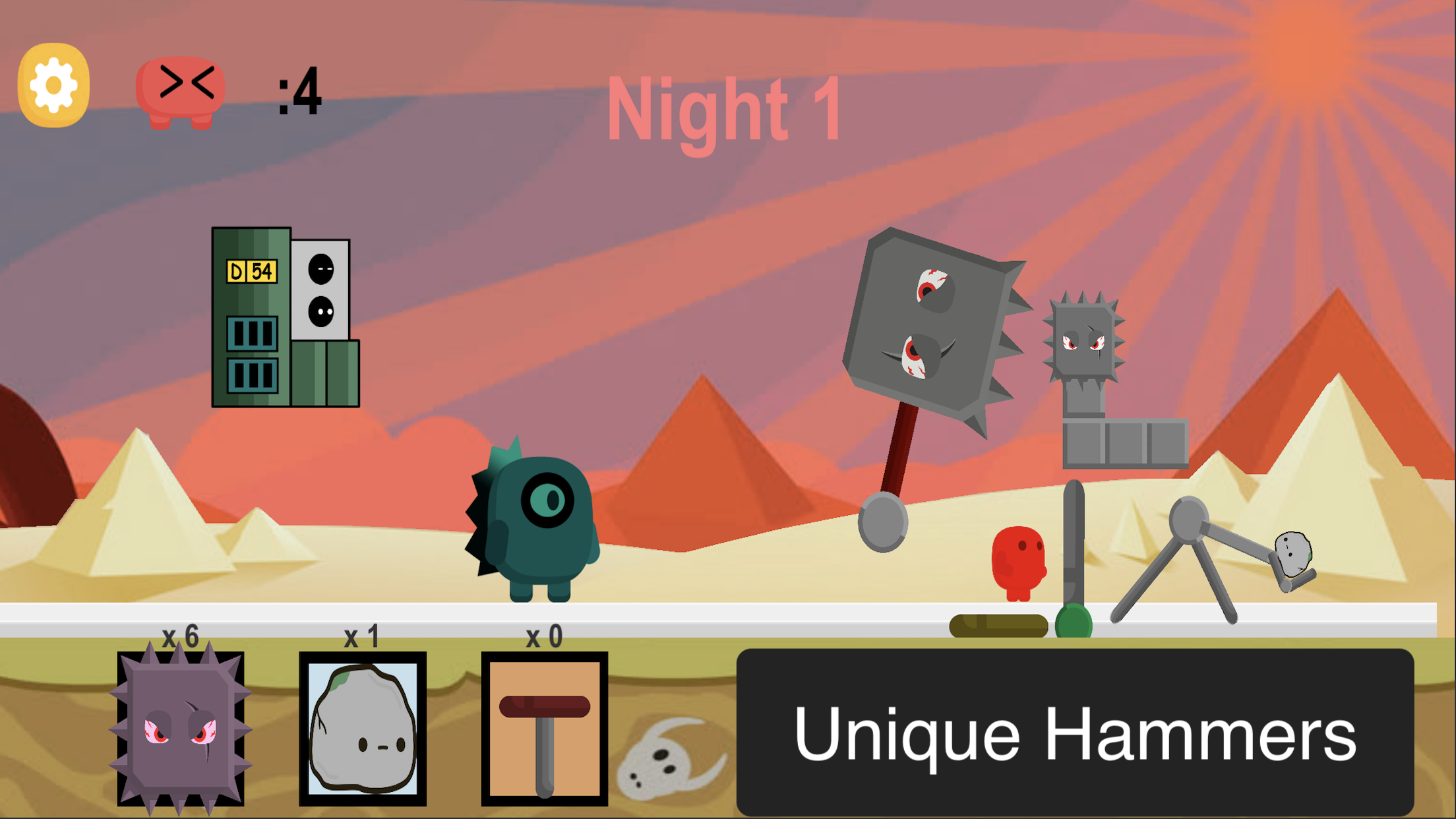 Unique Game-Play
Alien Smash has a very unique game-play system that is different than any games out there. In this game, you control the hammer length to smash the aliens. Tap and hold on to the screen to extend the hammer and release to smash. You want to smash them right after they get off the ship, otherwise there will be too many of them and your gate will fall.
Special Abilities
Alien Smash also help you with three special abilities and one energy stored ability. You can buy special abilities in the Shop and use them to help defeating the aliens. The energy stored ability can be used after players smash a number of aliens. These abilities will definitely will bring more fun to the game.
Hammers, Abilities and Upgrade System
The game currently have three different types of hammers for you to use, each with different strengths and weaknesses. Special Abilities can also be upgraded by using coin obtained from smashing aliens. The more upgrades you get, the more chance you will get to win the game.
Playable Modes
Alien Smash currently has two modes to play, Classic Mode and Endless Mode.
In Classic Mode, there are six levels for you to play and the difficulty increases as the level increases. To win a level, you will need to survive 10 Nights and smash all the aliens.
In Endless Mode, aliens will keep coming and your goal is to try to survive as long as possible.
Alien Smash is now available on Apple Store.
The game is now available on Apple Store. You will definitely enjoy this game.