Some of you may have thought we dropped off the face of the planet, and ceased development on the game but that isn't the case. I've recently gotten a new job, and I put in around 50 hour work weeks so it's been difficult to dedicate my free time to the development of the game when I'd just rather relax, but I do throw some stuff at the game when I do have time. Sadly, since it's sort of a one man operation at this point (aside from the few modelers, and artists we have) development will be a lengthy process but I can assure you all that the game is going to be finished, and I'd like to release a test-map with working mechanics for the entire public eye.
Think of it like an early-access approach the Minecraft, and other games have used. Then, through-out development I can add extra maps, game-types, and more and eventually bring a fully released product sometime in the future.
I can't make an estimate for when I can release the "alpha" and the first map, but it shouldn't be much longer.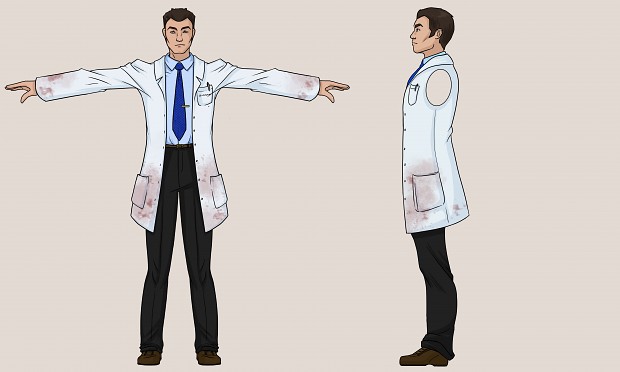 We also have another playable human to show off, named David Black. David is a doctor and whom works at the False Trinity Hospital within the game (a future level after alpha release). He's in his 30s, and is being hunted by the demon for a past-sin (like everyone else) that he had committed. He's not insane like the previous reveal, Evan Roycz and is quite the intelligent man.
He's just one among the handful of playable human characters that players can dive into, and play as. I'll be looking for voice-actors for each character in the near future, and hopefully can have them all voiced by release of the alpha.