We are developing a stand alone Civil War shooter using the Torque Game Engine.
Age of Muskets American Civil War is action war game, that places you into pivotal historic land and sea battles. Fight with muskets and swords in America?s bloodiest war. You must pledge your life and liberty to the Union or the Confederacy. You have your orders; Now, you must decide how best to lead your men into battle.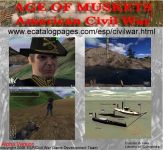 Images from internal alpha and of concept gunboats.
We are holding a Map Contest. June 15th - August 15th, 2006
We are a small team of independent game developers working on an American Civil War shooter. While we can not afford hiring several individual level designers, who may or may not end up producing quality TGE 1.4 maps; we can offer the MOD community an opportunity to win some prizes for creating the best maps. If you have the skills, then work your mapping magic and enter our contest. Why are we doing this you ask? Because in order to collect the cash prize, the winning level designer must agree to contribute the map towards the Civil War game project, assigning nonexclusive rights to the map for use in commercial game. The level designer retains rights to use the map in his/her own personal and/or commercial projects. So the contest is a good way for us to add quality maps to the game project and the contest is a good way for level designers to gain recognition and win prize money.
Visit the website for more details.