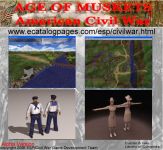 Thank you to everyone who has helped support the Civil War shooter project. We are making progress - slow, but steady progress with development using TGE 1.4, and will consider porting game to TSE once it is finished.
We have some new pictures from our Map Contest (WIP) and some of our concept soldiers (Nurse and Sailor). We will have both land and water based maps, along with 6 unique soldier types.
In Age of Muskets, American Civil War, you will experience America's epic conflict, as you charge across open fields, scout out enemy positions on horseback, ride military balloons high above battlefield, or captain an ironclad gunboat on the Mississippi river.
This will be a team based war game, that lets you fight the Civil War across America. Select to fight for the Union or the Confederacy, then fight as a soldier armed with musket and sword. The fighting takes place on numerous historic battlefields. Experience single player training missions and the challenge of multiplayer online gaming at its best. You have your orders. Now, lead your men to victory.
American Civil War is action war game, that places you into pivotal historic land and sea battles. Fight with muskets and swords in America's bloodiest war. You must pledge your life and liberty to the Union or the Confederacy. The General has given the orders. Now, you must decide how best to lead your men into battle. Your fighting skills as a soldier will determine who is victorious.
Contact:
James Finn
fineas(at)prodigy.net
www.ecatalogpages.com/esp/civilwar.html