I said we'd be posting here more often, and we are! Age of Blood's atmosphere blends fantasy with sci-fi and today we take our first journey walking right out of the fantasy and straight into the sci-fi. Here we meet with Cael as he experiences his first encounter with Scourge technology. The Scourge have taken over a portion of the Temple of Ah'ket, building their own architecture on top of ancient stone. Using underground geothermal energy as a base, they power force fields around the temple.
You might notice that red highlighted machine in the background. Red will highlight important destructible objects .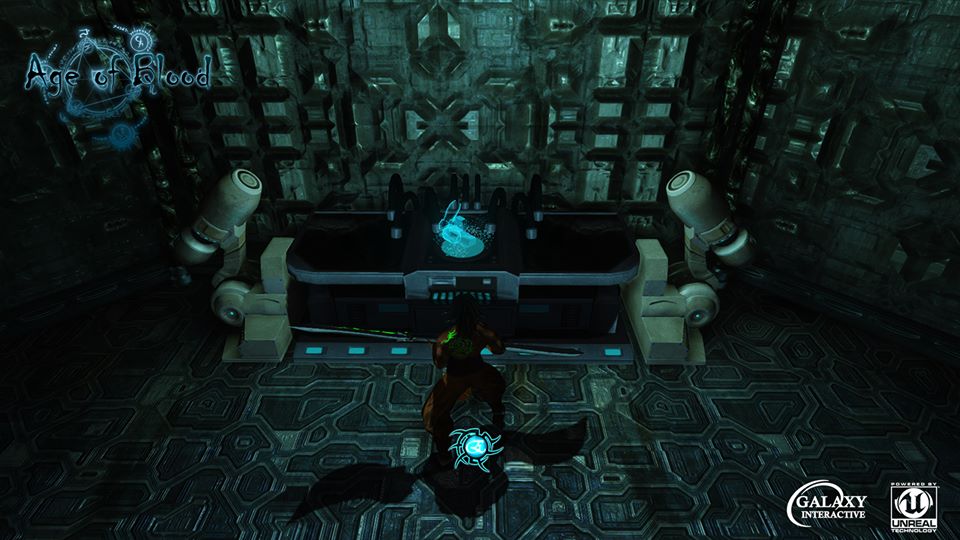 When you come across certain objects, that little helpful icon appears. It's quite helpful. Really. Honestly!
So, that's all for this week. Comments, suggestions, all are welcome. Don't forget to like us at Facebook.com or don't. You know, it's cool. As a side note, we are still looking for a concept artist. The concept artist will be in charge of drawing fantasy, sci-fi, and sci-fantasy creatures. Golems, Scourge-Mechas, Bio-enhanced scorpions, big bad bosses. If you're interested, send us a Facebook message or e-mail us at galaxyinteractiveonline@gmail.com