Hi everyone, welcome to week 1 of the Aftermath Developers Diary!
As promised, we will be writing a developers diary every weekend from now on, detailing the latest changes in Aftermath, and any new features you can look forward to. This week we have been working hard, laying groundwork for network play, finishing off the games menus, bug fixes, that kind of thing.
What we've been doing
Over the past week we've been working extensively on improving the overall quality of the menu and experimenting with different animated effects. After many hours of work and numerous ideas we finally settled on this: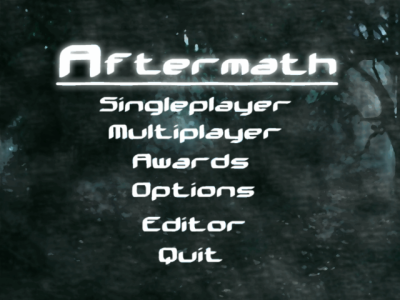 A simple fog and rippling effect to make the menu more dynamic and of a more professional quality.
The multiplayer aspect of the game has also received some work over the past few days with a simple prototype working allowing the connected computers to join a survival game with each other, though the enemy system isn't currently implemented yet in multiplayer, this will receive some work over the next few days and hopefully we can update you on the situation next week.
We also re-created the weapon system allowing two weapons to be held, swapping between primary and secondary as well as a new ammo and clip system. This has been partially implemented with the HUD though several of the weapons have not been updated with this new system.
A VERY early version of a map editor is under development allowing people to create and share maps for deathmatch and survival modes.
The majority of the past couple of weeks however has been spent on improving the graphical quality of the game, as you can see below the game looked quite terrible before we put the much needed work into this area.
Before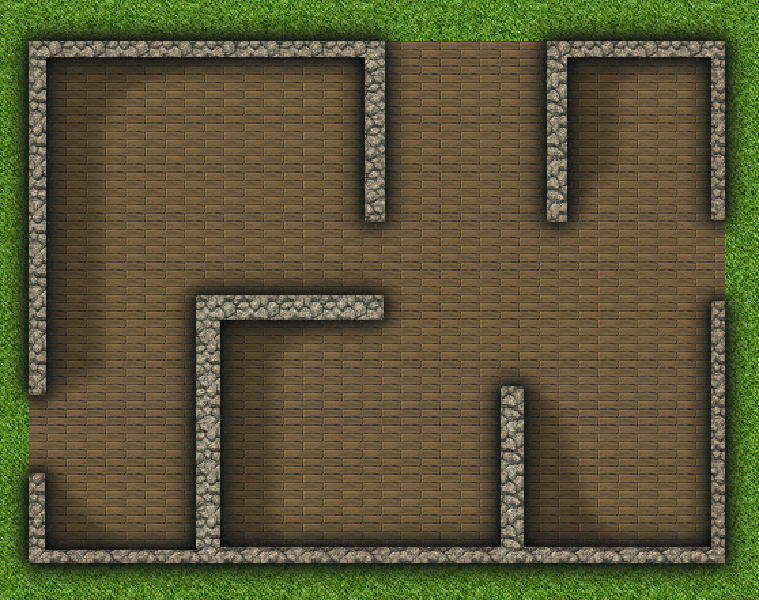 After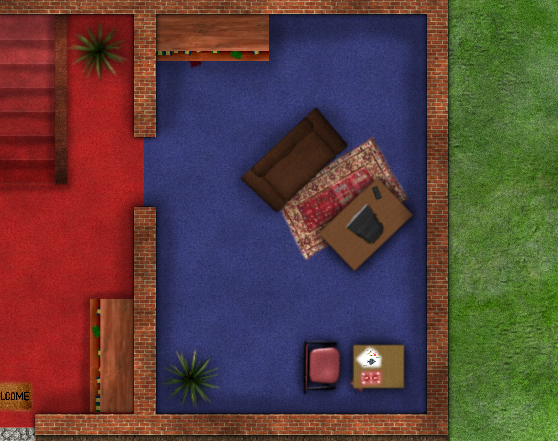 Whilst creating maps for the game takes much longer now I'm sure you'll agree that the extra effort and time is well worth it.
More info about the game
As we have released very little information about the game itself now I'll talk about the different modes available. The campaign/mission mode is playable with up to four players co-operatively, both local and online. Obviously the more players there are the harder the missions. The majority of the first level has been designed and were hoping to make the experience more like a top down interactive movie then an objective based system. Alternate paths and endings with changing story is under heavy consideration, though how extensive this is will depend on time constraints. There is also a difficulty option and awards/achievements system that we will talk more about next time.
The second mode is survival. Again this is playable with up to 4 players both local and online. As you've probably already guessed in this mode you and your friends must hold out against waves of enemies whilst purchasing new weapons and defenses. We want to add as many customisable options to this mode as possible so that the survival mode has a higher replayablity, Random events such as special boss encounters and meteor showers will also add to the variability of each game. We don't want every survival game to play out almost exactly the same as the one previous. Options that we are considering are abilities to turn certain enemy types on and off, increase enemy health, speed and damage as well as changing the frequency of special enemies and random events. Further into development we hope to expand on this customisable feature even more. An online highscore system has also been added for the Survival mode, which uploads every participants score to an online leaderboard, score is determined by amount of kills and strength of the enemy you kill. Currently all survival maps have the same highscore table, we are considering having separate highscore tables for every Survival map. Obviously the different customisable options will have a direct effect on the amount of score you earn for each wave completed or enemy killed.
Finally we come to the competitive modes, As of yet this has had little development so I wont talk about it for too long though these modes will be playable local and online. We haven't decided on a player limit for online yet though were pretty sure that it will be between 4 and 12. The standard shooter game modes such as deathmatch, team deathmatch, and capture the flag will be in the game. Other competitive modes will be announced later as well as the possibility of an online achievement and points system.
So heres a list of what happened this week:
* Laid the groundwork for network play
* Partially created map for the first campaign mission.
*Added online highscore system for Survival mode, in local multiplayer games, all participants will have their highscores submitted.
*4 player Split-Screen in all current modes of play
*Finished the majority of the work on the menus
*Ability to change resolution, you can now select from several resolutions between 1024x768 to 1920x1080 (1080p).
*Fixed some bugs
Targets for next week:
* Improve network system
* Re-implement weapons using the new system
* Improve HUD
* Finish map design for the first mission
* Start Improving first survival map
* Fix more bugs
Thanks for reading, you'll be hearing more from us next week!
Have something to say, or a question to ask? Feel free to drop us a message, or post a comment below, one of us will get back to you as soon as possible.