Hello everyone, welcome and thanks for reading. This will be the first example of our new format in which we plan to show the progress and updates on our game and engine. We believe that these updates are very useful for those interested in our project since we'll be providing a free copy of our engine and creation tools along with the game on it's release. We're doing our best to provide the players with all the tools necessary to let them express their creativity in the form of creating their own levels and scenarios, and let them share safely with others. So hereby welcome once again and thank you for reading! We really appreciate the support.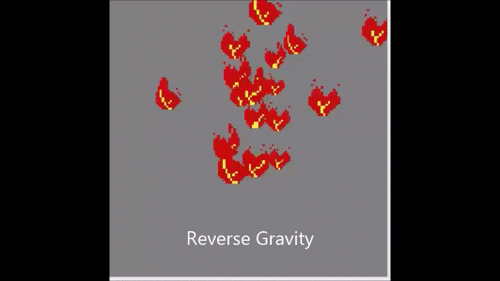 An example of a particle system created in our creator and editor, showing various functionalities;
The newest engine update adds a completely new and highly customizable particle system creator and editor, especially created for our 2D game. Our objective was to create a particle editor able to create highly customizable and, very important, re-usable art assets that are easy to use in (y)our creations with enormous amounts of control. We made a huge leap to achieving this objective with the current update.
A particle system is, like the name suggests, a collection of particles, a simple or animated texture, much like a solar system is a collection of astral bodies. The system modifies this collection of so called particles in such a way that it creates a special effect that may/will compliment visuals on screen.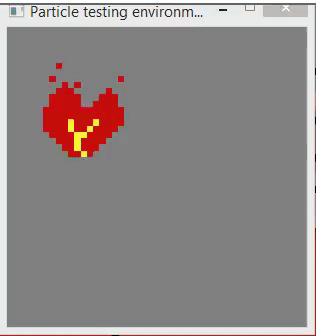 An example of a particle with an animated texture;
Now that we got a clear idea of what a particle system should represent let's get over how users will be able to create and customize particle systems in our creator: (note the editor/creator is currently under a constant state of development and will probably change dramatically over time)
-A selection between 4 primary types of particle systems: "Rain" setting, "Explosion", "Implosion" and the latest addition "Twister"-setting (with loads of very cool effects possible)
-Change the downward force, or "gravity", that particles experience.
-Change the "wind" causing particles to fly off, as if blown away by somebody.
-Add a horizontal velocity decay, not to be confused with "wind", a nice decay over time can make your particles move in a nice arch/arc combined with the gravity settings.
-Change the scaling of active particles over time, enlarging or shrinking no problem.
-Change the lifetime of each particle; a random number generated between a minimum and maximum lifespan.
-Add a random velocity in some types of particles, also a random number if needed.
-Fading over time as a particles gets closer to "dying out"
-Rotation and rotation speeds if needed
-Spawn particles on random locations if needed bound to a certain area
-Choose whether the particle spawns with a random rotation or not
-Many, many various specialized properties for the primary types are available and will be added.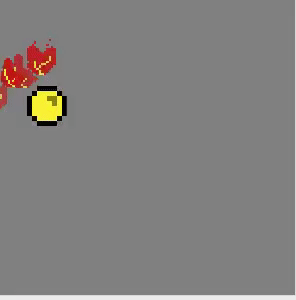 A "specialized" particle system creating something like tail of particles,
could be used for several applications;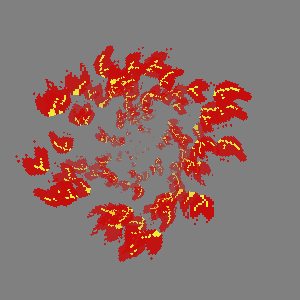 A specialized "Twister"-type of particle system, with scaling down and fading applied over time
as particles come closer to "dying out", creating a nice illusion of depth;

Thank you for reading our update article. We would appreciate it enormously if you could leave a small comment whether you liked this new format and if you would like to continue receiving updates like this. We love doing this and hope to be able to continue doing so.
Friendly regards,
Bernd Weckx