The bad news: there are almost no active members; the mod leader Dekrayzis who has his PC half-broken and doing what he can, mapper Itc who is involved in 3 mods, and me (Xaklse), a coder who tries to dedicate some time to this project. We need help: texture artists for enemy skins, modellers for objects, mappers, coders, sound effect creators...
The official website and forums are down, no money. So feel free to use the forums here, at ModDB.
I got some time to take four 1024x768 screenshots with anti-aliasing and anisotropic filters and bloom effect. Check them: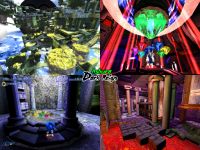 - NEW THINGS: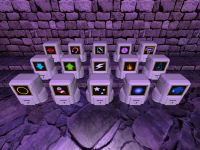 1. Added a new monitor completing the final roster: 10-rings box, speed shoes, invincibility, standard shield, extra life, shrink, grow, lightning shield, fire shield, bubble shield, Eggman, magnetic shoes, invisibility, time freeze and random/hidden object.
2. Created a whole new camera system, allowing mappers to use any custom cam.
3. Coded old-skool side-scrolling gameplay style ala Sonic Unleashed game.
4. Added visual effect to Homing Dash special move.
5. All noticed bugs are fixed (about 40).
- TECH DEMO V2:
This upcoming version has 2 acts, featuring a 6th environment and possibly a new badnik. A small section uses the old-skool gameplay style and Special Stages will be fully working.
No release date (2008).