Fast Overview
Unique & innovative Deck building game with new mechanics (it's great fun, ask my son ;-))
Stunning history-based theme, about all the revived famous Hapsburg rulers, revived as terrific vampires!
Four classes, representing 4 time-periods of the Hapsburg dynasty, to choose from!
Fixed price, no Pay to Win, no Micro transactions!
Multiplatform => The different resolutions and controls are designed and tested especially for each platform. Nothing would be just "up" or "down" –scaled!
AI & PvP matches, no internet connection mandatory, just for PvP!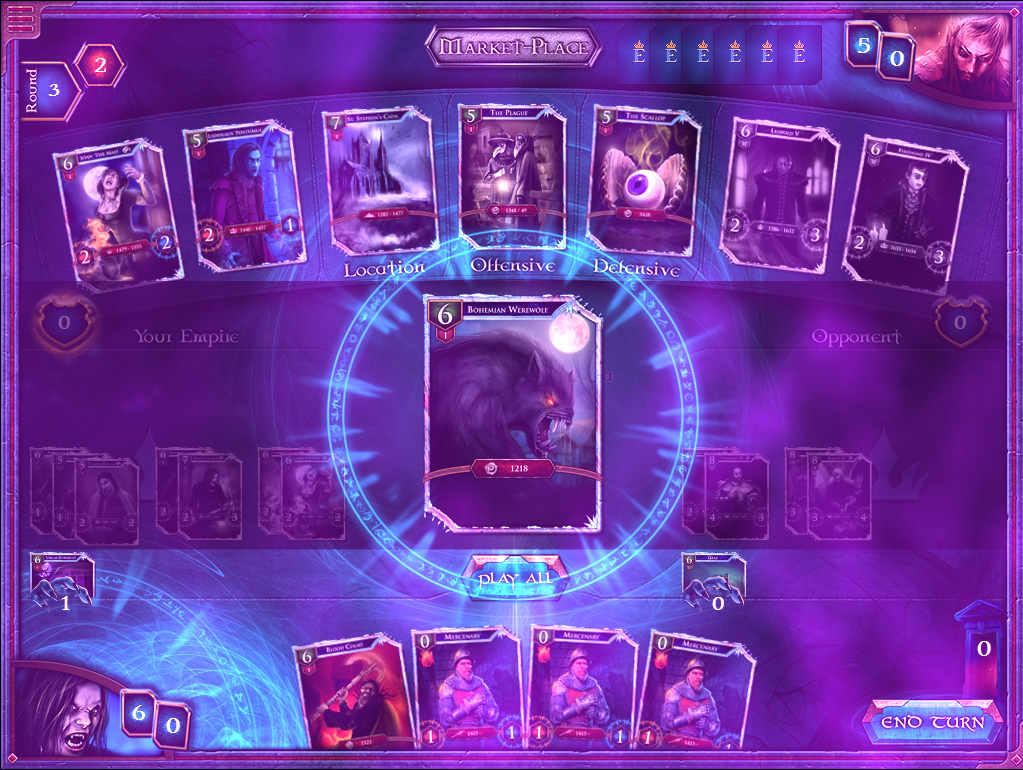 The Team
My name is Wolfgang, I'm the developer of VEmpire.
Since nearly three years now I am working on this project in my spare-time.
A few very talented and passionate artists are "supporting" me.
How talented and passionate they are – I think you can see…
Together we've been spending great effort and engagement into this game and we hope that we can pique your interest and excitement!
The Lore

For hundreds of years the cruel Kings of Hapsburg have ruled Europe making history all over the world.

Now they are back again: Bloody and bizarre shine the emperors, kings and queens of the days gone again – dangerous

but glorious – as Vampires of the Empire – the Kings of Darkness. – Today we meet Sisi, the famous Empress of

Austria and all the other powerful Hapsburg Rulers revived as terrific Vampires!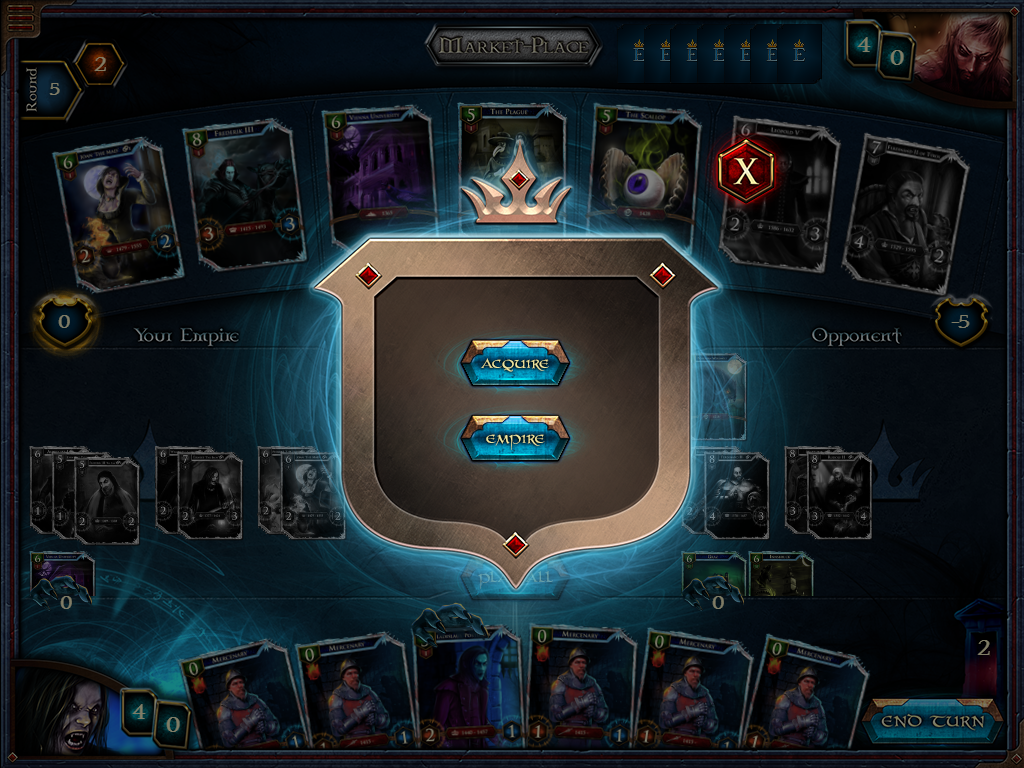 What is it?
VEmpire is a digital card game, a history based Deck Building-Game. A Deck Building-Game, in opposite to a TCG, is a card game in which each player is building its' deck during the game.
This means that each player has equal access to all cards in the game. So there are no rarities, no opening packs, no misbalancing – just pure unadulterated strategic decision making.
VEmpire is not a TCG, so no Free to Play, no Pay to Win. Accessibility and fun but also a deep and compelling gameplay within a great atmosphere have been our goals from the very beginning.
We have been highly focusing on the game-mechanics. It is our dedicated goal to combine the depth of a trading card game with the accessibility and pace of a deck building game.
With several unique features we have been designing an outstanding game experience that is fresh and also atmospheric interesting. Some of our main game-mechanical "improvements" compared to other deck-building games:
It is the goal of the game to build a strong "Empire" of cards on the game board not in the decks.
You decide with which "Class" you want to play with. Depending on this you have, beside the public "Market-Place", a private deck to acquire cards from.
You build and play "Groups", the most powerful unities in the game, which are designed after its historical examples (e.g. Pairs like 'Sisi' & 'Franz Joseph')
But hey – they just count if they were complete!
"Holding" ability for the cards in your hand provides you more strategic flexibility and control!
Vampire-Cards are usually played for acquiring new cards before they power up your Empire – but there is no way back, so decide wisely!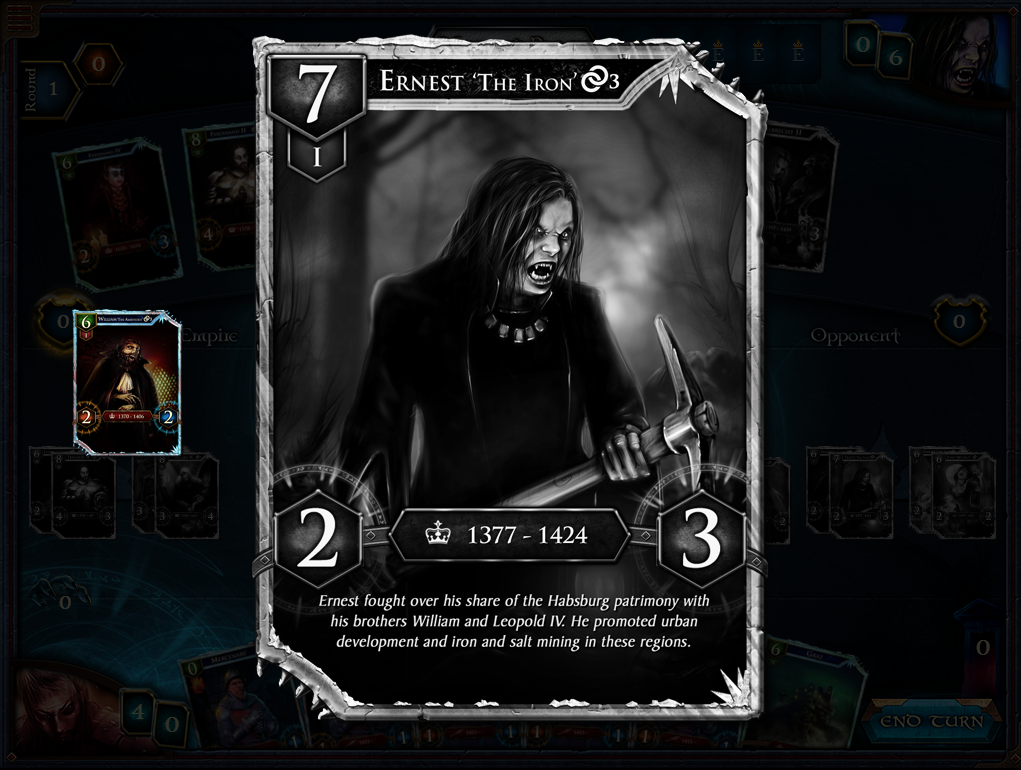 The Story and Art
Well, in our opinion this is really interesting, because it is not a fantasy (only)-themed game.
VEmpire is also a history based game.
The History of the Hapsburg dynasty, which has ruled the fate of the whole world for hundreds of years, is the inspiration for our extraordinary theme.
The subtle interpretations of historical characters, places and events of our artists lead to really astonishing art-work. This makes VEmpire a unique and compelling experience.
It gives you a view at history from a different but exciting angle.
Meet Sisi – the famous empress of austria – and also all the other even more powerful Hapsburg rulers revived as terrific and glorious vampires!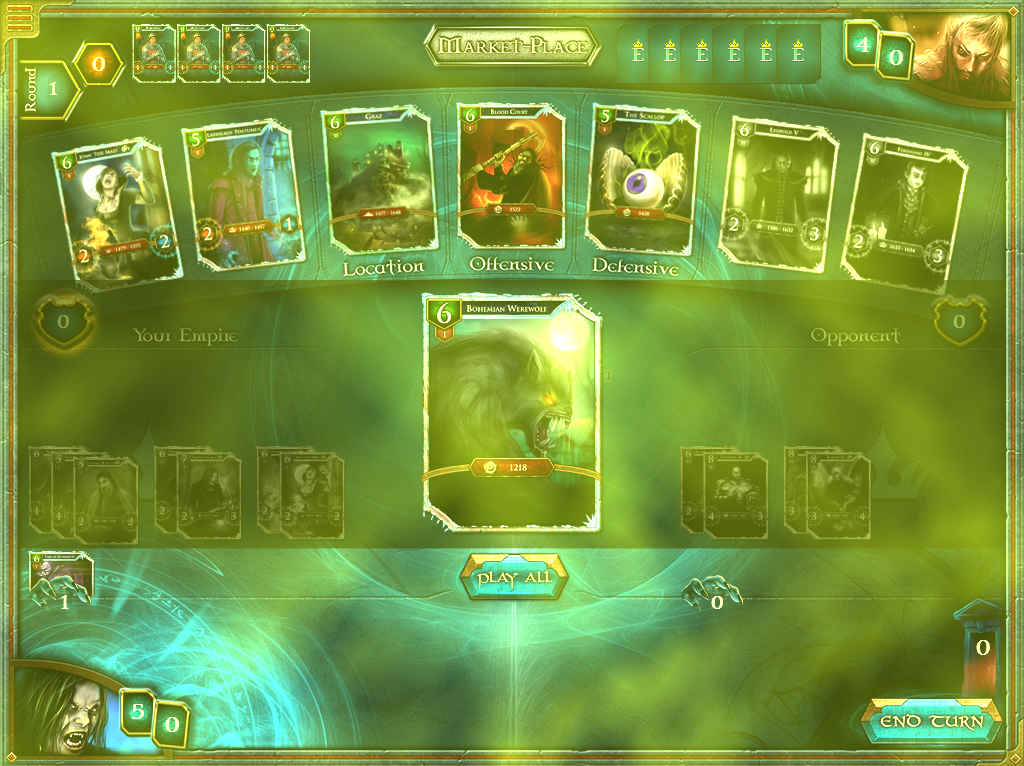 What is the Goal?
The goal of the game is to build a powerful deck. In opposite to other deck-building games a powerful deck is needed to place powerful cards on the board – into your Empire. The player can choose whether to use a powerful ruler for acquiring new cards or play them into his Realm.
Once played into the Empire, the card can't be played again! The player, who has first achieved 37 "Empire-Points" and can hold this advance for 3 rounds will win.
In order to power up the deck new, more powerful cards, from the Middle-Deck can be acquired with typical deck-building play, but further mechanics as group-building, spells, permanents and holding pushes the genre to a new level.
We love every little detail about making this game!
We really hope you like it and thank you for your feedback and support!
Only with your help we can make this game as big as it deserves it!
Wolfgang