The Game Classes
In TDT: DD you can choose among 5 different classes. The Black Warrior is an herculean beast during the battle, with amazing skills to destroy and crush the enemy mercilessly. The Blue Wizardcan use an interesting variety of skills: heal, damage, DOT, invocations, protection magic, etc... The Elite Thief can move along the battle field with sobrenatural skills and he can use mystic tatoos to raise his chances of survival. The Knight can protect all the party members by taking the agro of mobs with powerfuls taunts; he also has some useful auras and great attacks. Finally, you can also choose the Conjurer of Bones, the invocation class par excellence, armed with totems, able to summon pets and to use a variety of esoteric skills.
At the game start, you'll need to choose among one of this classes for your main character.
Party Member: Golmir the Dwarf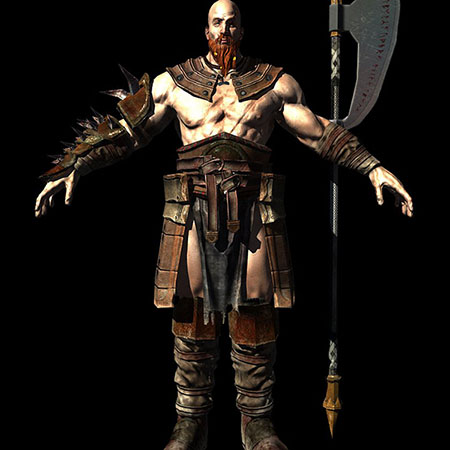 A Dwarf sent by the Golden Dwarves Council in Dalron to join the party sent to rescue King Jonah and Akhazal the Last Dragon. He's a sturdy, long braid-bearded dwarf with little sense of humor and patience. He's fond of ale and gold as most of his brethren, and deeply distrusts any being with piercing ears and good sight, namely the elves. His disdain for this race is so disproportionate that he did only accept the request by the most knowledgeable of his kin when he was assured no elf would take part on the mission. To his grief, he'll discover - too late - that Higher Powers of the Alliance got the vow of a skilful elf to join the Saviours, as the Kingdom of Oniria decided to join the Alliance in a last-minute decision.
Even his almost perennial non-friendly mood, he displays a great sense of justice under life-or-death situations, forgetting momentarily any distinction of race or class to defend anyone under a risky situation, of course only if he deems the victim an innocent under unlucky circumstances. No sooner the fight is over he'll start yelling again with no apparent reason whatsoever.
Let us know what you think about the classes and Glomir at our Greenlight page!