Hello survivors!
While waiting the Nintendo Switch port of Dead in Vinland, learn more about Dead in Vinland characters! Today we're focusing in the 4 main protagonists: The family.

Through your journey into Dead In Vinland, you will have 14 playable characters to choose from. They're not just generic protagonists, each has his own backstory, some secrets to discover and special dialogs chain with other inhabitants of the camp.

You start the game with only 4 of them, a viking family exiled by force from their homeland. These are what you could call your main characters, on a system point of view. These characters are super important. If you lose one of them, the other ones lose faith and the group is torn apart, meaning instant game over.





It will lead to many critical decisions, where the well-being of the family can lead to hard, "bad" decisions for the group, and vice-versa. Think of it like a cooperative board game, where some players have a special agenda of their own.

You'll need to know all about those 4 characters because this is their story after all! So let's introduce them:
Eirik
Unwilling Hero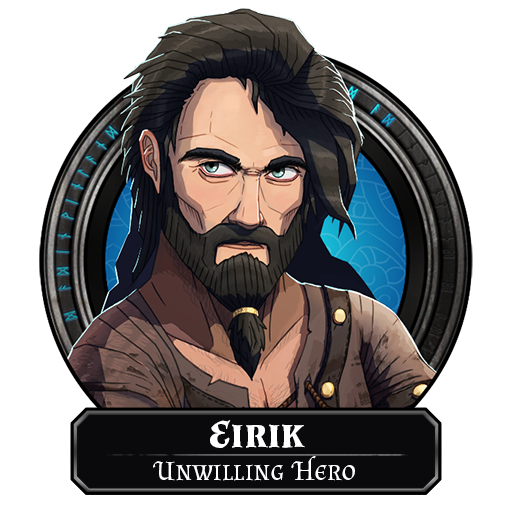 Keywords: Husband – Father – Bastard
Eirik's only ambition was to live a quiet family life and enjoy simple pleasures. A good day of work, a fine beer at the fireside, to see his beloved daughter grow and blossom every year that passed, these were the only things that mattered.
When Hagbard, brother of the old Jarl, sent men to burn his home, screaming "Death to the bastard!", he quickly understood that the gods had another plan for him… And it was not a pleasant one.
He managed to escape with some of his family, embarked on a small drakkar and fled the country. After seven days of eldricht storms, the poor vessel grounded far to the west, on an uncharted island at the end of the world.
Eirik will do anything to protect his family on this new, but hopefully hospitable land. Yet the remorse for being the cause of all this suffering, that he feels deep inside, will last forever.
Blodeuwedd
Welsh Princess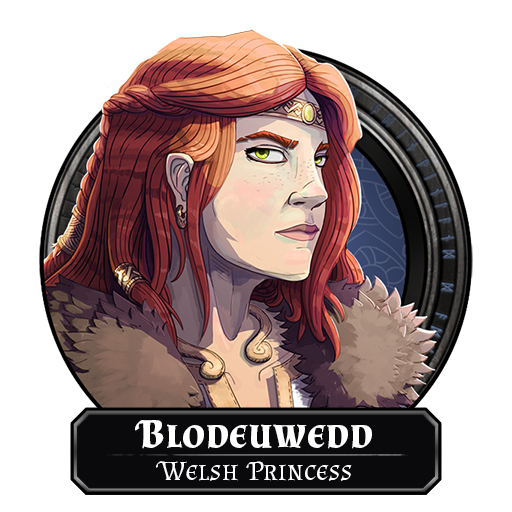 Keywords: Wife – Benevolent – Protective
Blodeuwedd – "Face of Flowers" in Welsh – was born daughter of a small clan's chief, whose lands were raided and pillaged by Eirik's Jarl when she was a child. She and her sister were taken captives, as it was customary at the time, and adopted by a noble Northerner.
Thanks to her natural charisma, she blended quite well in the Viking society, marrying a good guy named Eirik and having a lovely child with him.
Having lost her relatives once, she became very protective of the new family she managed to build, taking care of everyone and everything at home.
She favors diplomatic approach and gentle solutions, but threaten her family and you'll see fire in her eyes. And her axe in yours.
Kari
Restless Adventurer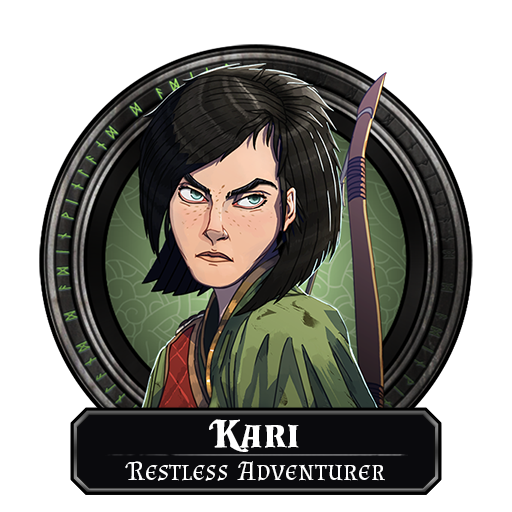 Keywords: Daughter – Moody – Fierce
Kari is the teenage daughter of Eirik and Blodeuwedd. Quite the opposite of her nurturing mother and quiet father, she lives for the thrill.
Quick and agile, she knew how to fire a bow before she learned to talk. She persistently asks her father to take her with him on hunting trips, as much because she loves hunting as because she hates staying at home with her mother, who persistently tries to make her learn to cook, knit, and whatnot.
She doesn't have any girl friends. She finds them too annoying with all their talks, talks, talks… She prefers spending time with boys and their warrior's training, but sadly she isn't very popular among them since she'd surpass any guy in nearly any physical activity. And they don't like it.
She is totally excited by the opportunities offered by this new land they crashed on, oblivious of the dangers that lie ahead.

Moira
Suspected Witch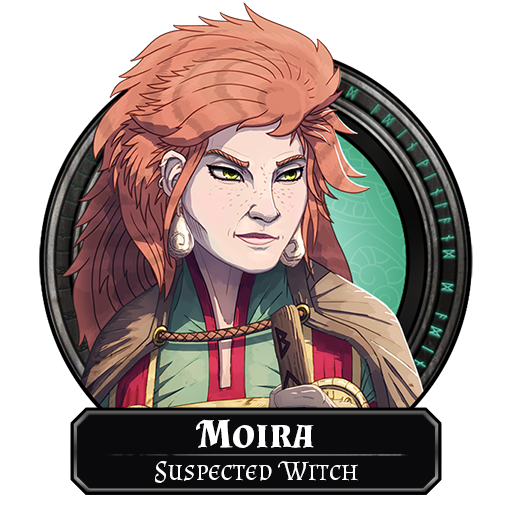 Keywords: Aunt – Eccentric – Blunt
Moira is the sister of Blodeuwedd. She is the eccentric aunt of the family, always scheming something strange in her quirky mind.
The fact that she wasn't already married at her age was a big gossip talk in their village, and nasty rumors soon started to fly. The most persistent one being that she were a Wytch and that she ate her mates after a night of pleasure…
None of these were true, fortunately. Or overly exaggerated, at least.
Being a wild and free spirit, she is an adept of extreme solutions to problems, that can lead to more harm than good. But when the situation is really dire, like being stranded in an unknown land with unknown dangers, her extravagant ideas can make the difference between life and death. Maybe. But at least it will be fun.
Now that you know them a little more, you'll need to take into consideration their personality, strengths / weaknesses, & their relationships to each other to try your best and survive on this uncharted island. Later, we'll do a focus on the recruitable characters that aren't introduced here.You won't have to keep them alive through the whole game but they but will greatly increase your chances of survival with their specific abilities & knowledge.

If you want more news about Dead in Vinland or about the incoming Nintendo Switch version, feel free to follow us on social media not to miss future announcements:

Follow Dead in Vinland:
Twitter
Facebook

Follow Dear Villagers:
Twitter
Facebook

Visit our Official Site