Platinum Arts Sandbox is the game design tool based on the Cube 2 engine that allows users to quickly and easily create and edit their own worlds in game, even cooperatively. It is free, open source, and easy to use for Kids and Adults!
Thanks to the great folks holding the ABLEconf in Arizona Platinum Arts Sandbox is going to be featured at their conference! For all of you Arizona residents this is going to be a great linux conference that shows off lots of the various cool software available for Ubuntu and other Unix based flavors. Be sure to check their webpage for details. Those of you not from Arizona don't fret! The Sandbox Presentation media and materials will be available after the conference.
If everything goes according to plan we will be releasing a test version of the new Sandbox release this weekend! Thanks to our buddy offtools Moviecube has been added to Sandbox which allows users to create their own movies! It is still in development stage but a lot of cool things are already working. To see Moviecube in action check out Offtool's youtube page. As with any offsite content it may not be appropriate for kids. Additionally we have a new map Mansion which will be a part of the release. For those of you who are craving more action, I'm am in the process of developing a demo for an RPG. The first version will be kid friendly and I may also work on a version that is not so kid friendly. If the second part happens it will be clearly labeled and separate from main Sandbox version. Anyone that is in interested in helping out should contact us. Stay tuned, lots of exciting things to come!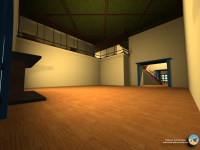 Take care and thanks everyone who has been enjoying the Sandbox Basics Video, I can't believe the overwhelming response to it :) More to come soon!
-mike
Kids.PlatinumArts.Net
Doom3Coop.com Former Multiple Award Winning project. May contain content not suitable for kids.