Huge progress over the past few days!
I got a lot of great feedback for Aaron's Aardvark Adventure Zone, the innovative text-based adventure game that learns from its mistakes, but what people kept on saying was that they would play it were it not for having to download an executable. People get nervous - understandably - downloading stuff from the Internet. So I used Emscripten (and then modified the code a bit) to port the game to Javascript. Now, it's a very rough version - hardly of the quality of the downloadable versions - but it does work; almost the full game is there, so check it out (or, even better, download a copy).
The game is available to download for free (or to be played in the browser, since today) at www.aaazgame.co.uk - hundreds of people from all over the world have already played it, which is great, but please help to keep it spreading.
Here, for reference, is a picture of the game in the downloadable version: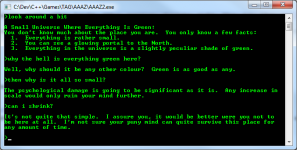 It's perhaps less intimidating with green on black, although of course players can use the console settings to change colours.
Lots of people have written to me saying they really enjoy the game, which is great, but development can't go ahead if the Kickstarter isn't successful, so please contributing at Kickstarter.com where there are plenty of cool rewards and even more rewards being considered. Please also spread the word so we can make this game as good as it can be.